Home
Futurum Research: Exploring the Future of Digital Transformation, Disruption, Innovation, and Experience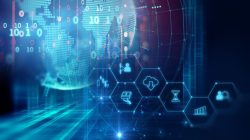 2020 Digital Transformation Index
Futurum is an independent research, analysis, and advisory firm focused on digital innovation, market-disrupting technologies, and industry trends. Every day our analysts, researchers, and advisors help business leaders from around the world anticipate tectonic shifts in their industries and leverage disruptive innovation to either gain or maintain a competitive advantage in their markets.
While our three key focus areas are research, analysis, and insights, we also provide a full menu of advisory services geared toward helping organizations technological change and successfully operationalize digital transformation.
Working with our team of seasoned analysts, you will gain the knowledge, advice, and resources you need to achieve your mission-critical business priorities and position your brand and your team as industry experts.
Understand and engage your customers with insight into the mind of your buyer, competitive landscape, and market opportunities.
Maximize your business value with insight into the innovative technologies, business models, and market dynamics driving your industry.
Make informed decisions about the innovative technologies and companies that enable your IT transformation plan.
Investment/Acquisition Decision-Makers
Use our proprietary and deal data to make your investment, alliance, and acquisition decisions with confidence.