From Snapchat to Conspiracies, a Very Social Podcast – Futurum Tech Podcast episode 005
From Snapchat to Conspiracies, a Very Social Podcast – Futurum Tech Podcast episode 005

From Snapchat to conspiracy theorists, the Futurum Tech Podcast this week was a very "social" podcast for our team of Fred McClimans, Daniel Newman, and Olivier Blanchard. Here's why.
Our Main Event
The Q2 earnings announcement from Snap was good from a revenue and EPS (earnings per share) perspective, but cringeworthy from a user growth perspective; it lost 3 million daily active users during the quarter. While we all agree Snapchat has a lock on the younger sub-25 demographic, it struggles to appeal to older people, it's not as user friendly, and we think it's unlikely that it will ever become a community in the way that Facebook and Twitter have. Bottom Line: The era of heavy user growth appears to be over for the social giants. As the supply of new users gets a bit tighter and investors start to focus on user monetization, these companies must focus on earnings and delivering ROI for both investors and their users.
Our Fast Five
We dig into this week's interesting and noteworthy news:
Tech Bites
Our winner of this weeks "tech that bites" award is semiconductor and chip manufacturer TSMC, whose production line was taken offline this week (allegedly) by a variation of last year's #WannaCry virus that was inadvertently installed by a supplier who failed to run a proper virus check on a software load. TSMC is facing an estimated $170 – $250m hit as a result of the several days it took to return to full operations. Bottom line: The ripple effect of this error could impact delivery dates for some of its key customers own products, including Apple, Qualcomm, and Nvidia. This is a tech AND overall industry issue; security conversations need to be front and center, and companies need to dedicate more time and attention to details (and processes).
Crystal Ball: Future-um Predictions and Guesses
This week we gaze at the case of Jack Dorsey, the CEO of Twitter, vs Alex Jones, the controversial conspiracy theorist behind Infowars. While Facebook, YouTube, and Apple have banned Jones from their platforms, Twitter has not. "He hasn't violated our rules. We'll enforce if he does," said Dorsey in a series of  tweets.
We didn't suspend Alex Jones or Infowars yesterday. We know that's hard for many but the reason is simple: he hasn't violated our rules. We'll enforce if he does. And we'll continue to promote a healthy conversational environment by ensuring tweets aren't artificially amplified.

— jack (@jack) August 8, 2018
Tune in for our take on Dorsey's position and our predictions on how this mess unfolds.
Note: While Apple banned Jones' podcast from the iTunes store, it is allowing the Infowars mobile app to remain in the app store, saying the app itself has not violated Apple's terms of service.
Listen to Futurum Tech Podcast 005

###
Disclaimer: This newsletter and associated podcast are for informational purposes only. We hope you find it educational and entertaining but no investment advice is offered or implied.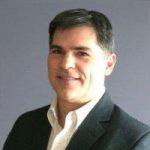 Fred is an experienced analyst and advisor, with over 30 years of experience in the digital and technology markets. Fred launched the equity research team at Samadhi Partners and provides marketing strategy through the Wasabi Rabbit digital agency. He previously served as an EVP and Research Vice President at HfS Research, launching its Digital Trust practice and coverage of emerging "trust-enabling" technologies. Read Full Bio.