Salesforce Integrates Einstein GPT in Salesforce Sales Cloud and It's a Game-Changer
Salesforce Integrates Einstein GPT in Salesforce Sales Cloud and It's a Game-Changer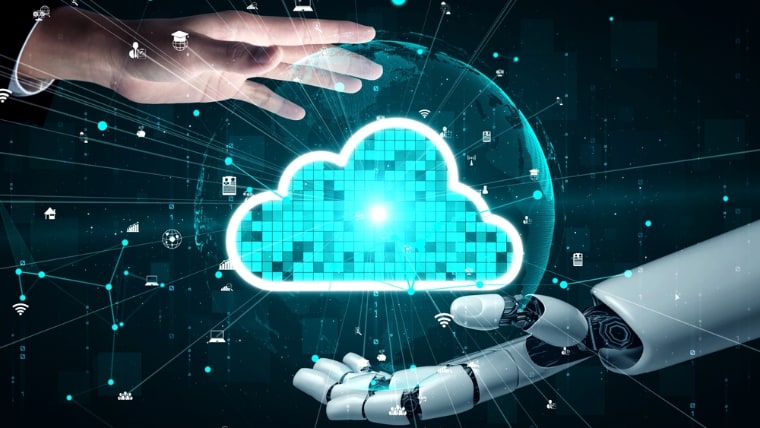 The News: Salesforce recently announced that it has integrated new generative AI and real-time data capabilities to its Salesforce Sales Cloud offering. This will enable Salesforce Sales Cloud to use real-time data from Data Cloud and Einstein GPT to helping sales teams deliver a more personalized experience for their customers and prospects. Read more from Salesforce.
Salesforce Integrates Einstein GPT in Salesforce Sales Cloud and It's a Game-Changer
Analyst Take: Salesforce's recent announcement around the integration of Einstein GPT into Salesforce Sales Cloud, enabling Salesforce Sales Cloud to use real-time data from Salesforce Data Cloud and Einstein GPT is big news. At a time when companies of all sizes are embracing the mantra of doing more with less, the ability to streamline sales processes, enhance customer interactions, and ultimately drive revenue growth, this is well timed. In addition, the integration comes at a time when people have come to expect a more personalized experience from every company they interact with, regardless of whether that interaction is personal or business reasons.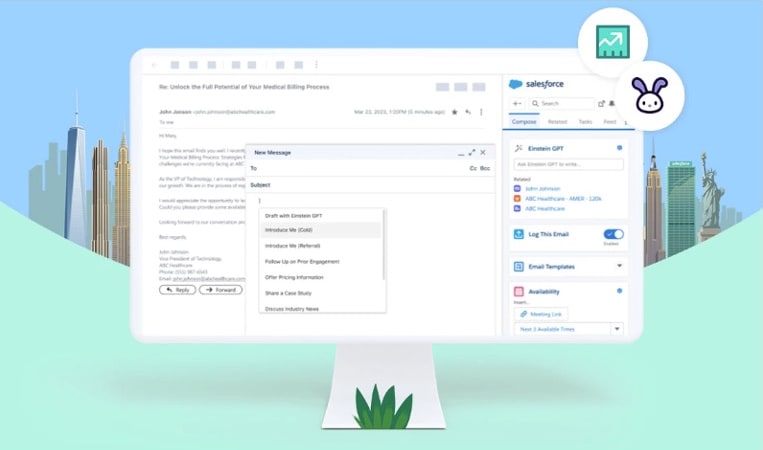 Here are some of the ways organizations will benefit from the Einstein GPT and Salesforce Sales Cloud integration —
Automated Sales Processes
One of the key benefits of integrating Einstein GPT into Salesforce Sales Cloud is the ability to automate various aspects of the sales process. With the power of natural language processing, the process of drafting personalized emails, creating tailored proposals, and generating sales reports will be automated. This automation frees up valuable time for sales professionals, allowing them to focus on more strategic tasks such as building relationships with customers and closing deals. By eliminating mundane tasks, and some of the things they absolutely loathe about working inside a CRM (I'm married to a sales pro, I hear this all the time), sales teams should be able to operate more efficiently and effectively.
Other new automated sales capabilities include:
Sales Planning Tool
Simple, auto-generated reordering portals for customers
Pay Now in invoices, SMS, or email
Intelligent Insights for Sales Strategy
While the automation of the sales process is a huge benefit, insights that can help drive sales strategy can be a game-changer when it comes to bottom line benefits. By leveraging AI, sales teams can make data-driven decisions, identify potential opportunities, and optimize their sales processes for maximum effectiveness. In addition, organizations will be able to get valuable intelligent insights to better understand the effectiveness of their sales strategy, which will them to adapt and modify as needed.
Salesforce is also enhancing existing products with real-time data from Salesforce Data Cloud to enable sales teams to find more opportunities in order to plan effective sales strategies and also manage growth. One is Salesforce Tableau for Sales which will leverage Salesforce Data Cloud and Einstein GPT to provide sales teams with a self-service exploration of any dataset and provide suggestions of actionable strategies for revenue growth. Salesforce Activity 360 is a new tool that captures all sales activity data across Salesforce and integrated third-party sources, giving a real-time view of all sales activities.
B2B sales today is all about connected customer journeys, and when those journeys are powered by gen AI which enables things like autonomous prospecting, the ability to quickly access real-time insights, and the automation of tasks that are mundane and a time suck, it allows sales pros to do what they do best: connect with and serve their customers' needs.
In today's highly competitive marketplace, building strong relationships is critical. That's why I started this article saying that I believe the decision to integrate Einstein GPT with Salesforce Sales Cloud is a game-changer for sales teams. When sales teams love using their CRM because it helps them do their jobs more quickly and more effectively, it enhances every part of the sales experience — for both sellers and their customers. Delivering on enabling personalized interactions at scale means that sales teams have time to focus on building relationships, listening to customers' needs, finding the solutions they need, and closing the deal. And that? It's game changing.
Disclosure: The Futurum Group is a research and advisory firm that engages or has engaged in research, analysis, and advisory services with many technology companies, including those mentioned in this article. The author does not hold any equity positions with any company mentioned in this article.
Analysis and opinions expressed herein are specific to the analyst individually and data and other information that might have been provided for validation, not those of The Futurum Group as a whole.
Other insights from The Futurum Group:
Salesforce and Accenture Acceleration Hub, Generative AI for CRM Technologies
Salesforce Unveils Slack GPT, a Generative AI Tool, to Boost Employee Productivity
Salesforce to Integrate Einstein GPT and Data Cloud Capabilities into Workforce Automation Suite Flow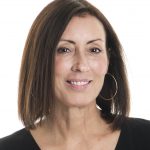 Shelly Kramer is a Principal Analyst and Founding Partner at Futurum Research. A serial entrepreneur with a technology centric focus, she has worked alongside some of the world's largest brands to embrace disruption and spur innovation, understand and address the realities of the connected customer, and help navigate the process of digital transformation. She brings 20 years' experience as a brand strategist to her work at Futurum, and has deep experience helping global companies with marketing challenges, GTM strategies, messaging development, and driving strategy and digital transformation for B2B brands across multiple verticals. Shelly's coverage areas include Collaboration/CX/SaaS, platforms, ESG, and Cybersecurity, as well as topics and trends related to the Future of Work, the transformation of the workplace and how people and technology are driving that transformation. A transplanted New Yorker, she has learned to love life in the Midwest, and has firsthand experience that some of the most innovative minds and most successful companies in the world also happen to live in "flyover country."