Salesforce Unveils Slack GPT, a Generative AI Tool, to Boost Employee Productivity
Salesforce Unveils Slack GPT, a Generative AI Tool, to Boost Employee Productivity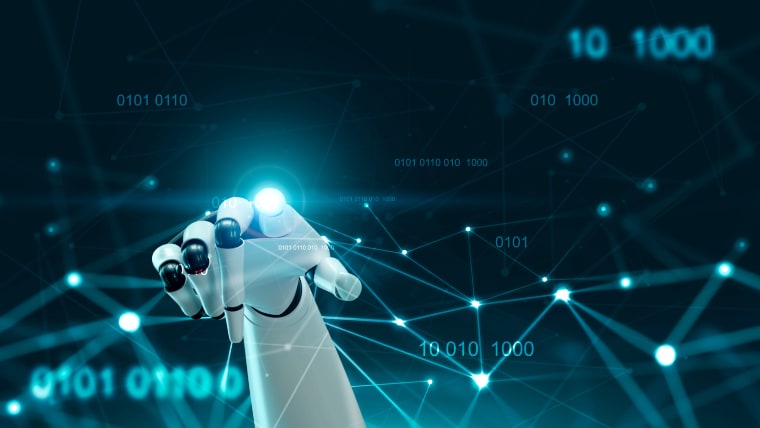 The News: Slack recently unveiled Slack GPT, its new generative AI tool, which is aimed at boosting employee productivity by automatically summarizing text in channels users might miss, or even drafting messages of a specific tone or length. Slack GPT will offer natively integrated AI features, customizable automated workflows, and a dedicated Einstein GPT app for Slack. Read more from Salesforce.
Salesforce Unveils Slack GPT, a Generative AI Tool, to Boost Employee Productivity
Analyst Take: According to Slack's latest State of Work report, people who use AI are 90% more likely to report higher levels of productivity saving an average of 3.6 hours a week, while only 27% of companies are currently using AI tools. The report also found 84% of senior IT leaders believed generative AI will help their organization better serve customers, and 67% of these leaders prioritized generative AI for their business within the next 18 months. This makes the announcement of the integration between Slack, the popular business communication tool with 10 million daily active users, and ChatGPT, the state-of-the-art language model developed by OpenAI so timely. Slack GPT lets users leverage the power of GPT's natural language processing capabilities within Slack, enhancing their ability to communicate, collaborate, and automate tasks. This will deliver a better customer experience and increase employee productivity.
With the integration, Slack GPT offers AI-powered summaries of message threads that users may have missed, providing a time-efficient way of getting up-to-speed without reading every comment. Slack GPT can also attend huddles on a user's behalf, and create a recap with the most important takeaways. Users will also be able to create a message with the appropriate language and tone.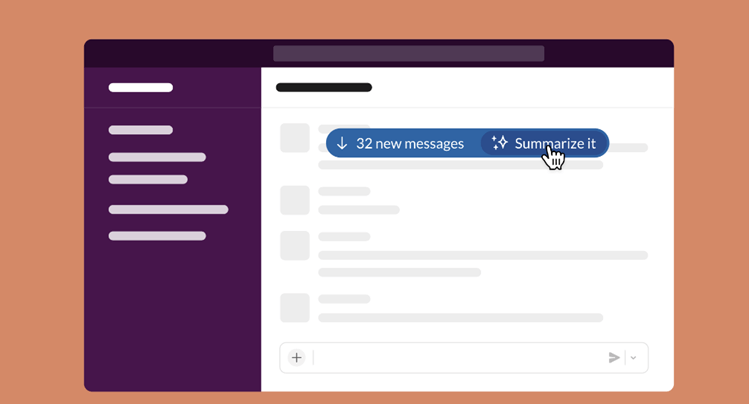 In addition, Slack GPT will enable users to produce no-code workflows that can trigger AI actions with straightforward prompts using a tool called Workflow Builder which will be available later this year. For example, if you have a workflow alerting you when a new lead comes in from Sales Cloud so you can quickly respond. Slack GPT could use CRM data from a sales lead to draft a personalized prospecting email for you, put it in a document, share it in a channel, and provide a head start to your sales rep when they follow up on the lead. Companies will also be able to develop their own custom integrations leveraging LLMs with the thriving Slack developer community.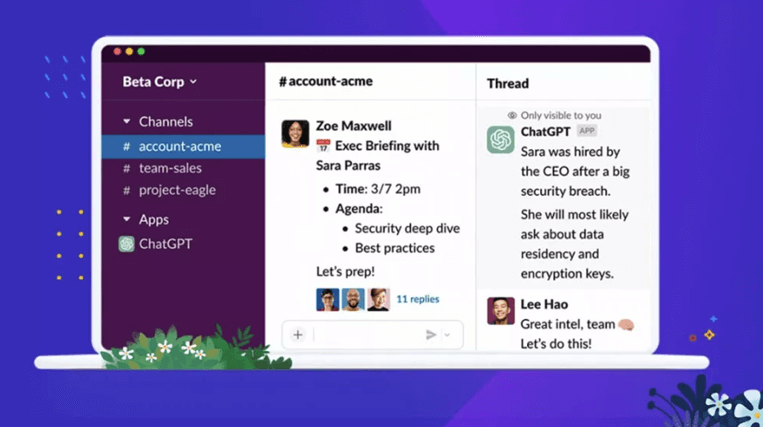 "Generative AI has enormous potential to redefine how work is done and unlock significant business productivity," said Lidiane Jones, CEO of Slack. "The real power of this technology is when AI can analyze and act on the most valuable data from a company's most trusted resource — its own internal knowledge. Slack GPT is the conversational AI platform of the future, helping organizations easily tap into their trusted customer data and essential employee knowledge so they can work smarter and make smarter decisions faster."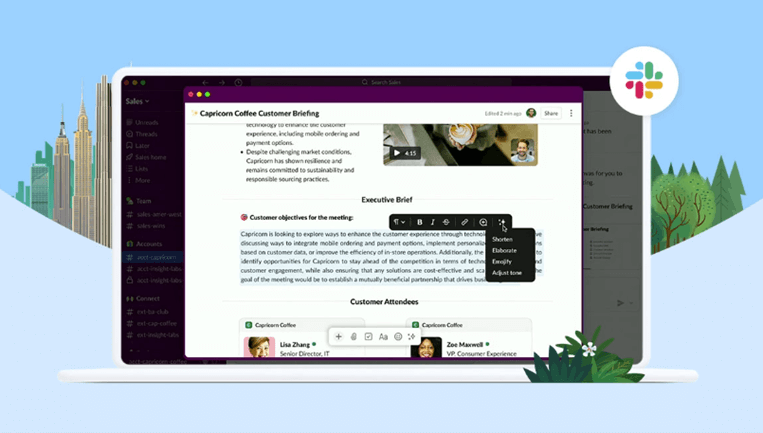 Wrapping up, Slack GPT's potential is significant with implications for a wide range of industries and applications. Slack GPT WIll bring the power of generative AI into the ways that users already work in Slack resulting in a new kind of productivity – helping do tasks more efficiently while delivering a better customer experience Slack GPT will benefit those in marketing, sales, customer service, and developers among others. This is a significant step for Slack to enhance its popular business communication tools. It is important to note that Slack GPT is currently in beta.
Disclosure: The Futurum Group is a research and advisory firm that engages or has engaged in research, analysis, and advisory services with many technology companies, including those mentioned in this article. The author does not hold any equity positions with any company mentioned in this article.
Analysis and opinions expressed herein are specific to the analyst individually and data and other information that might have been provided for validation, not those of The Futurum Group as a whole.
Other insights from The Futurum Group:
The Cost of The Next Big Thing – Artificial Intelligence
Salesforce to Integrate Einstein GPT and Data Cloud Capabilities into Workforce Automation Suite Flow
Salesforce Adds a Nature Positive Strategy to its Climate Action Plan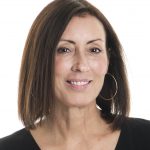 Shelly Kramer is a Principal Analyst and Founding Partner at Futurum Research. A serial entrepreneur with a technology centric focus, she has worked alongside some of the world's largest brands to embrace disruption and spur innovation, understand and address the realities of the connected customer, and help navigate the process of digital transformation. She brings 20 years' experience as a brand strategist to her work at Futurum, and has deep experience helping global companies with marketing challenges, GTM strategies, messaging development, and driving strategy and digital transformation for B2B brands across multiple verticals. Shelly's coverage areas include Collaboration/CX/SaaS, platforms, ESG, and Cybersecurity, as well as topics and trends related to the Future of Work, the transformation of the workplace and how people and technology are driving that transformation. A transplanted New Yorker, she has learned to love life in the Midwest, and has firsthand experience that some of the most innovative minds and most successful companies in the world also happen to live in "flyover country."