Pros Emphasizes Self-Service as the Future of Commerce
Pros Emphasizes Self-Service as the Future of Commerce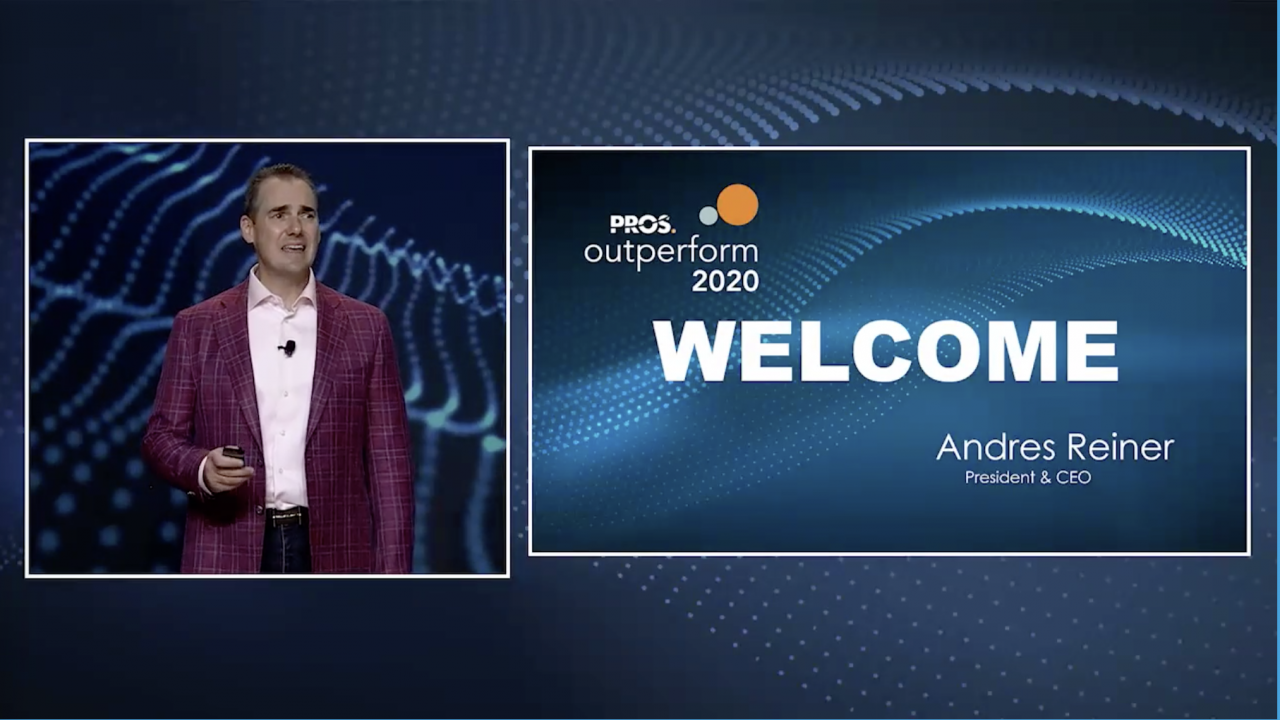 The News: This week, Pros Inc. held its annual Outperform Conference online. The company, best known for its pricing optimization software delivered a full slate of presentations starting with its CEO. This year's event had a strong focus on the future of commerce and a pivot to self-serve strategies for B2B and B2C companies. View the full event here.
Analyst Take: Today's event hit on a few key topics that are keeping business leaders awake in the midst of one of the most challenging years in recent history. With a sizable leap in e-commerce being a natural byproduct of shuttered economy, we have seen a decade of digital transformation in a matter of a few months. When it comes to e-commerce, that was precisely the case as we saw e-commerce double from 2019 to April of 2020.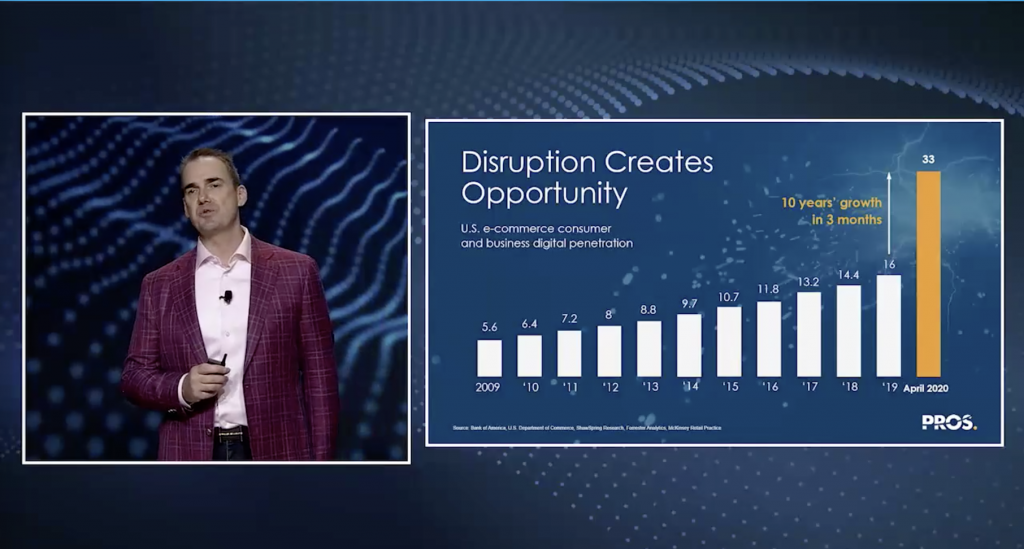 This point was hammered home by Pros CEO Andres Reiner, who delivered a powerful, yet simple message about the drastic shift that businesses will need to take to meet the customers where they are. In this case, online more than ever–and perhaps one of the most notable take aways for me, was the lack of distinction between B2B and B2C. In short, more buying is happening online. More buying is happening without heavy sales interaction. And companies need to pivot to address this no matter what has been the strategy for delivering on revenue and growth in the past.
A Platform to Address the Opportunity of Disruption 
Pros Inc. offers a best of breed platform that has been best known over time for using data to deliver optimized pricing. The company is the gold standard of doing dynamic pricing for the airlines, but this tool is used in a broad set of industries both direct to consumer and B2B.
As noted, the B2C and B2B landscape is pivoting, and Pros acknowledged this with substantial focus on offering updates to its platform at this year's Outperform.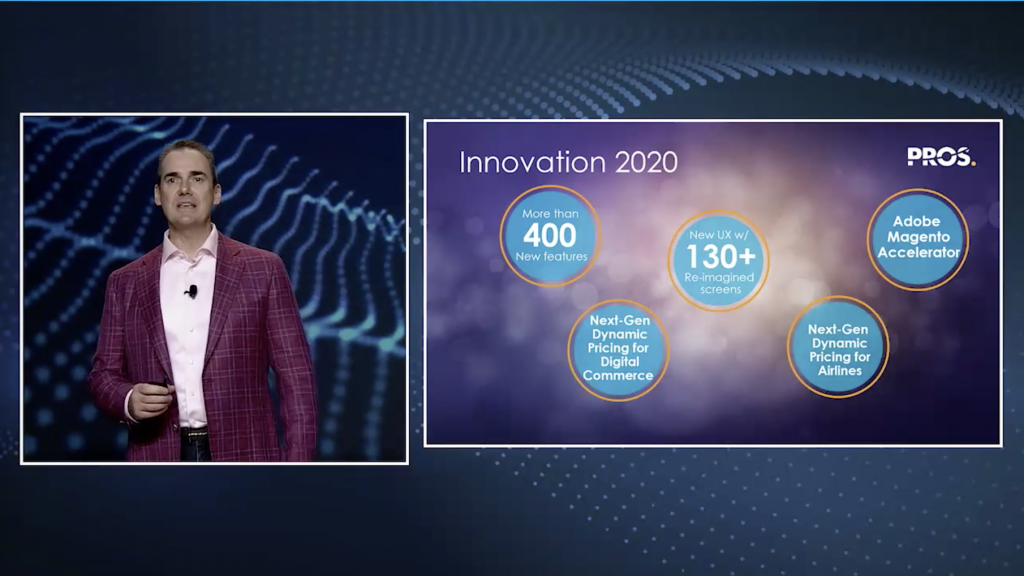 The company was able to announce significant updates to the platform that included more than 400 new features, an updated and improved UX, updates to its dynamic pricing capabilities as well as an important partnership with Adobe that should draw significant attention to the solution. This is in addition to partnerships with other business applications leaders from Salesforce to Microsoft–providing a way for a vast number of CX and CRM solutions to include a better way to deliver optimized pricing and digital commerce experiences for customers and prospects.
The Biggest Message — Self Service Matters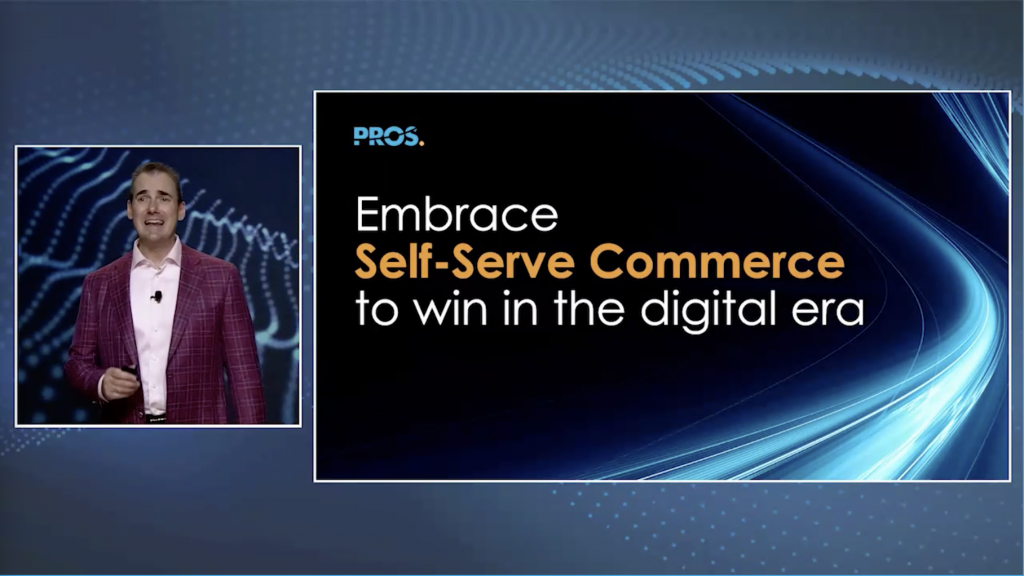 There is a lot of excitement in the announcements and improvements to the platform. The partnerships with Adobe and Microsoft certainly grab attention and show that this tool has a dramatic ability to impact how commerce experiences are delivered down to the getting the right offer into the right moment.
But in the end, it was about Self-Serve. The technology has to be data driven and robust. It has to enable businesses to let consumers and businesses, regardless of the channel (B2B, B2C, B2B2C, B2G) control more of the journey. This isn't going to change. Covid-19, will some day dissipate, but the shift to self service will not. Pros ambitions lie in being able to deliver in this white space.
Overall Impressions of Pros Outperform 2020 Day 1 
This year has been, due to of course unforeseen circumstances, the year of the virtual event. Organizations have drastically improved their events by moving to more on-demand structures, finding new paths to drive engagement, and managing the hectic schedules of attendees with greater empathy. Pros was no different with their event.
Now, I must admit, this was my first time attending the Pros Outperform event, so my expectations were modest. And I have to say I was pleasantly surprised overall. This company sits in a really great position because it plays an integral part in the ecosystem for so many companies that are facing the monumental shift to greater online and digital commerce.
As organizations seek to deliver the most in-tune, real-time engagements with customers, the key to getting the right offers and the right pricing will become increasingly the imperative. The data to determine this perfect inflection point for consumers exists, but the tools are required. Pros provided a compelling story for why their tools are the right ones and hearing from channel partners like Adobe and Microsoft and users like Lufthansa and HPE was a compelling way to confirm that message.
I expect we will be hearing more from Pros as the race to better digital commerce is on.
Futurum Research provides industry research and analysis. These columns are for educational purposes only and should not be considered in any way investment advice.
Read more analysis from Futurum Research:
Microsoft Delivers Key Updates to Dynamics Customer Insights 365
Intel Updates 5G Network Infrastructure To Focus on $25 Billion Market
NVIDIA Delivers Big AI Updates at its GTC 20 Conference
Image: Pros Outperform 2020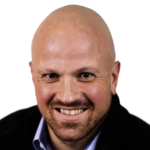 Daniel Newman is the Chief Analyst of Futurum Research and the CEO of The Futurum Group. Living his life at the intersection of people and technology, Daniel works with the world's largest technology brands exploring Digital Transformation and how it is influencing the enterprise. Read Full Bio