Intel 4th Gen Xeon Scalable Processors, Max Series CPUs and GPUs Primed to Accelerate Data Center Performance and Capabilities
Intel 4th Gen Xeon Scalable Processors, Max Series CPUs and GPUs Primed to Accelerate Data Center Performance and Capabilities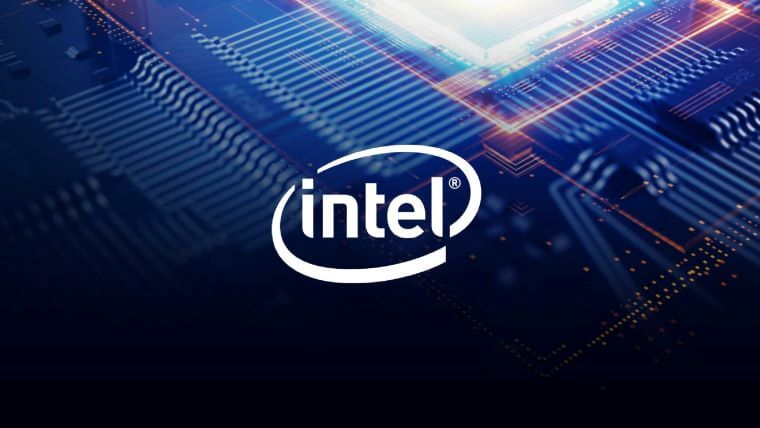 The News: Intel unveiled its 4th Gen Xeon Scalable processors, code-named Sapphire Rapids, the Intel Xeon CPU Max Series, code-named Sapphire Rapids HBM, and Intel Data Center CPU Max Series, code-named Ponte Vecchio, aimed at providing its customers improvement in data center performance, efficiency, security, and new capabilities for AI, cloud, the network, and edge, as well as supercomputers. Read the Intel Press Release here.
Intel 4th Gen Xeon Scalable Processors, Max Series CPUs and GPUs Primed to Accelerate Data Center Performance and Capabilities
Analyst Take: Intel's new 4th Gen Xeon Scalable processors, codenamed Sapphire Rapid, are aimed primarily at delivering the company's most powerful compute for the exacting demands of edge and network loads. The new Xeon processors offer substantial advances in per-core performance, debuts DDR5 memory, PCIe 5.0 and increased input output (I/O) support. Of key importance, Intel is touting that they support the most built-in accelerators of any CPUs on the market.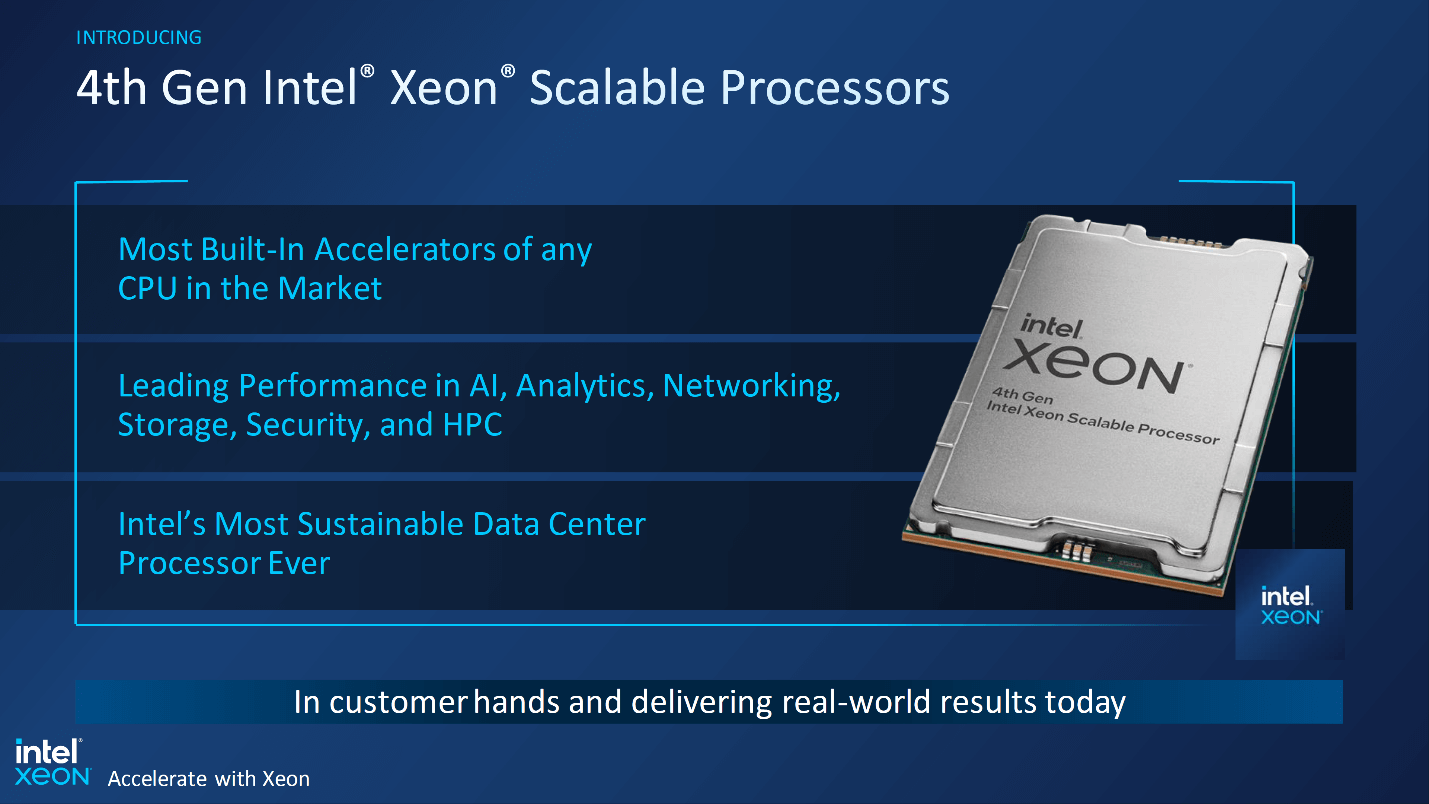 Intel's new Xeon processors target edge applications, especially across data center environments, that can benefit from enduring availability and industrial-grade features across a wide range of power and performance envelopes. This includes a vast array of repeatable market-ready solutions that organizations can deploy and scale swiftly. For example, communications service providers (CSPs) attain a solution that delivers intricate packet processing with energy-efficient performance to handle 5G traffic expansion including XR/VR applications as well as intelligent distribution of virtualized network functions.
From my perspective, the topmost differentiator for the 4th Gen Intel Xeon Scalable processors and Xeon CPU Max Series is the built-in accelerator technology. The new Intel Accelerator Engines are purpose-built to optimize AI, high-performance computing (HPC), security, network, analytics, and storage applications. Fundamentally, I see built-in acceleration as an alternative, more efficient way to achieve higher performance than expanding the CPU core count.
As such, Intel Acceleration Engines in combination with high bandwidth memory and software optimizations target significant improvement of performance and power efficiency across designated workloads which can lead to cost savings. The key highlights of the Intel Built-in Accelerators include:
Intel Advanced Matrix Extensions (Intel AMX): With Intel AMX, I expect that AI performance of the CPU increases to encompass fine-tuning and small and medium deep learning training models, as well as bolsters the performance of deep learning training and inference.
Intel Data Streaming Accelerator (Intel DSA): Intel DSA is developed to drive high-performance for storage, networking, and data-intensive workloads by improving streaming data movement and transformation operations. I expect that Intel DSA can boost the overall Xeon proposition by assisting in speeding up data movement across the CPU, memory, and caches, as well as all attached memory, network devices, and storage.
Intel Dynamic Load Balancing (Intel DLB): I see Intel DLB as enhancing overall Xeon sales prospects since it is designed to improve the performance related to handling network data on multicore Intel Xeon Scalable processors. This can enable the distribution of network processing across multiple CPU cores/threads and distribute network data across multiple CPU cores for processing as the system load varies.
Intel Quick Assist Technology (Intel QAT): By offloading encryption, decryption, and compression, Intel QAT helps liberate processor cores that can allow systems to serve a larger number of clients or use less power.
Intel Advanced Vector Extension 512 (Intel AVX 512): Intel AVX-512 is the latest x86 vector instruction set, with up to two fused-multiply add (FMA) units and other optimizations targeted at accelerating performance for computational tasks, such as scientific simulations, financial analytics, and 3D modeling and analytics.
Intel Speed Select Technology (Intel SST): Intel SST is designed to grant more active and expansive control over CPU performance, which can improve server utilization and reduce qualification costs by enabling customers to configure a single server to match fluctuating workloads.
Intel Data Direct I/O Technology (Intel DDIO): Intel DDIO seeks to remove inefficiencies by enabling direct communication between Intel Ethernet controllers and adapters and host processor cache.
Intel's phalanx of new built-in accelerators, including specialized accelerators such as Intel AVX-512 for vRAN and Intel In-Memory Analytics Accelerator (Intel IAA), strengthen its marketing claim of having the most built-in accelerators of any CPU on the market today, particularly in competing against AMD's 96-core EPYC 9654 Genoa CPU offering.
Moreover, the Intel Crypto Accelerator alongside Intel's security engines, consisting of Intel Software Guard Extensions (SGX), Intel Trust Domain Extension (Intel TDX), and Intel Control-Flow Enforcement Technology (Intel CET), burnishes Intel's security credentials, especially across its confidential computing portfolio. I see Intel's Xeon portfolio gaining a differentiation edge by offering SGX's application isolation for data center computing capabilities that can dramatically reduce attack surfaces across cloud-to-edge, public, and private cloud environments. Plus, Intel TDX's VM isolation technology eases the porting of existing apps into a confidential environment with cloud provider stalwarts Microsoft Azure, Google Cloud, IBM Cloud, and Alibaba Cloud already on board to help raise Intel's security profile.
The 4th Gen Xeon processors coupled with the new Intel Max Series product family address growing data center ecosystem demand for a scalable, balanced architectural approach that assimilates CPU and GPU with oneAPI's open software ecosystem for scaling and intelligently managing arduous computing workloads in AI and HPC. From my viewpoint, the Xeon CPU Max Series provides the x86-based bandwidth memory vital to accelerating demanding HPC workloads without requiring code changes. The Intel Data Center GPU Max Series can provide the processor density and form factor flexibility needed to further fulfill the most challenging AI/HPC workload demands.
Key Takeaways: Intel 4th Gen Xeon Scalable Processors Ready to Drive New Data Center Innovation
I commend Intel for emphasizing the manufacturing innovation critical to generating 4th Gen Xeon platform differentiators as well as assuaging ecosystem concerns regarding Intel's manufacturing prowess. The 4th Gen processors combine up to four Intel 7-built files on a single package, connected using Intel EMIB (embedded multi-die interconnect bridge) packaging technology and providing new capabilities such as increased memory bandwidth with DDR5, increased I/O bandwidth with PCIe 5.0 and Compute Express Link (CXL) 1.1 interconnect.
Overall, I believe the fusion of the 4th Gen Xeon CPU cores in combination with an agile, vast array of built-in accelerators can deliver performance breakthroughs, efficiency advances, and new total cost of operation benefits throughout swiftly expanding and evolving network and edge environments. The new solutions underscore Intel's commitment to a workload-first portfolio development strategy which bodes well for the company's ongoing organization-wide turnaround objective.
Disclosure: Futurum Research is a research and advisory firm that engages or has engaged in research, analysis, and advisory services with many technology companies, including those mentioned in this article. The author does not hold any equity positions with any company mentioned in this article.
Analysis and opinions expressed herein are specific to the analyst individually and data and other information that might have been provided for validation, not those of Futurum Research as a whole.
Other insights from Futurum Research:
CES 2023: Intel Unleashes 13th Gen Core Mobile Processors Aimed at Elevating Mobile Platform Experiences
Intel Q3 2022 Results: Return to Profitability Points to Progress in Turnaround
Intel x86 Architecture: Comprehensive Performance, Testing, Validation, and Industry Standards Cloud Benefits
Image Credit: wccftech.com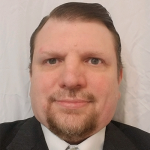 Ron is an experienced research expert and analyst, with over 20 years of experience in the digital and IT transformation markets. He is a recognized authority at tracking the evolution of and identifying the key disruptive trends within the service enablement ecosystem, including software and services, infrastructure, 5G/IoT, AI/analytics, security, cloud computing, revenue management, and regulatory issues. Read Full Bio.