Intel Q3 2022 Results: Return to Profitability Points to Progress in Turnaround
Intel Q3 2022 Results: Return to Profitability Points to Progress in Turnaround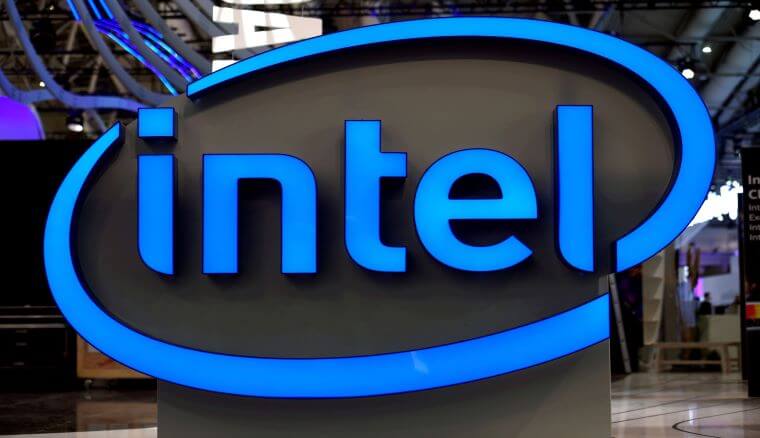 The News: Intel reported third quarter (Q3) GAAP revenue of $15.3 billion, down 20% year over year (YoY), and non-GAAP revenue of $15.3 billion, down 15% YoY. Q3 2022 results include GAAP restructuring charges of $664 million, reflecting initial cost reduction actions. The company reported $1 billion in net income and operating (GAAP) loss of $175 million. Read the Intel Press Release here.
Intel Q3 2022 Results: Return to Profitability Points to Progress in Turnaround
Analyst Take: Intel's Q3 2022 results were an improvement over a challenging Q2 2022 as it returned to profitability. Intel recorded a $1.2 billion tax benefit that aided the return to black, although Q3 2022 outcomes remain below its historical levels of profitability. Intel's Q3 2022 financial highlights included:
Q3 2022 Financial Highlights (Source: Intel)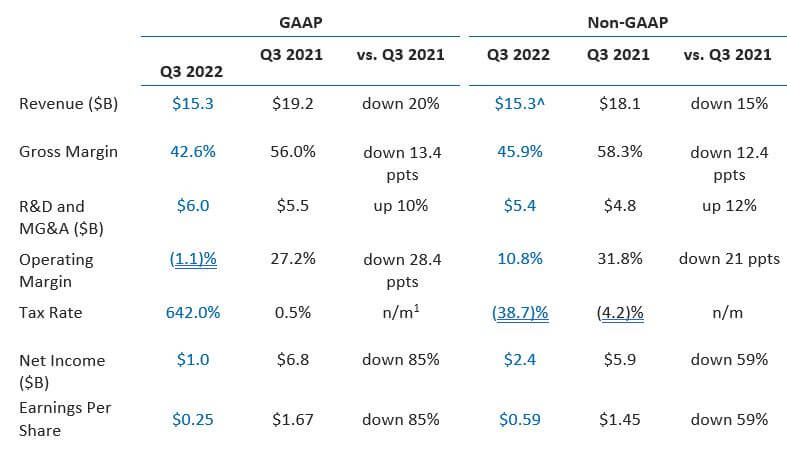 From our view, Intel is executing the strategy driven by CEO Pat Gelsinger, required to improve its overall financial situation. This includes Intel's focus on driving $3 billion in cost reductions in 2023, growing to $8 billion to $10 billion in annualized cost reductions and efficiency gains by the end of 2025. Plus, Intel listed Mobileye on the Nasdaq Stock Exchange, keeping more than 99% voting control through ownership of the Mobileye's Class B shares, which we see ultimately aiding Intel's finances longer term as driver-assist technology becomes increasingly mainstream.
Of concern, Intel is once again revising full-year revenue guidance down to the $63 to $64 billion range, reflecting continued macroeconomic headwinds. We identify the ongoing post-pandemic slump across the worldwide PC market as a major factor in spurring Intel's adjusted outlook. Both of Intel's major groups, Client Computing Group (CCG) and Data Center and AI Group (DCAI), are down notably on a YoY basis.
CCG reported $8.1 in revenue, a 17% decrease from the year-ago quarter. With consumer and education system sales slowing down post-pandemic, Intel felt the impact of OEMs dialing back chips orders as their inventories swell. For Q3, DCAI booked $4.2 billion in revenue, a 27% decrease from the year-ago quarter. Intel attributes DCAI's revenue dip to lower sales of server & AI parts due to overall diminishment of customer demand and an uptick in costs as more server processors are shipped on the Intel 7 and 10ESF processors.
My co-host from Moor Insights and Strategy, Patrick Moorhead, and I discussed Intel earnings in a recent episode of our webcast, The Six Five. Check out the episode here.
Keep an Eye on Intel's Business Moves
We see Intel making progress with its objective of achieving five nodes in four years. Intel 4 is already advancing towards high-volume manufacturing with the expectation to tape out a production shipping of Meteor Lake in Q4 2022. This represents the 14th Gen Intel Core processors from the design phase to early production in silicon. Intel reports that Intel 3 is progressing on schedule. Intel reports that Intel 20A and Intel 18A, its first internal chips and those of a major foundry customer have taped out with products undergoing fabrication.
CCG launched 13th Gen Intel Core processors that support a faster desktop processor and optimized gaming, content creation, and productivity. DCAI shipped its 4th Gen Intel Xeon Scalable processor high-volume SKUs. Moreover, Google launched its C3 machines powered by Intel's 4th Gen Intel Xeon Scalable processor and Google's customer Intel IPU E3200.
From our viewpoint, Intel's new Core CPUs, the new Geti computer vision platform, and the expanded Intel Developer Cloud unveiled at the Intel Innovation 2022 event are all impressive because they graphically show the breadth and scope of the company's advancements in enterprise-focused technology.
Intel Q3 2022 Takeaways: Focus on the Long Game including IFS and x86 Architecture
From our perspective, Intel's long game also needs to be significantly considered in understanding its overall competitiveness and potential for improved financial performance. For instance, Intel Foundry Services (IFS) announced that NVIDIA is joining the U.S. Department of Defense's (DoD) RAMP-C program, headed by Intel, seeking to enable both commercial foundry customers and the DoD to capitalize on Intel's at-scale investment in leading-edge technologies. In addition, since Q2 2022, IFS has expanded engagements to seven of the 10 largest foundry customers, coupled with consistent pipeline growth to include 35 customer test chips.
Moreover, we believe the x86 architecture plays an integral role in delivering workload-accelerated solutions for the most important and widely demanded use cases. This includes ensuring system hardware runs proficiently on today's applications, as well as future emerging workloads (e.g., 5G-IoT, AI, Analytics). The x86 architecture plays a pivotal role in streamlining the process of improving the selection of the software and hardware needed for today's cloud and data center workloads and applications, particularly in meeting the new post-pandemic business demands related to hybrid workforce, AI/analytics, cloud, and security support.
Even with the recent challenges related to Q2 2022 and Q3 2022 earnings, Intel's x86 architecture is impressive, empowering businesses to make the best purchasing decisions in selecting cloud and data center solutions, and specifically, decisions that improve business outcomes across their cloud, network, and IT environments. With the company's recent reiteration of its IFS, and the appointment of Stu Pann to lead its transformation at the helm of the IDM 2.0 acceleration office, there is more to be optimistic about. Of course, meeting its timelines and commitments will be paramount, but the vision is becoming more clear and Pat Gelsinger's relentless pursuit of a turnaround can be felt even if it winds up taking the next few years to complete—after all, it was a huge job, but it had to be done.
Disclosure: Futurum Research is a research and advisory firm that engages or has engaged in research, analysis, and advisory services with many technology companies, including those mentioned in this article. The author does not hold any equity positions with any company mentioned in this article.
Analysis and opinions expressed herein are specific to the analyst individually and data and other information that might have been provided for validation, not those of Futurum Research as a whole.
Other insights from Futurum Research:
Intel x86 Architecture: Comprehensive Performance, Testing, Validation, and Industry Standards Cloud Benefits
Intel Innovation 2022 Unveils New CPUs, Expanded Dev Cloud
Intel Q2 2022: The Good, The Bad, and the CHIPS Act
Image Credit: Wccftech