Recent Developments in the 5G Ecosystem: Open RAN Market, GM AT&T 5G Partnership, AT&T UT Partnership, Mavenir Telestax Acquisition and Boingo AWS Partnerships – Futurum Tech Webcast – The 5G Factor
Recent Developments in the 5G Ecosystem: Open RAN Market, GM AT&T 5G Partnership, AT&T UT Partnership, Mavenir Telestax Acquisition and Boingo AWS Partnerships – Futurum Tech Webcast – The 5G Factor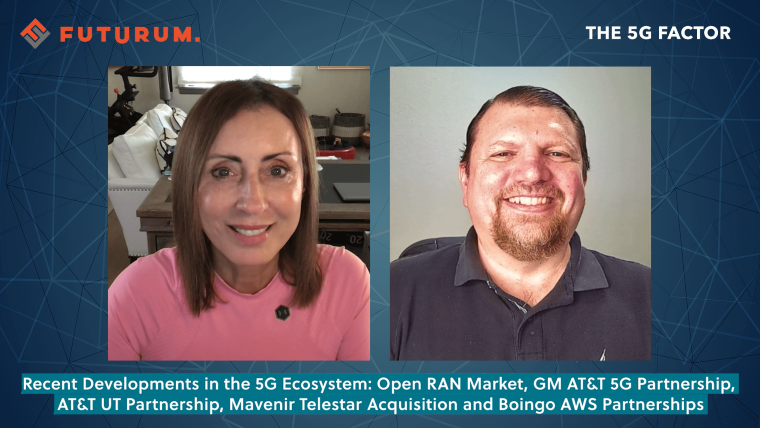 In today's episode of The 5G Factor, our newest Futurum Tech Webcast series focused on all things 5G, I'm joined by my colleague and fellow analyst, Ron Westfall, for a look at some key trends in the 5G ecosystem.
Our conversation today centered on recent developments in the 5G ecosystem, including recent developments in the Open RAN market, and the recently announced partnership between GM and AT&T bringing 5G to select models in the GM fleet. Speaking of AT&T, we also touched on AT&T's recently announced partnership with the University of Tennessee at Knoxville, this one centered on millimeter wave (mmWave) spectrum test beds. Ron took us through the Mavenir acquisition of Telestax and what that means for the Communication Services as-a-Platform market, and we finished the show with a look at Boingo Wireless's deepened partnership with AWS, integrating AWS's edge and cloud services with Boing's converged network offering and how these private network deployments will benefit airports, stadiums, and other facilities. Here are some quick notes:
Recent Developments in the Open RAN Market
Ron covered recent developments in the Open RAN market segment including the rise of "rip and replace" in the U.S. and provided insight and key takeaways from the new "rip and replace" deals announced this last month. He also touched on why the FCC's "rip and replace" program is taking off, and how vendors like Mavenir, Nokia, and Ericsson are capitalizing, along with how both the Open RAN and traditional RAN tech are fitting into this program.
We touched on the latest Open RAN developments, and O-RAN Alliance moves and what they portend for the 5G industry, and quickly hit on Open RAN supporting 2G and why that's so important.
GM AT&T Partnership on 5G Cellular Connectivity
Shelly covered the recent partnership between GM and AT&T to bring 5G cellular connectivity to certain GM models by 2024 and the continuing moves by other players in the industry as a whole toward the democratization of the connected car experience for consumers, covered in a recent research note. Our conversation touched on Hyundai and NVIDIA's partnership and what's ahead there, as well as Qualcomm's pursuit of Veoneer and what that means for the company's ambitions in the Automotive industry as a whole.
AT&T's Partnership with the University of Tennessee, Installing a 5G Testbed Using mmWave Spectrum
Coincidentally, AT&T continued to catch our eye this week, this time with its partnership with the University of Tennessee at Knoxville. Unlike its partnerships with the University of Missouri, Texas A&M and the University of Connecticut, all of which focus on private 5G networks, this partnership between AT&T and the University of Tennessee is centered on installing a 5G testbed using millimeter wave (mmWave) spectrum. Our conversation touched on what this means, both for students, a future generation of talent, and for the 5G industry as a whole.
Mavenir's Acquisition of Telestax
Ron published a research note on Mavenir's recent acquisition of Telestax and our conversation today focused on the nuances of that acquisition, insights on Mavenir's strategy here, along with the expanded monetization of 5G opportunities that exist by way of Communications Platforms as-a-Service (CPaaS) offerings.
Boingo Wireless and AWS's Expanded Partnership
Boingo Wireless is a familiar name for frequent travelers, and likely for folks who frequent large venues like stadiums and arenas as well. Our final discussion of the show today focused on the expansion of the partnership between Boingo and AWS, integrating AWS edge and cloud services with Boingo's converged network offering. We walked through some specifics of the benefits this affords and gave some examples of this technology in use and why it will be such a big benefit, for users and for businesses as well.
You can find the video here:
Or grab the audio by way of your favorite streaming platform here:
We'll see you next week for the next episode of The 5G Factor.
Don't Miss An Episode – Subscribe Below:
Disclaimer: The Futurum Tech Webcast is for information and entertainment purposes only. Over the course of this webcast, we may talk about companies that are publicly traded and we may even reference that fact and their equity share price, but please do not take anything that we say as a recommendation about what you should do with your investment dollars. We are not investment advisors and we do not ask that you treat us as such.
More insights from Futurum Research:
Boingo Wireless and AWS Expand Partnership Benefitting Major Airports and Stadiums
AT&T and University of Tennessee Partner to Bring 5G Teestbed to Knoxville Campus
Mavenir Acquires Telestax to Expand 5G Monetization Opportunities Through CPaaS Tech
GM and AT&T Partner to Bring 5G Connectivity to Certain GM Vehicles by 2024
Transcript:
Shelly Kramer: Hello, welcome to this episode of The 5G Factor, which is our newest webcast here at Futurum Research and it's focused on all things 5G. I'm your host, Shelly Kramer, and I am joined today by my colleague and fellow analyst and cohost Ron Westfall, and we're going to take a look today at some key trends in the 5G market. Hello, Ron. How are you?
Ron Westfall: Well good day, Shelly. Taking a break from the summer heat. So this is definitely something that I'm looking forward to talk more about is all the sizzling developments in the 5G world today.
Shelly Kramer: Absolutely. I have to admit, like you, Ron's in Houston, I'm in Kansas city, we are accustomed to hot, hot weather into August, sometimes into September, but I'm getting to the point personally where I'm ready for just a little… just 85. I would be happy with that.
Ron Westfall: Nice and cool.
Shelly Kramer: In the big scheme of things, being hot is kind of first world problems, especially with all that are going on right now so I'm not going to complain. So we're going to start off our show today and we're going to talk about recent developments in the open [inaudible] market and really what we're going to start talking about, and I know something that Ron's really dialed in on is the whole rise of rip and replace in the United States. We've got some new rip and replace deals that were announced this last month and so we kind of want to look at those and get some key takeaways on what's going on there with rip and replace? Ron, dive in and tell us a little bit more about that.
Ron Westfall: Right on, yes. Rip and replace is rising and there's 1.9 billion reasons for this. First of all, when Congress passed the COVID-19 relief funding to the tune of about a trillion dollars, it also included what is now called the Secure and Trusted Communications Networks Act, and that's allocated funding for what is called the rip and replace program now being administered by the FCC, and the FCC is allocating funds to mostly independent and regional carriers throughout the US to replace equipment from Huawei and ZTE.
And a little background, there are actually over 1300 independent telcos in the US, so the US market is rather distinct, and many of them are definitely very good at servicing their localities. They actually are high touch, they are very prioritizing, having the best equipment that they can use to serve other customers. So this is actually a very important opportunity for the ecosystem and specifically suppliers like Nokia, Ericsson, Mavenir, Adtran, all of them have been involved in the development of the rip and replace program, how the legislation was worded.
And the other reasons why rip and replace is taking off is that in addition to the government funding it, there's also a provision that it has to be comprehensively done, meaning you have to rip and replace all the Huawei equipment, all the ZTE equipment. You can't just pick some of the equipment and be selective about it. And there's also currently right now a one year provision, so that is a tight timetable for many of these smaller carriers, even with their capabilities.
And as a result, we're seeing an acceleration in terms of, okay, how can we get on this bandwagon? Can we meet this tight one-year timetable? And I think it's important to note that when this was developed, Nokia advocated extending that one-year timetable and I believe that that will end up happening, but for now the FCC is sticking to the one-year timetable. Let's see how this develops, and then we can see if we need to do six month or 12 month extensions, because it's one thing to replace, for example, the core, the mobile core that could take six to eight months, that's relatively more straightforward. However, replacing the RAN components and replacing the back office components such as the OSS and BSS processes, that can take more time and it could exceed the 12-month limit.
So this is something that's definitely percolating. For example, Ericsson indicated that in working with the 100 plus independent telcos that they're engaged with, that about 40% of it is a rip and replace effort and they anticipate that number to increase naturally, as there's more momentum, as more carriers board onto this program. So it's definitely something that we are definitely going to be watching.
And to your point, Shelly, about some of the recent deals. One was Mavenir won Triangle Communications in Montana, their rip and replace effort. And that actually is interesting because not only are they supplying both the hardware and the software components, because Mavenir is a new, relatively new entrant, to the hardware side of supplying RAN equipment, specifically Open RAN. So this is a feather in their cap, but it's also specific to the fixed wireless access deployments of Triangle. So this is indicating that Open RAN in the early stages of rip and replace will have a role.
Now, on the other hand, we anticipate that most of the rip and replace will rely mostly on traditional RAN technologies, at least in the early stages, the good majority of it. For example, Nokia's deal with Union Wireless based in Wyoming, that was both equipment and services. So we can anticipate that some carriers will be interested in working with a major supplier that can also provide the services to ease this transition.
So yeah, we'll definitely be looking forward to seeing more rip and replace headlines over the course of the rest of this year and well into 2022, and so this is definitely something that is putting Open RAN but also mobile transition technology into the headlines.
Shelly Kramer: Absolutely. Well, very interesting stuff and much more ahead, right?
Ron Westfall: No doubt. Yeah. I think what's also important to note is that rip and replace is US specific, but there's also concern about how much impact can Open RAN have if the suppliers aren't fully aligned with supporting 3G and 2G, because almost all the headlines related to Open RAN are related to supporting 4G and 5G networks, Open RAN is actually very much aligned with 5G specifications. That is, rely on virtualization, separating the control plane and the user plane using disaggregated networking techniques. And so it's very well suited for that. However, power compatibility is important. And as a result last year, for example, Mavenir bought a company called IP Access just to address this backward compatibility.
Another Open RAN supplier, Parallel Wireless, made a good deal of headway in differentiation by touting that capability. And just this month, Mavenir took that extra step of ensuring 2G backward compatibility for Open RAN because for one thing, there's still 2G connections in North America in the US to this day as well as Europe, but more importantly, in other parts including India and Africa and Asia, there are at least a billion plus 2G connections out there.
And so for Open RAN to really have much impact on a global basis, you really need to have that built-in backward compatibility. So this is actually a very encouraging development, to see the suppliers upping their game and making sure that Open RAN can fulfill all of the Gs in terms of being able to work with the existing networks out there.
Shelly Kramer: You know, Ron, I can always count on you for the clever nuggets, fulfill all of the Gs.
Ron Westfall: It's a G thing, yes.
Shelly Kramer: And with that, we'll move on to some other Gs. One of the things that caught my attention and that I wrote about this week was about the GM partnership with AT&T on 5G cellular connectivity. And I thought this was really fascinating, and I actually am a car person. It's funny, I don't know that I've always been that way, but I'm kind of a car person now. And I'm really fascinated by the advancements in the automotive industry and what we're seeing happening in some key partnerships. But speaking of this partnership, the GE and AT&T partnership, the companies announced that they'll bring 5G cellular connectivity to select Cadillac, Chevrolet, and GMC vehicles by 2024. So that connection boost will impact faster navigation, better coverage, more reliable software updates, more rapid software updates for in-vehicle infotainment systems.
And also an interesting point is that GM models from 2019 and newer that are equipped with 4G LTE will also be able to migrate to the new network infrastructure. So I think this is really important for a couple reasons. One is I think that we're seeing the democratization of connected cars. We talked about this earlier before this show started, and I drive a fancy luxury car and this is actually the second luxury car that I've had that's been pretty connected. But this one is even more connected. I drive a 2020 Mercedes, and as I was telling Ron in our earlier conversation, I don't think I could run into anything if I tried because the car is equipped with so many safety features that it literally shuts down if it senses me getting too close to somebody or if it senses me backing up and there's something in the way. It's just really, really interesting.
And then of course, once you get used to those kinds of safety features or if you drive a vehicle like a Tesla, and you're used to getting software upgrades through the internet, all of a sudden it seems so backwards to be driving a car that doesn't afford sort of that safety and those luxuries and those kind of easy updates.
I wrote last year about a partnership between Hyundai and Nvidia that will enable Hyundai to bring connected vehicle features, the top of the line connected vehicle features to its entire fleet in about this same time period. So I think what we're seeing is car makers embracing the IOT, embracing 5G, embracing all things that contribute to the connected car ecosystem, and I think that's a good thing.
I think that what this announcement signals of course, is AT&T's belief in their 5G network and that it will be ready to handle millions of connected cars by the end of 2023, when those 2024 models are released. So I think we're going to see some impressive growth there. Ron, are you paying attention at all to the whole connected car and 5G driving, this innovation there?
Ron Westfall: Oh, you bet. Like you, Shelly, I'm a car lover. I think one reason why the major carriers are promoting their collaboration efforts in the automotive side is because almost everybody is interested in it. It's a great way to promote your wares, and I think it's important that it really is when it comes to 4G, 5G connectivity mostly about enabling the infotainment capabilities.
For example, I have an older model Honda Odyssey, and the infotainment is really a DVD player. That's a hassle to have to switch those out and you have little kids in the back and they're clamoring for, I want to watch Despicable me instead. So it's almost you have to pull over if you really want to be safe about updating that. And what I think is definitely exciting about the 5G connectivity capabilities is just having that flexibility to do video streaming to the infotainment system, having just more flexibility on the computer screen and so forth, and I think that will be welcomed by everybody. It will make cars safer, it will just give people more options to entertain the backseat drivers, especially on long distance driving. So this is just I think a good example of the ecosystem coming together and improving these capabilities.
I also think it's important that when you look at suppliers on the Silicon side, like Marvell, I think they're definitely advancing what could be called ethernet working for the automotive sector. So instead of like legacy proprietary interworking, which can make the cars more expensive, they also quite simply can be complex to ensure it working by using ethernet networking principles that are already universally applied in offices and so forth to automobiles. I think we can see even more advances in terms of these capabilities. So that's a great example of different technology trends coming together to fulfill that vision of the automobile becoming much safer, becoming just smarter, more agile, and so forth. So it's a thumbs up.
Shelly Kramer: Well, and I think that our conversation here over the course of the last couple of minutes has focused on consumer vehicles, but there are huge applications that this new level of connectivity brings to fleets and fleet management services. When I was writing this article about the GM and AT&T partnership, one of the things that GM's VP of global connectivity, Santiago Chamorro, mentioned that their OnStar service connects about 60 million vehicles across US roadways. So enabling that 5G access, the 5G network for strategic partners, will play a big role in growing other mobility services and things that we see in smart cities of the future. That future is this far away. It's not really a long time away. So I think that was really exciting.
And I'm also… we look a lot here… our team in general is… we look across the industries as a whole and trends. I mentioned Hyundai's partnership with NVIDIA and NVIDIA does is really allows powers that connected car operating system across the entire Hyundai fleet using NVIDIA's drive platform. And this is really a focus on extending a software defined connected car experience and bringing the very best in driving, which I think is really cool.
Some recent news that our colleague, Daniel Newman, wrote about too was watching what Qualcomm's doing in the automotive industry. And we expect to… they're doing some pretty significant things and we expect that to be even more significant in the coming months. Qualcomm's recently pursued Veoneer, which is a developer of full stack automotive technologies, including safety systems like radar and vision systems and driver monitoring systems and all different kinds of technologies, also autonomous driving features and restraint controls. We don't know yet what's going to happen with Qualcomm's bid to acquire Veoneer, but we are certainly watching that with anticipation because what it does show us is that Qualcomm's ambitions and strategic focus in the automotive industry is significant and certain to get even more significant over time. I thought that was pretty interesting in terms of what's going on for car people.
Ron Westfall: Yes. And I think it's important to note that a lot of the vision, certainly advanced by Elon Musk with the whole Tesla offering is that automobiles are increasingly becoming computers on wheels. So I think this is aligning with fulfilling that vision, and overall it's good news because, again, it's just making these built-in capabilities safer. And a lot of it really is coming down to on-board computing. Yes, there will be a role for 4G, 5G connectivity for infotainment, but there's still I think a little confusion that, oh, if you have an autonomous car and it's relying on sensors embedded throughout an urban grid and if one of those sensors doesn't communicate the car will suddenly shut down and cause a set of accidents. Well that is not what is being pursued here, at least in the foreseeable future. That would be much further out and it would be for selective capabilities like fleet management, not individual cars.
We can't get too far ahead of ourselves. We really have to focus on when it comes to the 4G, 5G connectivity capabilities, it really is a specific set of technical features and it's not a comprehensive car capability that is going to be offered anytime soon.
Shelly Kramer: Yeah, absolutely. Well, good stuff. Good stuff.
Now, moving on, since I was already on the topic of AT&T, I wanted to touch base on AT&T's partnership with the University of Tennessee at Knoxville, and I know that you are really focused on and excited about, mmWave technology, and this is what that's all about. So this partnership at UT at Knoxville is AT&T is installing a 5G test bed using mmWave spectrum and I think that that is what we've seen is lots of mmWave expansion over the course of this year alone we've seen Ericsson, Motorola, Nokia, Rakuten, Samsung and others talk about their efforts to support and expand this technology around the world, and that's really exciting.
What I loved about this story. What I loved about this story is just kind of showing what is possible. A lot of these universities, we've got the University of Tennessee at Knoxville, AT&T has also partnered with the University of Missouri and a couple other ones. I have it in front of me, and I just wrote about it today, and I kind of forgot. I kind of forgot who else they were partnering with. Oh, so they partnered with Texas A&M, the University of Connecticut, and the University of Missouri, and these partnerships were all about bringing private 5G networks to the universities. What this University of Tennessee partnership is about is really about this 5G testbed using MM wave spectrum.
And what I think is particularly cool about this is a couple of things. One is some of these universities are located in more rural areas, and so this kind of coverage, bringing this kind of coverage to their research facilities opens the door to opportunities that could impact the community, the country, and even the world, because what you have is students being able to take advantage of and work on these advanced technologies and experimenting with things like machine learning and biometric data and augmented reality and virtual reality, and to experiment and learn. This is our next gen workforce, right? And so they have the ability to experiment with and learn on this technology that would maybe otherwise be cost prohibitive due to where they're located. So I thought that that was a really cool expansion of AT&T's partnerships with the universities on those couple of fronts. I'm sure that you have thoughts on mm wave expansion coming to a city near you.
Ron Westfall: Right on, yes. Now millimeter wave technology is definitely something that is integral to 5G's future. Verizon also is investing heavily in the technology. And like our conversation, Shelly, about 5G connectivity on cars, there's still some misperceptions about millimeter wave technology. It is high-frequency, it is typically implemented in the 24 gigahertz to 100 gigahertz range, and so people think, oh, well, that gives you higher bandwidth but distance is a trade-off. And that is intrinsic, but what is not true is that it will just keep bouncing off walls so it'll be difficult to control and manage.
There have definitely been advances in, for example, beam forming technology to make millimeter wave technology more compatible to mainstream deployments. And for example, I think AT&T leveraging the academic communities in places like Texas A and M down the road from me in College Station and University of Tennessee at Knoxville, which is a lovely, charming campus, reminds us that academia can play a key role in showing how we can even improve it more.
And so in addition, Verizon is betting on millimeter wave to enable, for example, their smart stadium offering. That's when you step into a stadium, you want that enhanced immersive experience. That's the technology that's being used there. But also it will play a role in what they're calling their smart home offering, so that they have a unified network architecture to meet both the fixed and the mobile needs of their customers so they're not having to run a more expensive network. And the way that works is that you can offer obviously 5G mobility, but also 5G fixed wireless access off fundamentally the same architecture using more back-haul capabilities for any smart home connectivity, etc. So this is all, again, illustrating why millimeter wave is going to be essential for many of the plans of the major telcos, and that some of the naysayers are going to have to dial back their initial skepticism [inaudible] receding more.
Shelly Kramer: Absolutely. Well, good stuff. Good stuff.
Ron Westfall: You bet.
Shelly Kramer: So speaking of major telcos, I want to talk a little bit about Mavenir's acquisition of Telestax, which I know is all about 5G monetization opportunities, communication platforms as a service, which we're seeing more and more of those. Talk with us a little bit about this. I know you just covered it.
Ron Westfall: Right on. Well Mavenir has had a busy August here. We've mentioned them at least three times in our conversation here and that's good. Yes, the Telestax acquisition I think is a sound one. Both companies are headquartered in Texas for one and Telestax definitely has pedigree and acumen and the communications platform as a service market segment.
What I think is important here is that yes, Mavenir now can enhance its existing Mavenir engage platform to improve things like messaging programmability, campaigns, on and on, all these capabilities that come with existing implementations. So what I think is important here is that obviously Mavenir has 5G and mobile expertise that many of the established communication platform as a service providers don't have inside their portfolio today. And this includes companies like Twilio, Vonage, some of these are somewhat household names, but also other companies like Bird Message that definitely have made inroads in this market.
But what's also important to note here is that you have players like Microsoft, like AWS, also Cisco also targeting the space so Mavenir has its work cut out to further differentiate a [inaudible] offering here. However, what I think is going to help them is the fact that unlike almost all these other players, they have that in-house 5G portfolio capabilities, or overall mobile capabilities. And I think that will be a kickstart to their ability to leverage Telestax's capabilities to make quick inroads in this heavily crowded market. So this is going to be good for enterprise customers and certainly service providers that are targeting enterprises now with their own [inaudible] type of implementations, and which is also increasingly overlapping with unified communications as a service and so forth.
It's all about making enterprises smarter when it comes to platforms like we're using right now. Just making communications more flexible, especially with the work from home becoming more mainstream for many major enterprises as well as other key trends. So this is I think something that's good.
Shelly Kramer: The whole BYOD devices, bring your own devices, the work from home. Even as people start going back into the office when/if that happens as things are a little dicey right now, but I believe there's always going to be some kind of a hybrid situation, and so being able to serve that whole, the enterprise work from home employees and support the BYOD policies and things like that, I think that's really a big deal here.
Ron Westfall: No doubt, and I think it's also about security. They also emphasize voice biometrics, certainly interactive voice response capabilities. And this is again aligning with enterprise's accelerating adoption of 5G and also making service providers more adept at differentiating and monetizing their 5G offerings.
So yeah, this is something that I think the whole ecosystem will pay attention to and will force some of these established market leaders in that segment to become more advanced in how they integrate mobile 5G capabilities with their offerings.
Shelly Kramer: Absolutely. Super important. Well, we're going to wrap up this show talking about one last interesting partnership, and this is between Boingo Wireless and AWS. So if you are a frequent traveler or if you go to stadium venues, you are probably familiar with Boingo Wireless, and there was already a partnership between Boingo Wireless and AWS, but they have just announced an expansion of that partnership and Boingo Wireless is integrating AWS edge and cloud services with their own converged network offering. This is going to be implemented with things like distributed antenna systems and wifi and other private network deployments, and where we're going to see this is in stadiums and airports and manufacturing facilities and healthcare facilities, and really other large enterprises are all key candidates for this kind of an expanded partnership.
I think it's pretty cool and I think it's important. I was in Chicago O'Hare in the last week after a quick trip to visit one of my daughters, and so this caught my attention in terms of an example of this in use. Boingo recently launched a new private network at O'Hare Airport using Citizens broadband radio service spectrum and connecting IOT devices that power essential airport services.
And what they're trying to do with this is that they want to transition to more touchless experiences for passengers. Who's not in favor of that, right? The more touchless, the better for me. And O'Hare also recently launched a virtual customer service center at its travelers aid station, and it needed its own wireless network to facilitate live video chats with onsite passengers and remote staff. So when you think about the use cases here, I think that's what's really important. And where AWS comes in is of course their cloud and edge capabilities that are powering that. So what users get is fast speed, high quality video, better customer service all the way around. Again, whether you're in a stadium watching a sporting event or at a concert or whether you're in an airport or other facility, I think this is really interesting. I like seeing the expansion of this partnership and I think it's pretty cool.
Ron Westfall: Yeah, I agree. I think it's another great example of how this is really an ecosystem play. It shows that when it comes to 5G and wifi, and in many cases it's not an either/or proposition. They can definitely coexist and complement each other. And I think the airport example is a wonderful one because I know myself and many folks we know, when you walk to an airport, you're probably using 4G or 5G on your phone and when you have to sit down and do something on a laptop while waiting for the flight to take off, you will gladly switch over to the wifi service that's offered, and in many cases it's Boingo. It could [inaudible] but other times it could be labeled by the local airport authority and so on. It's just, again, another I think great example of how players can collaborate to make things better for customers, for users. So this is I think a good example of how wifi is definitely something that can be integral to making better experiences for folks out there.
Shelly Kramer: And that's what it's all about, that's what 5G is all about, right? Better experiences, more innovation, all kinds of exciting things.
Well, Ron, I think that about wraps our show today, The 5G Factor. To our audience, thank you for hanging out with us and if you are watching us on LinkedIn and you're not yet connected with Ron or with me, be sure and do that. If you are watching this on YouTube, be sure and hit the subscribe button. If you're listening on our Futurum podcast channel, be sure and hit that subscribe button. We love having you around and we love having conversations like this, and we look forward to seeing you next time.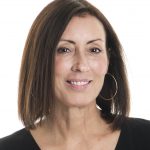 Shelly Kramer is a Principal Analyst and Founding Partner at Futurum Research. A serial entrepreneur with a technology centric focus, she has worked alongside some of the world's largest brands to embrace disruption and spur innovation, understand and address the realities of the connected customer, and help navigate the process of digital transformation. She brings 20 years' experience as a brand strategist to her work at Futurum, and has deep experience helping global companies with marketing challenges, GTM strategies, messaging development, and driving strategy and digital transformation for B2B brands across multiple verticals. Shelly's coverage areas include Collaboration/CX/SaaS, platforms, ESG, and Cybersecurity, as well as topics and trends related to the Future of Work, the transformation of the workplace and how people and technology are driving that transformation. A transplanted New Yorker, she has learned to love life in the Midwest, and has firsthand experience that some of the most innovative minds and most successful companies in the world also happen to live in "flyover country."