Zoom Puts Another $30 Million Behind Neat
Zoom Puts Another $30 Million Behind Neat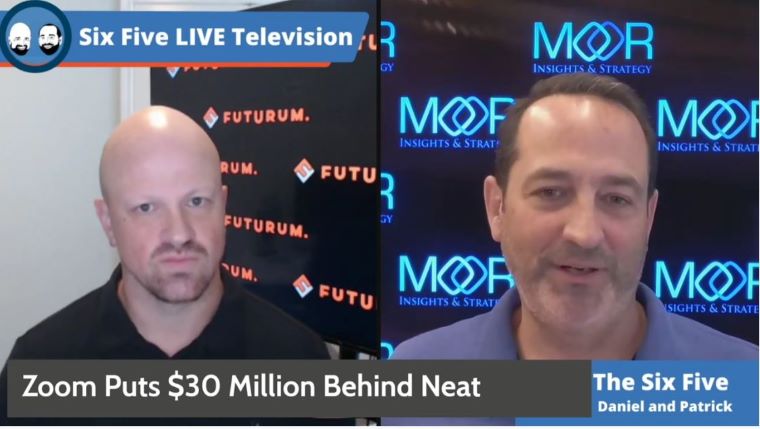 The Six Five team discusses Zoom's recent investment in Neat.
Watch the clip here:
If you are interested in watching the full episode you can check it out here.
Disclaimer: The Six Five Webcast is for information and entertainment purposes only. Over the course of this webcast, we may talk about companies that are publicly traded and we may even reference that fact and their equity share price, but please do not take anything that we say as a recommendation about what you should do with your investment dollars. We are not investment advisors and we do not ask that you treat us as such.
Transcript:
Patrick Moorhead: Zoom, which by the way, Daniel, you and I are going to be attending Zoomtopia next week, puts another $30 million behind Neat. And if you've never heard of Neat, they have a line of pretty interesting UC equipment. Just when you thought the industry didn't need another equipment maker, there is Neat.
Daniel Newman: Yeah. This is a pretty neat one, Pat. 41 million now that Zoom has put behind Neat. Neat makes a series of collaboration hardware, most notably it's boards. It's you've heard about maybe Microsoft Team boards and WebEx has it Spark Boards. It's not called Spark Board anymore, they changed the names. But the point is, is that there's always been these room based, fully collaborative in innovation ecosystem products that people can go into little huddle room. And Pat, by the way you said, I would love to have whiteboarded that. Well, this is what this product is all about. Well, Zoom obviously has been hardware light. Meaning as a company, done extraordinarily well growing to a billion dollars a quarter on an almost pure edge to edge desktop based video collaboration solution. But hardware has increasingly been part of its ecosystem.
You've maybe heard things, something called Zoom Rooms and that's the ability to use hardware based, it's been built on mini Mac and different hardware cameras that go into rooms, integrate with the Zoom system and enable these room experiences to be integrated to these individual desktop or PC or smartphone based video collaboration experiences. Here with this particular investment, what it looks like to me is Zoom has its venture business. It's flush with cash and the company is coming into a situation now where it is having to figure out how it's going to differentiate. Whether that was the significant multi-billion dollar investment in Five9 to move it into contact center in the cloud.
Whether it's been the events platform. well getting more into hardware is going to be important. Again, just like we mentioned with the Cisco and Google collaboration, Zoom needs room based technologies that are going to win because when people go back to the office.
And I don't care how many CNN or CNBC segments you hear that say, "People do not want to go back to work," people want to go back into physical spaces with other people, as soon as they are ready and they believe it is safe and it's healthy and we are more successful at engaging and collaborating when we have this blended environment. There are just times when we need to be able to get in a room and stencil something out, people can't be multitasking and looking at their screens. And I think that's really what this is all about. And Zoom has found a company that builds really good product. By the way, a lot of the Neat people have historic backgrounds from companies like TANDBERG. This is another Oslo based, Norway. The Norwegians seem to really get this collaboration thing. Not sure, been doing it forever.
And so, when I think about it, Pat, it's in the Zoom world, a company that's doing a billion a quarter, 30 million isn't a huge number but it's a meaningful investment in a company to continue to develop products that are going to work and integrate very well with Zoom. And I think it's again, the underlying story is more about what work is going to look like. Zoom, WebEx, both of these stories are indicators to me that they see a hybrid future, people in offices and needing better equipment in rooms to connect those experiences to those that are not in the offices.
Patrick Moorhead: Wow, Daniel. The only thing I have to add to this is thinking strategically, why Zoom is doing this. And there's this notion of having rabbits who can implement features on the service side as quickly as possible. We've seen this in Windows PCs. We've seen this in servers but I don't think Zoom has that problem now. They have partners like Poly who are pretty much adding all the advanced features exactly when Zoom is able to provide it. The other part of this, I think is it's a hedge. It's a hedge against risk that says if let's say some of these vertical ecosystems get too powerful, like Cisco WebEx, which by the way, we just talked about them opening up with Google Meet interoperability, that they would be able to go in there and either fully acquire the company or at least be able to take advantage of its upside and in a way, control the company by having a 51% ownership stake.
I almost think it's a hedge against, it's sending a message to companies like Poly that, okay, if you're not going to integrate our latest features when we need you to, Neat will and then sending kind of a kind of a hedge against Cisco with a complete vertical stack. Great stuff. Who thought there would be this much excitement in collaboration? Well, I think we would.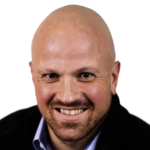 Daniel Newman is the Principal Analyst of Futurum Research and the CEO of Broadsuite Media Group. Living his life at the intersection of people and technology, Daniel works with the world's largest technology brands exploring Digital Transformation and how it is influencing the enterprise. Read Full Bio