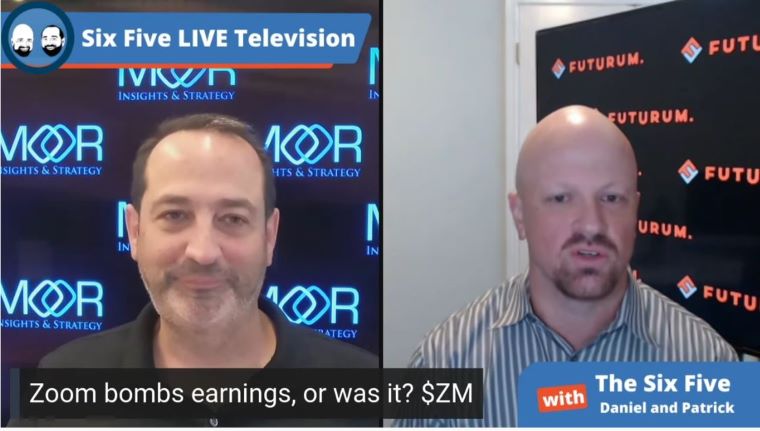 The Six Five team dives into the latest earnings report from Zoom.
Watch the clip here:
If you are interested in watching the full episode you can check it out here.
Disclaimer: The Six Five Webcast is for information and entertainment purposes only. Over the course of this webcast, we may talk about companies that are publicly traded and we may even reference that fact and their equity share price, but please do not take anything that we say as a recommendation about what you should do with your investment dollars. We are not investment advisors and we do not ask that you treat us as such.
Transcript:
Daniel Newman: Pat let's Zoom into the finish, let's let a Zoom right up to the end and talk about Zoom. So Zoom Pat early this week, Zoom reported 54% growth it's first billion dollar revenue quarter, and it landed in the market with anything but a bomb, it was an absolute wailing. I remember watching it after hours calling 5, 6, 7, I think it dropped over 12% after hours from sitting around 350 to 300.
And remember, this is a stock that was clicking and close to 600 at the peak of pandemic times. This is a company that's done nothing but grow. And it's seen almost a 40% and now a 50% retracement from its highs. So the question isn't really so much about, should it be $300, $400, $500 stock? Because again, that's not really what we do here, but the question is, is this still a company that's super viable and that people should be excited about because of the innovation and technology and what in the numbers really warranted that kind of pullback. The pullback long a short came because of the guidance, they're guiding more towards a 25% growth next quarter. But remember, we're now in pandemic times where their pandemic quarters are being judged against other pandemic quarters. So 2018 is coming to about $200 million in revenue total. Now you're talking about a company that by the 2021 is doing a billion dollars a quarter, that is rocket fuel for growth.
And people are like, huh? So it went up and now at 54% and a billion dollar quarter run rate with a billion dollar guidance into the next quarter, people go, that's not good enough. But normal had to come back at some point, we dealt with a cataclysmic likely once in a lifetime event that drove the acceleration Zoom. So some of its growth maybe warranted a pull back, I think that's what that 40% was. But in the rest of it, it's like, is the company doing well? And it's like, yeah, it's doing well, it's got triple digit revenue expansion, over 130% revenue expansion, companies with over 10 employees with 13 straight quarters, that means it's companies are spending more money. It's grown to over $2200,000 a year customers that are spending money with them. That's great, robust, reliable, recurring revenue pack and over 500,000 paying customers at this point.
They just spent 14.7 billion on Five9, which we talked about earlier. It's horizontal, it's horizontal it's platform. It's building a platform with apps and integration a lot to like. I'll give you one concern and then I'll pass this back to you. My one big concern is Zoom is going to have to be really figure out its approach to dealing with these new operating systems for work, these operating systems for work, that are Teams, that are Slack, where video is a capability, but it's not the epicenter of the business anymore. I think async, you could argue is the asynchronous communications is really the epicenter of our business, but you and I chat on WebEx, it's we do it, when we have time and it's on demand, I think a lot of work is like that. Now we're seeing that getting tied in the platform, we're getting it tied in with data, we're seeing it get tied in with ERP, CRM, back-office, CX.
How does Zoom through strategic integrations because what are they going to buy at this point, that's going to inorganically bring in ERP and CRM in that whole stack and still be competitive? Or does it get wrapped up in a company like an Oracle that wants to actually bring them in and build something competitive to them. But I think at this point, Zoom's acceleration is so fast, it's growing so fast, it will be so expensive to do a deal like that, that I think they're going to have to do it through a bunch of interconnects and strategic partnership, but that is my one concern, but it was a really good quarter. The sell off, I just can't get there.
Patrick Moorhead: Zoom is up 382% in the past few years. And I think you have different types of investors who jump on a stock. I mean, you have retail, you have the big names that are a little bit less conservative, and then you've got the 401k folks who are super conservative. I think the reaction to this is, are the retail folks, who may have jumped on early, made some good money and just wanted to hold on until a certain point, and I think those retail folks are jumping off here. Anybody who expected the growth to continue at that rate is a fool and quite frankly, I don't know if you want them investing your stock because they really don't believe in it. To your point of integration into full suites, I hear you there, I totally thought they would make a play for Slack or they would merge.
It was funny, I had thought before the pandemic hit, that Slack would end up buying Zoom that's before its valuation skyrocketed so much and then Slack ended up getting bought by Salesforce. So I think you do have to figure out the sweet thing, but if I know these guys, I think that they're going to first try to build a very high quality yet simple chat, by the way, they have a chat and I mean, even beyond the video app itself, but I don't think very many people even know it's there. But I think they're going to try to make a run with that because as we know, it's all about the data, but it is funny though, if you think about email, I mean the same concerns that I have about Salesforce, it's like a lot of the data's sitting in email and how does Salesforce get access to that? How does Zoom get access to all that information in email and chat?
And at least the way their privacy and security goes, they don't even get access to the information in the video. So interesting strategic stuff here, Daniel, but overall I think it was just a complete overreaction.
Daniel Newman: I think we agree. I think that's good.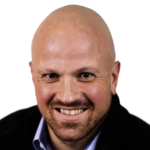 Daniel Newman is the Principal Analyst of Futurum Research and the CEO of Broadsuite Media Group. Living his life at the intersection of people and technology, Daniel works with the world's largest technology brands exploring Digital Transformation and how it is influencing the enterprise. Read Full Bio