Zoom Earnings, Perspectives Analyst Event
Zoom Earnings, Perspectives Analyst Event
The Six Five team dives into the latest Zoom Earnings and their recent Perspectives Analyst Event.
Watch the clip here:
If you are interested in watching the full episode you can check it out here.
Disclaimer: The Six Five Webcast is for information and entertainment purposes only. Over the course of this webcast, we may talk about companies that are publicly traded and we may even reference that fact and their equity share price, but please do not take anything that we say as a recommendation about what you should do with your investment dollars. We are not investment advisors and we do not ask that you treat us as such.
Transcript:
Daniel Newman: So let's jump into Zoom. You and I put a lot of content out there. We were in San Jose at the Zoom event. You had a nice sit-down with Eric Yuan, pictures all over the internet, Pat hanging out with the CEO, Dan flying home jet-lagged and tired, missed out, little jealous, not going to lie, throwing that out. Look, the Zoom… I'm going to macro this one. Okay? Zoom beat on EPS, missed by a hair on revenue. The company is now feeling the pain of 300 to 400% growth quarters, four quarters, five quarters in a row during the pandemic boom. The next four quarters, they grew 30, 40%. So you got to look at the compounding there, 300% by four quarters and then another 30% for four quarters, and now they're running into a bit of a growth wall on overall revenue.
You got a couple of headwinds, of course. Companies are going back to hybrid models and in-person. Some companies are probably doing less meetings. Some companies… And I don't think it's enterprise companies. I think it's some of the small businesses that were spending money on Zoom likely falling off a little bit. But I think overall, you're talking about a company that's gotten to a billion dollars a quarter, and this is probably the number one thing I think is getting… Well, there's two things, two things being missed about Zoom. One, people that think it's not an enterprise company are wrong.
If you look at this… And we were able to talk to their CFO, Kelly Steckelberg, and she basically said to this, look, they're growing almost 20% in enterprise still, they have 120% net expansion rate, and their large customers are growing by 37%. So I put a very simple formula on Twitter, enterprise buy-in plus each customer spending more plus more large customers equals good. So as much as people don't think Zoom is humming, they're getting good business from the right kind of customers. So maybe some of those small businesses are falling off, but big businesses are actually not falling off. So they are a company that's attracting enterprises.
The second is the platform. Now, they're halfway to where I want them to be with the platform. Okay? On the platform side, they really are becoming a full-stack collaboration platform. Problem is, is I think the market wants to see them as a full-stack, digital HQ, or future-of-work platform that is being a little bit more aptly communicated by the likes of Microsoft and Salesforce. Now, Microsoft is doing it. Salesforce at this point is mostly just talking about it. And Zoom has an opportunity because the one thing Zoom has, people love Zoom. People that actually use Zoom tend to be very happy with Zoom. Other bigger, more distributed platforms create more complexity, and people have more challenges with identity management and full integration, but those other platforms, integrated ERP, CRM, workflow management, project management, HCM systems, procurement systems.
Right now, Zoom is not really telling that story. Zoom has a Contact Center. They've built that. They've already got the Five9 thing in the rear view. People don't fully get that. They've got Events. They've got Chat. They've got all those things. But I think the market wants to know, how do you connect to that larger data lake of systems of record that run businesses where Zoom seems to be on the outside, and Microsoft Teams? And to some extent, the Salesforce-Slack have an inside track, Pat. So I said a lot. I feel like that's what's being missed. Turning it to you.
Patrick Moorhead: I don't know if there's anything left, but I'm going to give it a shot here. So I'm going to focus less on earnings and more on the Perspectives event. So each research firm has a way, a certain way, it does its research, and I have product experts inside of my company. But there's an element that I look at which is senior management, and I had never actually talked to any of the senior management face to face. I mean, sure, over Zoom. I had never done this before. And Zoom Perspectives, I mean, literally gave me new perspective on the company.
I met with the Chief Operating Officer, Chief Financial Officer, CFO, Chief Product Officer, and spent about 25 minutes talking to CEO Eric Yuan. And I have to tell you, I am more convinced than ever that this company is going to grow in areas that are important, which are big enterprise and even big government. But the company does have a lot of challenges right now. They have some product challenges in terms of timing, which is… First of all, Zoom has a product velocity coming out of product development that I haven't seen in a long time.
And Daniel… Well, actually, people who don't know me, I spent a lot of my career on the product management, product development side, and I'm just amazed at how quickly they can crank out products that work well, and it used to be the thing. And listen, I was the biggest critic or one of the biggest critics of Zoom and their privacy and security challenges, saying that they had a certain level encryption when they didn't, the ability to come in and Zoom bomb. To their credit, very few people are talking anything about that. Right?
So it's one thing to have product velocity and not have security and privacy, but when you have all those together, I think that's pretty impressive. Now, the challenge about all their new products, like Events and Chat, is twofold. So first of all, enterprises need products to be out there for a long time before that big center gets comfortable with them. They have competition, and some… You get an E1 license from Microsoft, you get Teams for free, or if you have a lot of Cisco Webex equipment in there, you're likely going to be standardized on things like Cisco.
So there's the baked timing element which only time can cure, and then there's the getting credit for it. Even watching Cramer or even talking to big customers, pretty much Zoom is known for video, and video is looked at as a feature now because, quite frankly, Microsoft and even Google have done this great job de-positioning video as a feature inside of a holistic platform.
Daniel Newman: Good call on Google. I totally missed that.
Patrick Moorhead: Well, the company has a tremendous amount of work to do. Heck, even Salesforce put a video feature inside of that. So investors don't look at it as a business, and hence what makes Zoom great is holding it back. The company has to take a very different approach on how it addresses the market with its products. I'd like to see one or two things happen.
First of all, I want to see Zoom talking more about the future that it believes in. What future does Zoom believe we are going to be in in three to five years? And then they can talk about the products and their approach and how it leads up to it. They also need some help repackaging some of their products in making Chat a little bit more evident. I'll admit, until Zoom AR… I thought Chat was just inside of a video stream. And until Zoom AR hit me up and chatted to me, I didn't even know that they had an enterprise chat. This is a year ago.
But I'll bet you, and I haven't done a survey on this, but if you do your survey, people are going to be surprised that Zoom has a Chat function. So with the positive and my recommendations, I actually feel a lot better about Zoom than I ever have. And with the COVID stock, meme stock thing over, don't you think that Zoom's competitors are going to pull back the reins a little bit on how much they're investing? So I actually think being focused on this area is a good thing, and I don't think the competitors are going to be investing nearly as much as they were to the prior two years, and that gives Zoom an advantage.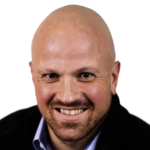 Daniel Newman is the Chief Analyst of Futurum Research and the CEO of The Futurum Group. Living his life at the intersection of people and technology, Daniel works with the world's largest technology brands exploring Digital Transformation and how it is influencing the enterprise. Read Full Bio