Zoho Announces Updates to its One Platform
Zoho Announces Updates to its One Platform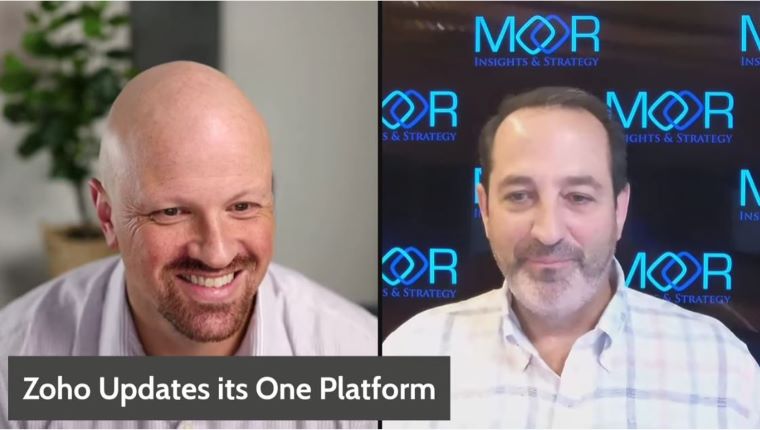 The Six Five team discusses Zoho's updates to its One Platform.
Watch the clip here:
If you are interested in watching the full episode you can check it out here:
Disclaimer: The Six Five Webcast is for information and entertainment purposes only. Over the course of this webcast, we may talk about companies that are publicly traded and we may even reference that fact and their equity share price, but please do not take anything that we say as a recommendation about what you should do with your investment dollars. We are not investment advisors and we do not ask that you treat us as such.
Transcript:
Patrick Moorhead: Zoho announced updates to its one platform. And if anything, I think my biggest takeaway from this, Daniel, I'm going to give you most of the mic here. They absolutely are having incredible growth in their platform. Very similar to what we're seeing in Salesforce. SaaS is hot. And whether it's SaaS from Microsoft, Google, or people like Salesforce, they're in that 40% growth range.
And kind of the mystery of Zoho is that they're a private company. You don't typically get the type of information that we get from public companies, but I do appreciate, particularly under nondisclosure, they do give analysts growth numbers. And the numbers are really good. And outside of a public company it matters. It matters because it should give other potential customers a boost. It's interesting. We always go crazy over the NetSuite numbers from Oracle, as we should. Just had a great Six Five insider with Evan, the co-founder NetSuite, and Zoho's numbers and growth are very similar on a percentage basis to NetSuite.
Daniel Newman: Yeah, it was fun. I was actually going to frame that. It was good to talk to Evan Goldberg and Jason Maynard, the leaders of the NetSuite business. We at their event SuiteWorld. And just kind of to pivot to Zoho was, the focus on that small or midsize enterprise. We've outgrown QuickBooks, now what? And that market's been somewhat underserved. And I think that's why companies like Zoho have been so successful. It's not that companies haven't tried, it's that the needs are different. But the thing is, is a lot of fast growth these days means the needs are extensible. And you can't just ask people to come over for a little bit. You need to build tools that can expand on and grow on. And when we talked to NetSuite, and with Zoho, we've also seen that while they are sort of maybe most well-known for serving that small and mid-size enterprise, they actually do grow up to be pretty extensive platforms that can be utilized by much larger companies.
And so with Zoho, the company is, they're very poised, and they're very kind of coy about their success most of the time, but at this at the same time, they're just winning with numbers. They're winning with customers, they're winning with growth. And so, this is a four plus year old platform now, and this week the company just came out with a whole bunch of new updates. Now, the thing that I really like about it, Pat, and we run companies that probably would be well defined within their scope, is the platform is really designed to achieve and manage all the needs of a customer. As a small company, access to things like analytics, AI, project management tools, collaboration, all in one suite almost is nonexistent. You can get it from the big software vendors, but their tools are built for Enterprise.
So you're kind of figuring out a way to make an enterprise tool fit into a smaller company. Zoho is kind of opposite. It's built for small to scale. And like I said, that's what I really like. Some of the stuff they're doing with third party data prep, NLP powered searches, big lists. I think over 1,500 analytics reports and dashboards that come out of the tool. They're adding mobile application management. They're adding a learning platform. They're adding an employee, like an augmented reality platform called Zoho Lens. So they've got all kinds of different applications. And I really like the fact that, like I said, that they're addressing a market that needs to be addressed. As I see it going forward, this is the biggest opportunity for software for companies like Zoho, is to serve that middle of the market.
And so the enhancements, the platform, basically the unification of all these tools, get them all in one place, you add them as you need them. I think it's over 50 tools. So it's a huge subset of different software. But what I probably like the most in the end is access to analytics. Access to analytics is what a lot of these updates focus on, is that companies that use analytics win more than companies that don't. Companies that can apply their data in a meaningful way. Smaller companies just struggle with this. They don't have data scientists, they don't have resources, they don't have people that can really deal with these big complex data management tools, and that's why they struggle to grow. The tools here to help companies start to embrace analytics, they're significant, and they're available, and they're easy to use.
So good on Zoho. It's a company that, again, I think we talk about, because frankly it needs to be talked about more. We, of course, cover the Oracles, and the Salesforces, and the Microsofts. And those companies do great things winning tons of business up at that enterprise level. But there are so many small businesses that just don't get a lot of attention. So it's good to see a company like Zoho stepping up here. Zoho One updates are solid, but moreover, it's just about the platform itself, Pat.
Patrick Moorhead: Yeah. I love that they're in a position where everybody wants to go, which is, they've got IS paths, and SaaS. Interchangeable services that if you want bring your best to breed software that you had, and it's fully Cloud native. So it's just kind of funny how they are right where everybody else wants to be, and then so few people are aware of the company.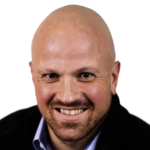 Daniel Newman is the Principal Analyst of Futurum Research and the CEO of Broadsuite Media Group. Living his life at the intersection of people and technology, Daniel works with the world's largest technology brands exploring Digital Transformation and how it is influencing the enterprise. Read Full Bio