Why Qualcomm and Ericsson Demonstrating the First 5G New Radio Call on CBRS Spectrum is a Big Deal
Why Qualcomm and Ericsson Demonstrating the First 5G New Radio Call on CBRS Spectrum is a Big Deal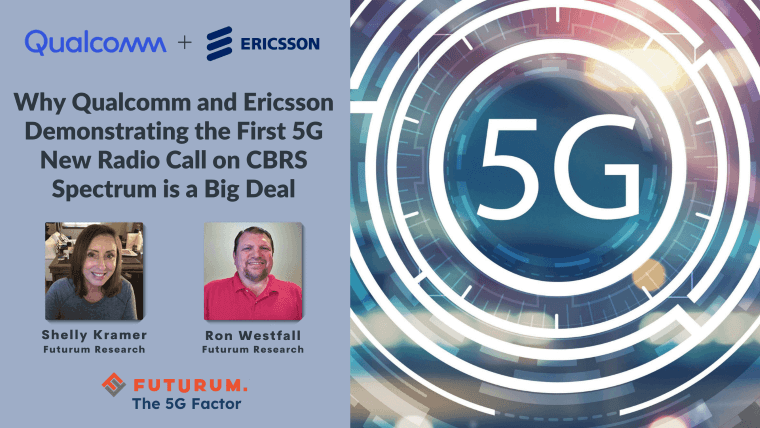 For this vignette of a recent episode of the Futurum Tech Webcast, part of the 5G Factor series, analysts Ron Westfall and Shelly Kramer examine the implications of the collaboration between Ericsson and Qualcomm in completing what they tout as the first over-the-air 5G New Radio call on CBRS (Citizen Broadband Radio Service) spectrum in a recent trial.
Their conversation covered:
Why the 5G NR call on CBRS can help drive Industry 4.0 and 5G private network use cases.
The suitability and relevance of CBRS shared spectrum for private networks.
Where 5G private networks can deliver improvements over LTE private networks and boost ecosystem adoption of private networks.
Ron and Shelly see the Ericsson and Qualcomm collaboration as boosting the adoption of 5G private networks, especially as 5G networks transition to standalone (SA) implementations that enable operators to take full advantage of 5G NR on CBRS capabilities.
Watch the clip here:

Or grab the audio by way of your favorite streaming platform here:
Don't Miss An Episode – Subscribe Below:
Disclaimer: The Futurum Tech Webcast is for information and entertainment purposes only. Over the course of this webcast, we may talk about companies that are publicly traded and we may even reference that fact and their equity share price, but please do not take anything that we say as a recommendation about what you should do with your investment dollars. We are not investment advisors and we do not ask that you treat us as such.
Transcript:
Shelly Kramer: Moving on, let's talk a little bit about why Qualcomm and Ericsson demonstrating the first 5G new radio call on CBRS spectrum is a big deal, especially as we look at industry 4.0 use cases and 5G private networks. I know this one is kind of, again, claiming the first successful move here in this space, but talk a little bit if you would about what's going on with Ericsson and Qualcomm as it relates to this.
Ron Westfall: Sure. I think this is the first successful over-the-air demo of this particular combination and CBRS is going to be very important, also known as Citizens Broadband Radio Service, and that it's an increasingly popular choice in terms of enabling private networking. It's a shared spectrum technology and resides it in the 3.55 to 3.7 gigahertz range. In combination with personal access licenses, it's really demonstrated that at least when it comes to LTE private networks, it's a valid business case. It's already being proven out and what is going to be, I think, the next important state is the 5G capabilities being injected into these private network environments. The foundation is there and this particular demonstration is going to enable 5G to take private networking to the next level, to really bust through in terms of ultra low latency capabilities in terms of quality of service enhancements, increased agility and so forth. And so, that is right. This is a difference maker, it's because it's really advancing 5G capabilities into these private networking environments.
Shelly Kramer: And private networking is really hot right now, right?
Ron Westfall: Yeah. We talked about it on our last show and it's, I think, indicative that it's just I think a use case that will gain more traction because security first.
Shelly Kramer: Absolutely.
Ron Westfall: We can keep saying that every each episode we do, but it simply matters. It's like when you're talking about a manufacturing facility or a warehouse or any place where information and data is very sensitive, you don't want that hanging out on a public Wi-Fi network, et cetera. I mean, there's just a host of reasons why private networking is going to accelerate and we anticipate that we'll be talking more about it throughout the course of this year, let alone into the foreseeable future.
Shelly Kramer: We will indeed. Earlier in this conversation, we touched on Ericsson and Nokia and Huawei and we're going to talk about that a little bit more.