What the Private LTE and 5G Networks Look Like and the Industries Benefiting the Most
What the Private LTE and 5G Networks Look Like and the Industries Benefiting the Most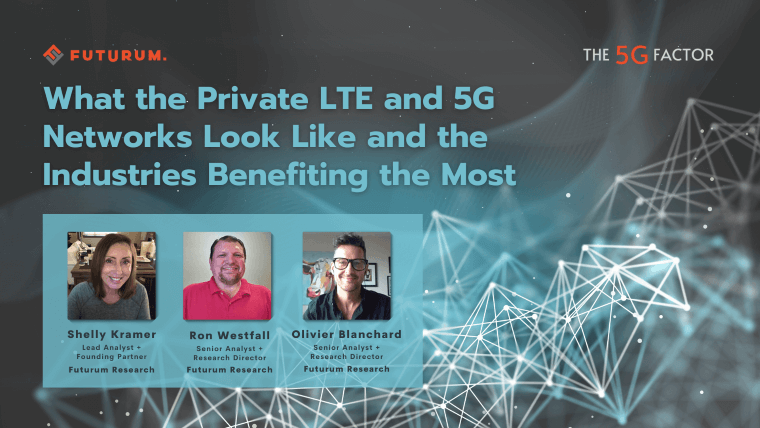 For this vignette of a recent episode of the Futurum Tech Webcast, Part of the 5G Factor series, analysts Ron Westfall, Shelly Kramer, and Olivier Blanchard examine why Private 5G networking (P5G) is such a hot topic and fast-growing market segment. The conversation focused on:
Why Industry 4.0 is a major driver for private 5G services as organizations prioritize security-first mobile networking for supporting in emerging smart environments.
How Private 5G networking is supporting the use of sensors and collaborative robots in smart factory, smart manufacturing, and smart warehouse environments.
Environments with demanding coverage requirements, such as mining, seaports, airport, and drilling platforms benefit from P5G, especially where WiFi is a non-starter.
The private 5G market is heating up with rapid growth projected over the next several years. The advent of 5G standalone (SA) also promises to push P5G adoption across the 5G ecosystem.
Watch the clip here:
Disclaimer: The Futurum Tech Webcast is for information and entertainment purposes only. Over the course of this webcast, we may talk about companies that are publicly traded and we may even reference that fact and their equity share price, but please do not take anything that we say as a recommendation about what you should do with your investment dollars. We are not investment advisors and we do not ask that you treat us as such.
Transcript:
Shelly Kramer: Well, and I think that, when we think about the industries on the forefront of using this, as you touched on them, manufacturing, utilities, airports, ports, the mining and the process industry, there's also other applications that maybe some of us have even experienced it and not known about it. For instance, I know that there's been a lot of work in private 5G networks for arenas and sports venues. And part of that focus is bringing the fan engagement level up. And we've got a fan base these days who are adept at digital content creation.
And many of those enthusiasts have moved beyond the interest in just taking a photo while they're at an event and uploading it. And they really want to be, shooting video, creating video, doing all different kinds of things. When you think about it, the way we use our today is so much different, even than it was five years ago. And in this world five years is a really long time. So I think that when you're thinking about, the applications for private 5G networks, it really expands beyond what you might think.
Ron Westfall: Oh, yes. I mean, there's just a host of possibilities. And this is a similar to what we witnessed with LTE when it was first built out, nobody can predict Uber. we've touched on this before. And same thing applies to private 5G networking. And there's also work from home scenarios. There is, any smart facility that includes smart arenas, where there is a application of private 5G networking.
And I think this is all very exciting and it's also correlating to follow the money, or follow the organization chart. We're seeing organizations like Ericsson and Nokia literally coming out with their own units dedicated exclusively to this. For example, Ericsson, private 5G, at Nokia, private 5G and so forth. In fact, Nokia actually has what is called a Digital Automation Cloud that addresses this very space.
And you have the major telcos, Telefonica, AT&T, Vodafone, Verizon, they're all looking to capitalize on this. And I think one thing that is very important to understand here and why they're doing this is that, they have expertise in this area. They own the spectrum. They know how to optimize MIMO implementations, how to optimize radio networking and so forth. And so this gives them the opportunity to manage many of these services, to work with organizations that aren't going to be keen on doing it all by themselves. Just so to speak. And so there's plenty of opportunity here for the telcos to show off their skills and working with their major supplier partners to really make this more of an addressable market, to take advantage of more opportunities. So yes, this is again, a good example of how the ecosystem can come together and make a difference
Shelly Kramer: You mentioned, Nokia and AT&T, I know they're two of the major players in the space. I came across some examples that I thought were interesting, that would be interesting to our audience anyway, of this in motion. Edzcom and Nokia installed a private network at the KymiRing arena in Finland. It's the largest motor sports and events venue in Northern Europe. And they designed this network to help, as I mentioned earlier, augment media streaming and television broadcast services, but they also want it to help with their testing of autonomous vehicles and connected vehicles, which is really cool. So Edzcom, the Finnish company, is partnering with Nokia and using the Edge network and the computing infrastructure to be able to offer this in the stadium, which I think is cool.
Another thing that I thought was really fascinating is, AT&T has a partnership with, they've built a private 5G network that's being used for the Ellison Institute, which is one of the first medical facilities in the country to use 5G to help advance cancer research. Okay. So it's really cool to think about Industry 4.0 and better fan experiences, but cancer research? To me, that's really cool. And what they're doing here is, the doctors want to be able to use the network to collect and transmit data from patients to connected devices.
So doing a better process of monitoring patients, being able to deliver better care, being able to detect more rapidly, that sort of thing. So I think we're going to see this expand beyond what our purview is of… It's not just Industry 4.0, it's so many other things that benefit, so many other enterprises and initiatives that benefit from private 5G networks. And I think that's really why we're expected to see such growth in this market that you just touched on.
Ron Westfall: Excellent examples. Excellent use cases Shelly. And yes, Nokia has over 300 customers already and is considered the market leader from a supplier perspective in this segment. And Ericsson, for example, acquired Cradlepoint last year for $1.1 billion to catalyze their pursuit of this market opportunity. And yes, I think we're seeing all kinds of great ecosystem collaboration that further validates your point, Shelly.
For example, we've seen Verizon Business and AWS partner to support Corning and its smart factory implementation. And that is, using those smart sensors and robotics. So this is a futuristic minority court type scenarios actually becoming real today. So this is definitely, I think, something that will pick up even more momentum.
And I had mentioned that there was a scoop last week and it's still a scoop-like aspect here. And that is, NTT is, I believe, the first CSP to offer private 5G networking as a service. So now, it's not just a managed services proposition. You can actually go onto a portal and order up this entire capability through a operator like NTT, and they're using their patent pending micro slicing technology to enable this breakthrough. So we're seeing a pattern here, once they get in Japan as being the citadel of innovation and breakthrough when it comes to 5G networking, Open RAN capabilities, all the moves that Rakuten did at the beginning of August, et cetera.
So again, this is just adding fuel to why private 5G is such an attractive offering and why it's different from previous private networking implementations, which were niche, which had a limited market appeal. But now, it's really opening up and broadening because 5G is becoming more mainstream. Everybody's becoming more familiar with its capabilities, taking advantage of the lower latency, higher bandwidth, better security capabilities. And so this is just good news all around.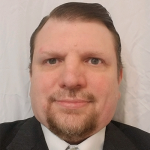 Ron is an experienced research expert and analyst, with over 20 years of experience in the digital and IT transformation markets. He is a recognized authority at tracking the evolution of and identifying the key disruptive trends within the service enablement ecosystem, including software and services, infrastructure, 5G/IoT, AI/analytics, security, cloud computing, revenue management, and regulatory issues. Read Full Bio.