Vodafone's Multi-Million Market NB-IoT Deal is, Well, Pretty Massive
Vodafone's Multi-Million Market NB-IoT Deal is, Well, Pretty Massive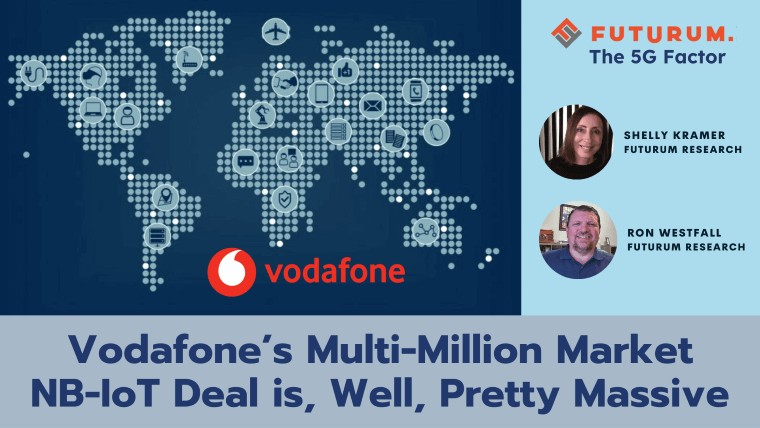 For this vignette of a recent episode of the Futurum Tech Webcast, part of the 5G Factor series, analysts Ron Westfall and Shelly Kramer explore the mobile ecosystem implications of UK-based Vodafone's preparing to announce the largest IoT airtime supply deal outside of China, encompassing millions of NB-IoT connections.
Their discussion highlighted:
The deal, with a yet unnamed manufacturer, breaks the million-mark threshold on connection volume, and it's the beginning of what they see as large OEMs coming to market, and this is purportedly the first market to be built only for IoT.
How the viability and ultimate success of the Vodaone NB-IoT network is predicated on solving the billing, roaming, and interoperability issues that have stymied prior CSP cellular IoT service rollouts.
Vodafone's NB-IoT addresses 55 in-network market segments with the potential to reach over 180 segments.
The current Vodafone offering uses LTE capabilities although 5G can potentially make the NB-IoT service more suitable for emerging use cases related to transportation, fleet management, and warehousing.
Shelly and Ron concur that the Vodafone NB-IoT network is a breakthrough for confirming CSP ability to offer and manage massive IoT services and that Vodafone's €12.99 deal for 10 years of NB-IoT airtime is a tremendous value.
Watch the clip here:
Or grab the audio by way of your favorite streaming platform here:
Don't Miss An Episode – Subscribe Below:
Disclaimer: The Futurum Tech Webcast is for information and entertainment purposes only. Over the course of this webcast, we may talk about companies that are publicly traded and we may even reference that fact and their equity share price, but please do not take anything that we say as a recommendation about what you should do with your investment dollars. We are not investment advisors and we do not ask that you treat us as such.
Transcript:
Shelly Kramer: Well, moving on, we're going to talk now about Vodafone's multimillion market, NB-IoT deal, and in a word, it's really pretty massive. And while we know a little bit about it, we don't know a whole lot about it yet, but it's still cool enough that we wanted to talk about it here.
So cellular narrow band IoT, which we call NB-IoT, it's in the news this week as UK-based Vodafone is reportedly on the brink of announcing its biggest-ever IoT airtime supply deal outside of China. Carrier-managed services can serve as a harbinger for how 5G and IoT can work on the mass market level with things like fleet management, transportation, warehousing, and a bunch of areas where mobile IoT is required.
What we know about this deal is that it's with a yet unnamed manufacturer, it breaks the million mark on connection volume, and it's the beginning of what we see as large OEMs coming to market, and this is purportedly the first market to be built only for IoT. So what have you been reading about this, Ron?
Ron Westfall: Well, yes, the same takeaway, Shelly, and this is exciting because one thing we've been hearing an awful lot about, how can the CSPs monetize new services, and certainly, mass IoTs have come to the forefront, particularly industrial IoT applications. And this, I think, is interesting because Vodafone is showing that, yes, we are bringing together the key capabilities that are required to make this work, because previously, at least the CSPs, had issues with the billing and…
Shelly Kramer: Roaming.
Ron Westfall: … interoperability. Yes, those. And so, I think it's the interoperability aspect that's certainly a major here. That's why they have enlisted this OEM partner. And the fact is, Vodafone is saying, "Hey, we can do this across 55 networks today. Stay tuned because we're present in 180 to 190 networks," and so this definitely has more upside in terms of mass market potential. And I think what's also important to note here is that the current implementation, pre-5G, is using 2G, 3 to 4G/LTE capabilities.
However, I think it's anticipating the fact when you're taking the use cases to the next level. And you, I think, have outstanding examples when it requires mobility as part of the IoT implementation. And I think places like warehousing and fleet management, transportation, are just well-suited for that, so I think we can anticipate, if not Vodafone, but certainly operators looking to bring 5G and mass IoT together to support those particular areas. And further out, something like manufacturing can come on board for a specific, blending 5G and mass IoT. Vodafone is, again, creating headlines that stand out because they're proving this is something that could work for real, and so we should hope to see more announcements like this over the next year, if not from Vodafone adding, say, another use case, but another operator saying, "Hey, we're getting on this bandwagon too."
Shelly Kramer: Right, right. One of the things I ran across as I was researching this, I thought… You mentioned the challenges around billing and roaming and interoperability. Those are big challenges, and one of the things that Phil Skipper, who's the group head of IoT strategy at Vodafone, said about this was, "Yeah, these challenges exist, and this has been a long process, a long game." And part of the reason it's been a long game is because OEM devices had to build this NB-IoT functionality into their products, which takes time. So now, what we're seeing is that the networks are stronger, the roaming is in place, and devices are finally rolling off the production line. And all of this is what he called breaking the scale barrier, so I think that these are very exciting times.
Again, Vodafone hasn't disclosed yet, its OEM partner, or the nature of this deal, or any particulars around that. We assume an announcement will be coming. That said, what we do know, it's a multimillion, multi-market deal with IoT units going ready connected rather than bootstrapped for remote provisioning, and that's going to be happening in some 20-plus markets in Europe and in other places where Vodafone has roaming partners and/or co-ops. So look for more good news ahead on this front from Vodafone, and we'll be talking about that when we know more.
Ron Westfall: No doubt. In fact, yeah, with signup fees of only €1,299 for 10 years, at least for the startup package, yes, yeah, that definitely, I think, will garner onboarding. And that will really kindle the Vodafone use case, because right now, it's really about that volume gain they pointed out and emphasize, and I think the pricing, right off the shoot here, will be a real difference-maker in really advancing this managed IoT services from the CSPs, no doubt.
Shelly Kramer: There's nothing about that pricing that's not attractive, for sure.
Ron Westfall: Right. I'll just sign up just for the pricing.
Shelly Kramer: All right. So we can check it out. All right, that's great.