Vodafone Sustainability Report Finds 5G and IoT Ready to Move UK to Net Zero Emissions
Vodafone Sustainability Report Finds 5G and IoT Ready to Move UK to Net Zero Emissions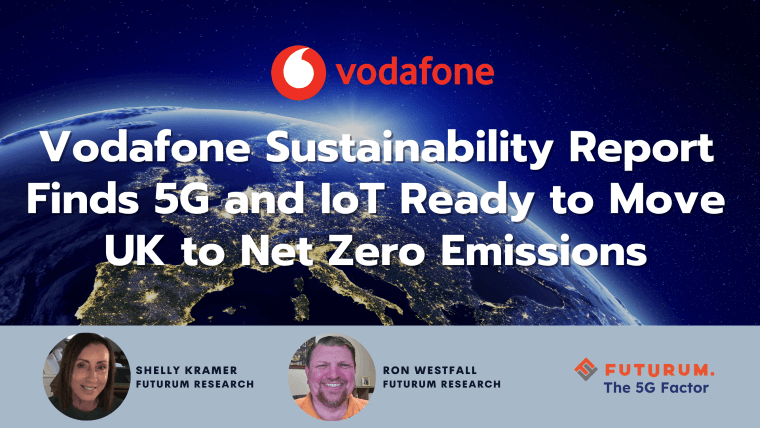 For this vignette of a recent episode of the Futurum Tech Webcast, part of the 5G Factor series, analysts Ron Westfall and Shelly Kramer examine a report from Vodafone and WPI Economics advocating on the UK government to accelerate the deployment of 5G and IoT technology to help meet zero emission goals by 2050.
Their discussion covered:
The shrewd timing of Vodafone lobbying the UK government to advance nationwide sustainability goals after working with Ericsson to improve 5G network efficiency capabilities across the London portion of its network.
How digital 5G and IoT technology can accelerate the attainment of UK net zero emission objectives (i.e., 4% reduction per annum) by targeting three verticals in particular: Manufacturing, Transportation, and Agriculture.
Why Vodafone's proactive stance in working with the UK government to advance nationwide sustainability goals has society-wide benefits and not only telecommunications.
Ron and Shelly view Vodafone's approach to working with the UK government in offering practical 5G and IoT solutions across three key industry verticals to achieve nationwide zero emission goals is laudatory and merits emulation by other mobile ecosystem players.
Watch the clip here:
Or grab the audio by way of your favorite streaming platform here:
Don't Miss An Episode – Subscribe Below:
Disclaimer: The Futurum Tech Webcast is for information and entertainment purposes only. Over the course of this webcast, we may talk about companies that are publicly traded and we may even reference that fact and their equity share price, but please do not take anything that we say as a recommendation about what you should do with your investment dollars. We are not investment advisors and we do not ask that you treat us as such.
Transcript:
Shelly Kramer: And as the last part of our show, we're winding down here and we are going to touch base on more good and cutting emissions and some other things that 5G can do that we think are pretty cool that you might want to know about. So let's talk about the new sustainability report that was released today by Vodafone and WPI Economics.
Ron Westfall: Oh yes. Thank you, Shelly. I think it's something we touched on last week. The fact that Erickson and Vodafone were collaborating to improve the emissions across Vodafone's UK network and London area, particularly. And we were noting that this has society-wide implications. Well, lo and behold, this week, Vodafone is now lobbying the UK government to emphasize 5G and IOT as essential to reaching nationwide emission targets, particularly ambitious ones, such as zero emissions, by 2050. And it makes sense because according to the research with Vodafone and its partners is that, when it comes to three verticals, in particular; manufacturing, agriculture, and transport, that these reductions can be achieved at a 4% per annum level by using digital technologies with 5G and IOT. And in particular, transport, they're indicating that it can have an impact of 9.3 million tons of carbon reduction, so that, obviously, leaps out and manufacturing is not far behind with over four million tons and finally agriculture with over three million tons.
So these are real impactful numbers. These are really difference makers. And so I think it's very encouraging that we're seeing an operator really taking the high road here saying, "Hey, we can be proactive about this." We're not just going to wait around for the government to say, "Oh, can you help us with this?" We're like, "Here, we're ready. We even have technology that we've already proven out and made some tremendous difference with our existing network and near-future network. And by the way, here are just the three examples, three key verticals, where it could make a big difference, especially in rural areas. And so, let's figure out how to really make this work in terms of making nationwide goals, which is again, impacting all the societies." So this is actually…
Shelly Kramer: Absolutely.
Ron Westfall: I think, a really cool development.
Shelly Kramer: It is a really cool development.