Vodafone and Ericsson Attain 5G Network Energy Efficiency Breakthroughs
Vodafone and Ericsson Attain 5G Network Energy Efficiency Breakthroughs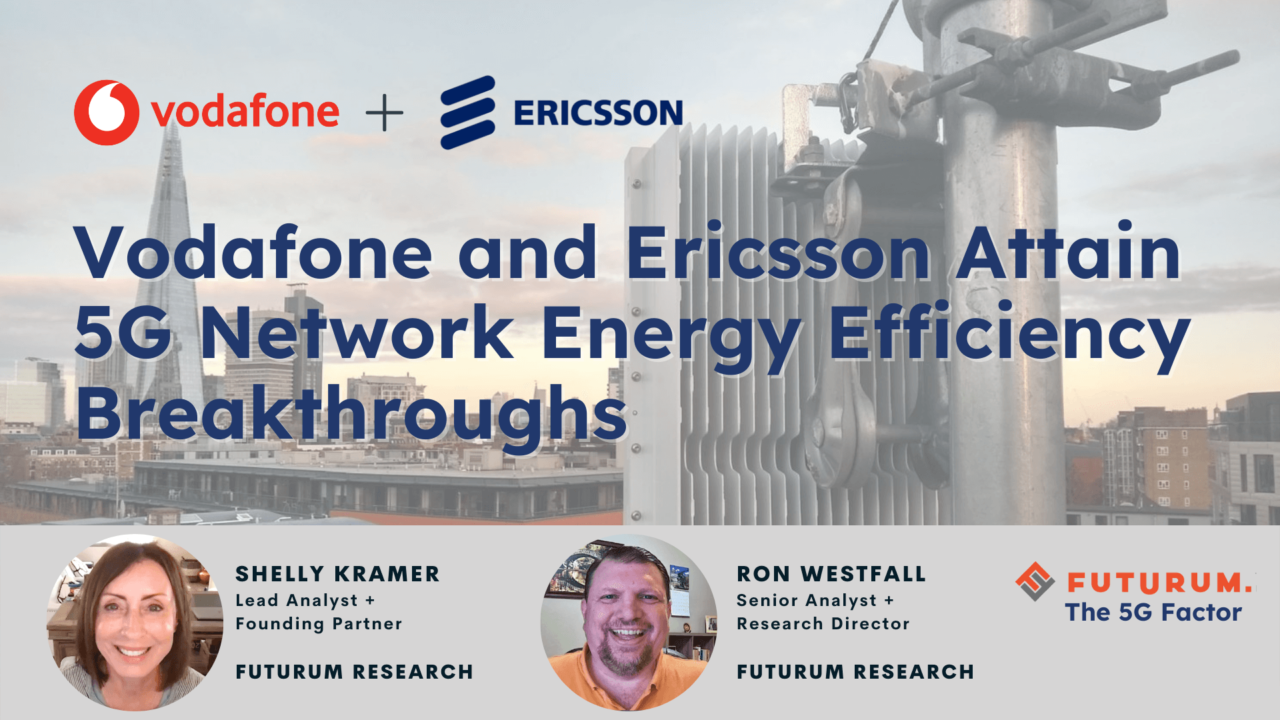 For this vignette of a recent episode of the Futurum Tech Webcast, part of the 5G Factor series, analysts Ron Westfall and Shelly Kramer examine the partnership between Vodafone and Ericsson in the deployment of new energy-efficient 5G radios across the London, UK vicinity.
Their conversation covered:
Vodadone is using Ericsson's antenna-integrated radio solution (AIR 3227) that have produced a daily network energy consumption decrease by an average of 43% daily in relation to previous generations of radio solutions.
Vodafone's plan to deploy 1500 of the Ericsson AIR 3227 units in Q2 2022 as integral to achieving organization-wide energy and sustainability objectives.
How competition among the major RAN suppliers is yielding ever lighter compact radio products.
• The society-wide sustainability implications of Vodafone's 5G network energy efficiency breakthroughs.
Ron and Shelly view the Vodafone and Ericsson collaboration as key in advancing energy efficiency metrics in better understanding the success of 5G network deployments and how 5G technology can play a pivotal role in meeting society-wide sustainability goals.
Watch the clip here:
Or grab the audio by way of your favorite streaming platform here:
Don't Miss An Episode – Subscribe Below:
Disclaimer: The Futurum Tech Webcast is for information and entertainment purposes only. Over the course of this webcast, we may talk about companies that are publicly traded and we may even reference that fact and their equity share price, but please do not take anything that we say as a recommendation about what you should do with your investment dollars. We are not investment advisors and we do not ask that you treat us as such.
Transcript:
Ron Westfall: I think this is a high impact collaboration. What is going on is that Vodafone and Ericsson are working together to dramatically improve the energy conservation metrics of a 5G network. Specifically, what their trial entail is the use of Ericsson's antenna-integrated radio technology, specifically the AIR 3227 model and what they came across is the fact that by using Ericsson's AIR technology, that they were able to improve energy conservation across the entire network by an average of 43% on a daily basis.
Shelly Kramer: That's a lot.
Ron Westfall: Yes! I think that constitutes a breakthrough. And the other reason why this is important is that it's demonstrating that 5G is ready for primetime in terms of enabling operators to meet their sustainability goals, but also this is going to impact the society-wide objectives to improve energy efficiencies, to achieve some ambitious, aggressive goals that we see particularly in the UK and EU, but increasingly across the world to have what could be characterized as carbon neutrality in the next decade or two.
This is definitely playing a contributing factor. And I think it's showing progress in that relationship, they've been working together. For example, when Vodafone launched its 5G service, it was a collaboration with Ericsson back in 2019. And this year, they announced the fact that they're working with Ericsson to use Ericsson's technology in terms of their 5G standalone core capabilities to support a packet core capabilities.
I think what's also neat about this announcement is that they're actually using drones to enable these capabilities, that is the improved energy efficiency. And so, the capstone, at least in the near term will be in Q2 2022, that's Vodafone will be deploying 1,500 of these AIR 3227 models throughout the London network. And so, this is I think something that will gain momentum, these types of announcements, because it's going to be an increasingly important differentiator, I think this is really our first opportunity to talk more about the fact that when it comes to 5G, the sustainability and energy efficiency aspects are going to be increasingly critical. And this is, I think, definitely a demonstration of that fact.
Shelly Kramer: Absolutely. I noticed when I was looking at the news around this, that speaking about future-proofing and sustainability that Ericsson's new radio is more than 50% lighter in comparison in that compact design and the improved energy management features are so key because this is going to help optimize the overall site footprint and it'll make 5G rollouts and 4G upgrades faster. Those things are critical here when we're talking about speed to innovation and really being able to benefit from all the things that 5G and upgraded 4G has to offer.
Ron Westfall: This is a great example of why competition is so good because it's a very spirited one in between Ericsson, Nokia, and Huawei, just within the last year, all of them have been engaging in one-upmanship like we have now the lightest unit and just wait a quarter, then one of the other ones will come out and say, "Now, we have the lightest unit." And this is just really making a difference across the entire mobile ecosystem, but certainly across 5G builds.
This, I think, is going to be, again, something that will prove pivotal in how aggressive the operators deploy 5G. And we've been going through a hype cycle and 5G hasn't really had a breakthrough application yet the same way that 4G enabled, for example, the car ride applications such as Uber and Lyft and so forth. However, stay tune. I think it's definitely something that is going to become more than, okay, we're improving performance, we're improving throughput and lower latency, and we're going to have, I think, some real interesting examples and use cases coming out over the next year, particularly on the industrial side.
Shelly Kramer: Absolutely. Say that again five times, industrial.
Ron Westfall: Industry 4.0. That'll be easier to say five times real quick.
Shelly Kramer: That's the thing about being colleagues. You can make fun of one another at will and that's really, we're kind of a big family around here giving each other a hard time as often as humanly possible. Moving on, let's talk a little bit about why Qualcomm and Ericsson demonstrating the first 5G new radio call on CBRS spectrum is a big deal, especially as we look at industry 4.0 use cases and 5G private networks. I know this one is kind of, again, claiming the first successful move here in this space, but talk a little bit if you would about what's going on with Ericsson and Qualcomm as it relates to this.
Ron Westfall: Sure. I think this is the first successful over-the-air demo of this particular combination and CBRS is going to be very important, also known as Citizens Broadband Radio Service, and that it's an increasingly popular choice in terms of enabling private networking. It's a shared spectrum technology and resides it in the 3.55 to 3.7 gigahertz range. In combination with personal access licenses, it's really demonstrated that at least when it comes to LTE private networks, it's a valid business case. It's already being proven out and what is going to be, I think, the next important state is the 5G capabilities being injected into these private network environments. The foundation is there and this particular demonstration is going to enable 5G to take private networking to the next level, to really bust through in terms of ultra low latency capabilities in terms of quality of service enhancements, increased agility and so forth. And so, that is right. This is a difference maker, it's because it's really advancing 5G capabilities into these private networking environments.
Shelly Kramer: And private networking is really hot right now, right?
Ron Westfall: Yeah. We talked about it on our last show and it's, I think, indicative that it's just I think a use case that will gain more traction because security first.
Shelly Kramer: Absolutely.
Ron Westfall: We can keep saying that every each episode we do, but it simply matters. It's like when you're talking about a manufacturing facility or a warehouse or any place where information and data is very sensitive, you don't want that hanging out on a public Wi-Fi network, et cetera. I mean, there's just a host of reasons why private networking is going to accelerate and we anticipate that we'll be talking more about it throughout the course of this year, let alone into the foreseeable future.
Shelly Kramer: We will indeed. Earlier in this conversation, we touched on Ericsson and Nokia and Huawei and we're going to talk about that a little bit more.