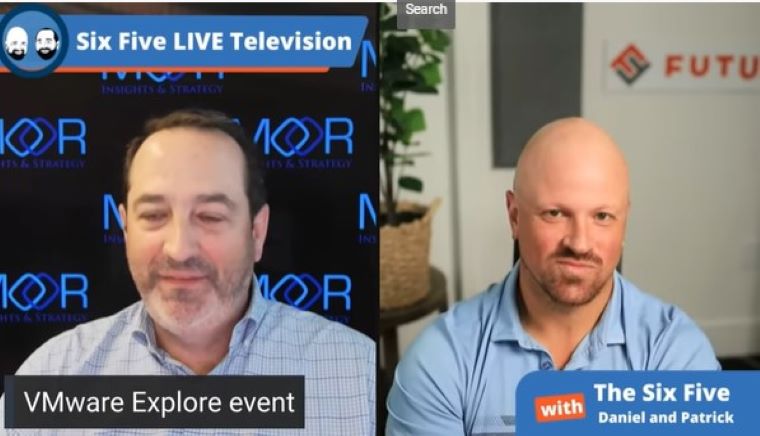 The Six Five team talks about the recent VMware Explore event.

If you are interested in watching the full episode you can check it out here.
Disclaimer: The Six Five Webcast is for information and entertainment purposes only. Over the course of this webcast, we may talk about companies that are publicly traded and we may even reference that fact and their equity share price, but please do not take anything that we say as a recommendation about what you should do with your investment dollars. We are not investment advisors and we do not ask that you treat us as such.
Transcript:
Patrick Moorhead: Let's dive into VMware Explore, Daniel.
Daniel Newman: So did you go?
Patrick Moorhead: I did not go. I was invited, but unfortunately I could not go because we had the AMD event that we had locked into earlier.
Daniel Newman: Which we couldn't say because it was a redacted event at a redacted location talking to redacted technology.
Patrick Moorhead: Exactly.
Daniel Newman: But now it's mostly unredacted, although there's some stuff still redacted, but it'll be unredacted soon. Okay, can I say this? I put a tweet out this week. I said, unpopular opinion VMware will grow faster after the acquisition by Broadcom. And I stand by this. Look, I did not go. We did send one of our analysts to the event, and I kind of ran down the announcements. I liked VMware with Dell. I don't like VMware alone. I like VMware with Broadcom. And I just want to say I effectively think it's more and more becoming a feature than a company. And I know that's probably harsh, but in this multi-cloud era, basically the VMware stack are effectively a bunch of services that are offered by hyperscalers. At this point, multi-cloud management, virtualization services, they're either offered in the partner store or they're offered directly by the companies.
And you can be sure that over time they're all going to build more and more products to solve the multi-cloud challenges. I look down. What are the big announcements? A lot of more partnerships, Pat. VMware on AWS, VMware and 95 IBM, VMware and NetApp, VMware and Microsoft. So half of their biggest news were just partnerships expand. By the way, all important because they have to build their solutions to run on multiple clouds. The Aria platform was probably one of the more interesting things. The end to end managing of cost, performance, configuration, and delivery of infrastructure for cloud native. That one was probably one of the more interesting ones. They launched a new version of vSphere. So there's a lot of launches here, Pat, but here's my biggest problem. And here's what I think Broadcom's going to help with is the company actually is too technical. And I think you and I have talked about this, but their story is seeming to run into the end where they're very well received by the IT folk.
But I think their kind of popularity among the broader tech industry and people that are looking at tech growth has sort of hit a bit of a wall. The excitement for the native cloud providers, the public cloud providers is much more of a hockey stick. You always do this backwards on camera. Anyways, but the excitement has definitely started to dwindle. And the competitiveness of the product has started to come under question with Tanzu versus other container based solutions for Kubernetes. Is the VMware offering the most competitive? Is it the most innovative? And I'm starting to get the sense that it is not. And this is, like I said, you and I are not deployers. We are analysts. So we listen to the market. We listen to CIOs. We listen to the competitive presentations, and I think Broadcom is actually going to inject some excitement and enthusiasm.
And again, it's kind of their historical DNA as they strip everything out, they reduce operating expense, they push up op ink, and they are beloved by Wall Street. But I get the feeling that they understand that this is a bit of a pivot moment. You've heard that the Broadcom software group was going to possibly be renamed VMware. This is going to be the epicenter of that sort of business unit. They talked about that. I'm not sure how that'll end up, but I actually think they understand that in order to play meaningfully in the future of a hybrid and multi-cloud universe that VMware is going to be a great tool for them. I believe that they understand the need to invest in multi-cloud, and I think they're going to do it. Now they'll do it Hawk's way. So don't for a minute think I'm sitting here saying that Hawk is going to suddenly become a wild and R&D…
Patrick Moorhead: Big investor, big R&D, baby.
Daniel Newman: But if you kind of look, and we've worked pretty closely with the Broadcom mainframe software group, I think they've actually invigorated what was CA. It's actually performing better. And so with the right leadership, the right investment behind it, I do see growth. And remember VMware in the last quarter grew 3%. And I think that was with constant currency. And my point is like 3%, Pat, for a cloud play in multi-cloud is anemic. It's anemic at this point when Oracle, IBM, Dell, Cisco every company that has a cloud or hybrid cloud or on-prem cloud play is growing at double digits and most of them multiple double digits up. So lots of things launched. I realized I kind of quickly fell off the wagon of talking about VM world wasn't there so I'm kind of just reading the news, Pat, a little bit here. But my analysis is I'm excited about the Broadcom acquisition. I actually think it's going to invigorate VMware. And I know that's not a popular opinion, but…
Patrick Moorhead: It's not a popular opinion. I'm not with you. And maybe if I get to know the Broadcom folks a little bit better, I would have a much more comfortable feeling about it. I mean, up to this date, Broadcom really hasn't reached out to my firm on anything except the mainframe stuff. So maybe if I get to know them, I'll get more comfortable with them. Maybe my prior experience watching Hawk and what he tried to do with Qualcomm and some of his other software acquisitions, I might change my mind. But on VMware I'm going to do kind of the pluses and the minuses. I think the pluses are that VMware is one of the few companies that is enabling a cloud like experience on prem, hybrid, and multi-cloud, right? I thought they did a really good job in their keynote talking about the three different phases of what enterprises are experiencing.
CloudFirst really was about public cloud, single cloud, and this phase two of being cloud chaos, where you have now three public clouds. You have on prem. You have four Dev Ops teams that do things completely different, your data spread. And then there's this end state, nirvana state called cloud smart, which is kind of the long term destination that they mapped out. And I thought this was really good. And I think this is exactly why only 25% of applications are in the public cloud and the remaining 75% are still on prem. Mission critical applications are not a slam dunk in the public cloud. And even if it's old style kind of monolithic type of IT on prem, it takes time to refactor those applications to run in a hybrid multi-cloud environment. So I did like you, I liked VMware Aria, which is a multi-cloud management solution across all the popular clouds out there.
It introduced a cost element that's powered by cloud health, and I've been really impressed by that acquisition and what the company has done with it. They're hitting with network offload that all the hyperscalers have. They're bringing that to on-prem infrastructure with support for the DPU and then going from DPU offload to DPU security with this new project called Project North Star. And typically, real products come from a project within one to two years. They also introduced this thing called Project Trinidad, which is an API, VMware API for security so again, really focusing on the right stuff here. I pay a little bit less attention to the client virtualization application. They introduced some new automation tools that I thought were really good. And that's the good.
I think the bad is, and I just think they have one way to talk and that's to this super duper technical audience. And if there's anything that the company can do in the future to be more relevant to more people is talk in a way that the lines of businesses can appreciate because right now they're getting fed from SaaS companies and public cloud companies in a much less technical way. And I think that they're going to get their lunch eaten if they don't figure this out soon.
Daniel Newman: Yeah, I love that, Pat, and good assessment and way to round me out a little bit. I realize I was a little harsh, wasn't meaning to be, just being pretty straightforward about the way I see it, what I'm hearing, how I feel about it. We'll see if you or I are right, and hopefully in the end, I'm rooting for, I always root for tech. I think we both do. We always root for it. We just want them to do the right thing. That's our job.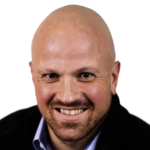 Daniel Newman is the Chief Analyst of Futurum Research and the CEO of The Futurum Group. Living his life at the intersection of people and technology, Daniel works with the world's largest technology brands exploring Digital Transformation and how it is influencing the enterprise. Read Full Bio