The Strategic Impact of Rakuten's Acquisition of Altiostar on the Open RAN Market
The Strategic Impact of Rakuten's Acquisition of Altiostar on the Open RAN Market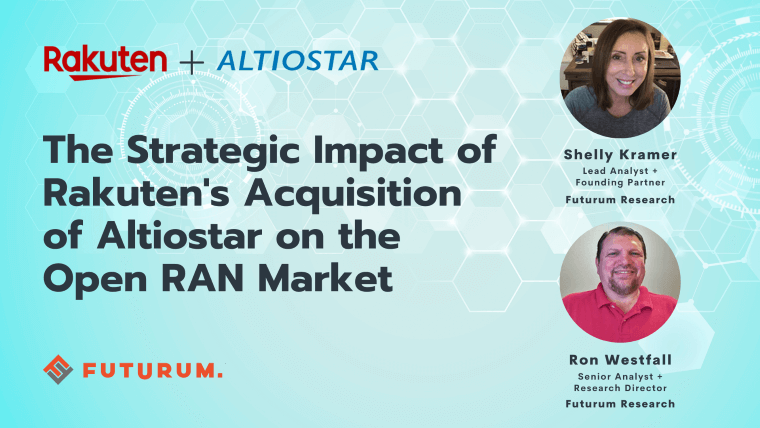 For this vignette of a recent episode of the Futurum Tech Webcast, Part of the 5G Factor series, analysts Shelly Kramer and Ron Westfall assess why the Rakuten Altiostar deal is going to cause turbulence across the RAN market segment and the overall 5G space. The conversation addressed:
Why incumbent RAN players, Ericsson, Nokia, and Samsung need to up their support of open RAN, because their customers are demanding it, the regulatory bodies are pointing in that direction, as well as the competitive implications of the Rakuten Altiostar deal.
Now the operators can separate and disaggregate the software from the hardware, and not have to buy both components from one supplier. They can now mix up the supply more, gain more bidding leverage, and more innovation possibilities from the Open RAN/Open 5G approach.
Why Open RAN specialists, such as Mavenir, Parallel Wireless, and Radisys, are more attractive takeover targets.
Why a broad mix of major 5G players, including the RAN incumbents, Cisco, Juniper, Microsoft Azure, and Intel, could pull the trigger on buying OpenRAN assets.
In sum, the Open RAN market segment got hotter as other CSPs can look to emulate Rakuten and buy their own Open RAN solutions. The 5G Olympics are heating up in the Summer of 2021!
Watch the clip here:
Disclaimer: The Futurum Tech Webcast is for information and entertainment purposes only. Over the course of this webcast, we may talk about companies that are publicly traded and we may even reference that fact and their equity share price, but please do not take anything that we say as a recommendation about what you should do with your investment dollars. We are not investment advisors and we do not ask that you treat us as such.
Transcript:
Shelly Kramer: Part of this to be able to lock in long-term competitiveness. Are there other elements here that play a role? And my question is kind of multi-pronged, how does this, there's other players in this space, there's Ericsson, Nokia, Samsung, and they're all targeting the Open RAN space. So, how does this move play in that sandbox?
Ron Westfall: Excellent question. Yeah, this is definitely going to cause turbulence than the Open RAN segment, because as you pointed out, Shelly, already had the incumbent RAN vendors, Ericsson, Nokia, and Samsung already, at least, paying lip service to, we will support open RAN, because pretty much their customers are demanding it, the regulatory bodies are pointing in that direction. So, this is a process, it's not going to happen over night when it comes to many of the firmly established networks out there, but it will happen and they have to be prepared to make this happen as the market becomes better prepared to support Open RAN, because there are challenges.
As I noted before, with the incumbent proprietary RAN implementations, it was secure. So, there is a concern about the open up of the key parts of the RAN network, for example, the distribution unit, the radio unit, et cetera. That, it has a broader attack surface for hackers and so forth. So, that part definitely needs to be proven out, it needs to be thought through thoroughly.
Otherwise, you're getting a lot of benefits when it comes to that flexibility and agility that we all are fond of invoking, but those are at terms. For example, now the operators can disaggregate the software from the hardware, so not having to buy from one supplier both of these key components, they can actually now mix up the supply more and gain work bidding leverage and so forth, and more innovation possibilities from that approach.
So, that is certainly one important aspect of why Open RAN is so much different. But also, in terms of, what about the other Open RAN specialists, already talked about the Mavenir, there are other excellent ones like Parallel Wireless, as well as Radisys. And some ongoing homegrown efforts supported by the regulatory bodies of various countries, Europe comes to mind, the UK in particular. So, that still needs to flesh out more, but it definitely raises the valuation of those existing independent Open RAN vendors.
I can see, then becoming targets, I can see another CSP emulating what Rakuten did. I can see also established networking players like Cisco and Juniper looking to buy one of these Open RAN vendors to up their 5G ecosystem credentials. Likewise, again, the traditional RAN vendors looking at a way to catalyze their Open RAN capabilities is simply cut out and buy the skillset and the technology.
Also, we have to look at the cloud providers, already Microsoft has bought specifically Metaswitch and Affirmed Networks just for this very capability. And I believe dividends, look AT&T is already turning to them for their fundamental 5G built. So, this is something that is not farfetched at all.
Finally you have Intel, the Silicon provider, if you will, the trailblazer in terms of enabling a lot of these 5G capabilities when it comes to disaggregated networking, because it's based on their Silicon, that these servers will enable this white box networking and so forth, that is a lot more flexible and cost-effective than the proprietary approach. So, you can't count them out either.
So, this is just going to make it a lot of fun for us, watching the market, but also it will be beneficial for all of the members of the 5G ecosystem. Certainly, the service providers, but also the customers, whether you're a consumer or enterprise, this is really the kind of advancement and innovation that we're definitely looking at. This is also something that will pretty much very likely happen. So, it's going to be a question of, who's going to be the next one to jump on this bandwagon and really push the needle forward.
It's also, I think, important to note here, all this is happening in Japan, US, Europe is following, and the other parts of the world that we talked about, what is actually in stark contrast is China. You're not hearing about Huawei and ZTE in this regard, because they pretty much are being mandated by the Chinese government to continue that proprietary closed approach. So, they're pretty much not players in this Open 5g, Open RAN competitive landscape.
So, while the China market can feel their revenues for a while, at least when it comes to mobile infrastructure, it's going to be interesting to see when that starts reaching that saturation point, is there a plan B? Can these major China suppliers cut over to Open RAN in the foreseeable future? It doesn't look like it.
So, this is interesting that Japan is kind of the vanguard for a lot of this Open RAN innovation and let alone cloud-based 5G networking. We're learning a lot of valuable lessons from it, and hopefully it will happen in the US with DISH, let alone Ligado, as well as other operators in other parts of the world.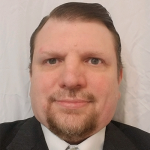 Ron is an experienced research expert and analyst, with over 20 years of experience in the digital and IT transformation markets. He is a recognized authority at tracking the evolution of and identifying the key disruptive trends within the service enablement ecosystem, including software and services, infrastructure, 5G/IoT, AI/analytics, security, cloud computing, revenue management, and regulatory issues. Read Full Bio.