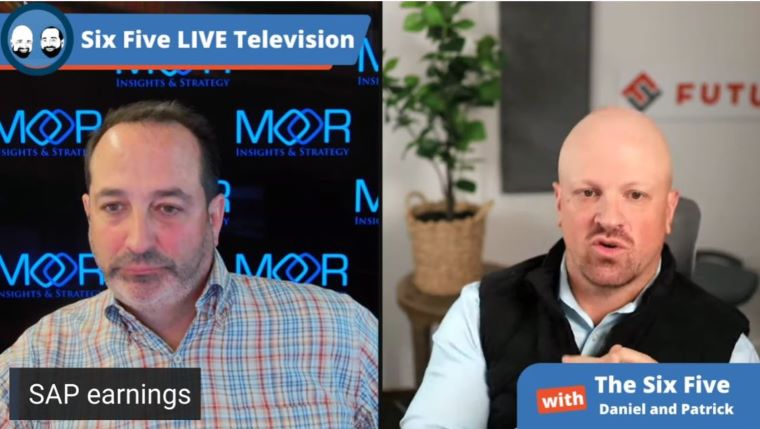 The Six Five team discusses the latest SAP earnings.
Watch the clip here:
If you are interested in watching the full episode you can check it out here.
Disclaimer: The Six Five Webcast is for information and entertainment purposes only. Over the course of this webcast, we may talk about companies that are publicly traded and we may even reference that fact and their equity share price, but please do not take anything that we say as a recommendation about what you should do with your investment dollars. We are not investment advisors and we do not ask that you treat us as such.
Transcript:
Daniel Newman: Speaking of no more pandering, let's talk about another earnings. This was a mixed result coming in from SAP early this morning out of Germany. Company had a top line beat, but a bottom line miss. We talked a little bit early on about kind of what's going on in the market. Look, I'm going to be pretty straightforward about SAP. I'm watching cloud. When I look at that company, they are a recurring revenue machine in terms of hundreds of thousands of customers that depend on SAP to run their businesses. You look at their overall revenue, very predictable, a lot like some of the other big software players. That's been one of the things that's made the company incredibly dependable, but growth and cloud have been the question marks that have been around the company for some time.
I think they're actually really making some progress here. This quarter they saw 31% cloud growth, 25% of constant currency. They saw that backlog in cloud grow significantly, nearing $10 billion, up 28%. SAP4HANA cloud revenue, 78% growth. It reaffirmed outlook for the company.
So what happened on the miss? Well, our next topic we're going to talk a little bit about a note that came out this week about SAPs, what they're doing to deal with the Russia and Ukraine war, but that had a big part of it. One thing I liked, Pat, and you and I got access to this this morning is, I've been asking and I've said over many years, one of the big complaints about S4 is that the lift from legacy on-prem SAP to S4 is a significant transformation that companies cannot make gradually. It's a fairly large lift in ship.
So the company's got this rise with SAP. We talked about it here on the show, and the whole idea was providing basically a simpler pathway for companies to move from legacy on-prem to S4, and do it as seamlessly as possible. But that transition's significant. So the company's been working really hard to make it easier so that a company can make the shift. You saw 500 more customers this quarter jump over to S4.
You saw the adoption number jump in just under 20,000, 18% growth. You're seeing rise though, becoming highly adopted by big companies that wanted to make this transition. What are some names? How about Accenture? How about Daimler? How about NEC out of Japan? You also, and by the way, I mean, that's just a select few. You also saw Microsoft, which again, you'd say, oh, aren't they competitors? Yes, but Microsoft also works with and uses some of SAP's technology. They actually announced that they're going to become the first public cloud provider to adopt the rise with SAP and SAP S4 HANA transform in their own SAP deployment.
Patrick Moorhead: Wait a minute. Let me see if I got this right. The company who makes Dynamics 365 is using rise with SAP on their own internal ERP?
Daniel Newman: In this case, what they're doing, they're doing their own, their transforming. Let me read that.
Patrick Moorhead: It's not that hard of a question.
Daniel Newman: SAP S4 HANA to transform its own SAP ERP deployment. So yes, and it's going to enable Microsoft to move faster. That's kind of a nice validation of what SAP is doing with rise. So strong regional performance, strong top line performance, a little bit of a miss on the bottom line. I think we can talk more about what that means in the next segment, Pat, but overall, I keep saying, watch the cloud growth. It's a sticky business. SAP's got a huge number of customers, and seeing that transformation from pre to cloud in its broader customer base is the biggest indicator I can give the market in terms of how successful the companies be over the long haul.
Patrick Moorhead: Man, you're on fire. You really are. So the only net adder I'm going to put up is, so I think SAP probably for the last year has been way too apologetic on cloud. I think about a year ago, while I wouldn't say investors looked at the hybrid cloud, but the reality is everybody agrees the hybrid cloud is the future, and that hybrid cloud is basically a combination of resources that are in the public cloud and that are on prem on a cloud basis. But this slide alone tells me that the company is getting a lot more aggressive in their story. These are very respectable numbers. Then the cloud revenue numbers are similar to IBMs, because we're really looking at an on-prem private cloud versus something different. But look at those 71% growth in S4 Hana cloud. That is just, that's a monster. Look at that backlog at 79%. And then finally Qualtrics, which I believe is going away after a while, more of a SaaS play, those are actually bigger numbers than an enterprise.
Daniel Newman: Qualtrics was spun off, but SAP still holds the vast, the majority of the share, kind of like the VMware.
Patrick Moorhead: No, I appreciate that. Thank you for the clarity on that. But still, the interesting part is Qualtrics, which 48%, are you kidding me? Typical SaaS growth we've seen is 30, 35% from the big guys, whether it's Oracle or even Salesforce. These are monster numbers. So net, net congratulations on a great cloud quarter. Some of the customers that were brought out as well, like Accenture, Daimler Truck, Groupo Estrella Blanca, X side, NEC, Oradu, Quinn Quinn Food, Rising Auto Tellis,, Tramontina, and Y pro, right? Those are big names. I don't know, Daniel. Something big seems to be brewing at SAP. You started on this and I'm going to end on this.
What people need to understand about SAP is SAP at the center, that the center business or applications go all the way back 25 years ago. With rise and when you're moving to S4 HANA, you're not just doing a copy and a paste. You're not doing a lift and shift. You're completely redoing the business processes, how you make products, how you source raw material, how you invoice, and how you pay people. The basics of business, as opposed to some brand new application that sits out on the edge that has no [inaudible], but good stuff going on here.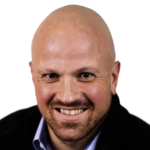 Daniel Newman is the Chief Analyst of Futurum Research and the CEO of The Futurum Group. Living his life at the intersection of people and technology, Daniel works with the world's largest technology brands exploring Digital Transformation and how it is influencing the enterprise. Read Full Bio