The Six Five Summit 2021 – Bigger, Badder and Better
The Six Five Summit 2021 – Bigger, Badder and Better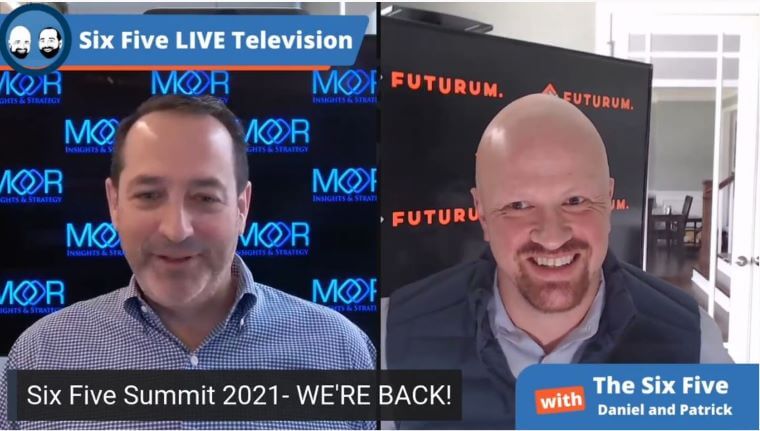 The Six Five team is excited to announce the 2021 Six Five Summit with an exciting lineup from the world's leading technology companies. Register here.
Watch the clip here:
If you are interested in watching the full episode you can check it out here.
Disclaimer: The Six Five Webcast is for information and entertainment purposes only. Over the course of this podcast, we may talk about companies that are publicly traded and we may even reference that fact and their equity share price, but please do not take anything that we say as a recommendation about what you should do with your investment dollars. We are not investment advisors and we do not ask that you treat us as such.
Transcript:
Daniel Newman: Guess what, Pat? It's news time.
Patrick Moorhead: That's right, baby. We are back. The Six Five Summit 2021. We've been leaking some stuff out on Twitter, but Daniel, man, we're back, baby. And we're doing recordings. We're jumping on airplanes. We're having a good time here. Why don't you kick this off? And we'll just kind of go back and forth.
Daniel Newman: Absolutely, Pat. We could not be more excited to announce our second annual Six Five Summit. For those that did not catch it last year, it was kicked off by Dell CEO and chairman Michael Dell. We had Lisa Su president and CEO of AMD and Doug Merritt, the gentleman that runs Splunk, also helped keynote. But we had a great event last year. This year, the whole idea was to be bigger, better and badder in the best way possible than our last year event. And we have a lineup Pat, that I think anybody could get excited about.
Patrick Moorhead: We have the top companies out there in the industry. This is the who's who and I will tell you, we had some people who they saw this slide and they're trillion dollar companies, they asked to be part of it. And unfortunately we had to turn them away. We hate to do that, but we can't have everybody. But I'm just thrilled at the breadth of this. And as Daniel was saying before, we take feedback from our community very seriously. We asked them, "Hey, what can we do to make this better?" And they told us, "First of all, don't jam this all into two days." We went to five days. We went to 12 topics. We manicured them and I'll get to that slide a little later. We have six executive keynotes, 40 spotlight sessions. And they also said, "Hey Pat, add a live element to this."
We're going to have after each day, daily executive Q and A's out there. From a content perspective, similar to last year, but we have made some nips and tucks. And I challenge you to find something in here that we missed. And by the way, it's enterprise apps, not enterprise SaaS. SaaS is included, but we also have people who will be talking about applications that you create on prem or in the cloud. And which, by the way, most applications are like that. We are pleased to have Intel CEO, Pat Gelsinger kickoff the Summit. Pat started his career 30 years at Intel and he then joined VMware where he ultimately became a CEO and as in his first 100 days. And Pat's going to talk about his perspective and you can think Intel is involved in all the way from the edge to the deep edge, all the way through to the data center and everything in between. He has a unique perspective on this and also with the importance of semiconductors, the strategic nature of semiconductors. I'm really excited to what he's going to bring to the table.
Daniel Newman: Yeah, Pat. And then we have a whole week of outstanding keynotes. And basically as you saw, we had our 12 topics and we broke them up into multi-layers where we found hopefully pretty adjacent or complimentary. Pat will kick us off. And then our first day is dedicated to cloud and infrastructure where we have Allison Dew the CMO and EVP of Dell leads their entire as a service business model that's recently been rolled out at their event called Project APEX. We have the office of the CTO and VP of Advanced Technology, Chris Wolf from VMware that will lead our apps and collaboration day, where we have another tremendous number of speakers. We'll talk more about them. On the third day 5G, edge and IoT, we are super excited to have Darius Adamczyc, he is the CEO and Chairman of Honeywell, pretty big company. We talked about them here on the show today.
On day four, super happy, couldn't be more pleased than to have CEO and President of AMD, Lisa Su, return after giving a keynote last year. What an honor. And actually on day four and five, two of our original keynotes, OG of our event are coming back and that is I'm Doug Merritt, president and CEO of Splunk. And here's the amazing thing, Pat, we're going to run you through the days quickly. We have speakers of these calibers all the way throughout the event. Spotlights, and Q, it's just going to be fantastic.
Patrick Moorhead: Yeah, it's going to be. I'm excited. Real quick, day one is all about cloud and infrastructure and you can see here, we have most of the leaders in cloud and many of the leaders in infrastructure. We have Azure, we have Intel, we have IBM, we have the President of Honeywell coming in to talk about the quantum cloud, SAP, Pure Storage and Marvell. And for those who aren't familiar, Marvell has a lot of silicon in the public cloud. And we also have Oracle Cloud with Clay Magouyrk, which quite frankly, they have amazed me in what they're doing with their gen two cloud.
Daniel Newman: Yeah. And then on the second, apps and collaboration day as mentioned. Kicked off by VMware talking about app development, but then we've got Salesforce, Oracle coming back to talk about the app side of their business. Microsoft. We have collaboration coming from the CEO of Poly. We'll be hearing from T-Mobile, which is a little bit of a different spin on collaboration and apps. Then we're going to have Zoho, which is another very interesting company for that mid-market space. And then Cisco. Cisco talking about the WebEx platform. Another really big action packed day.
Patrick Moorhead: Yeah. Let's go into a day three, all about 5G, edge and IoT. And like we said before, kicked off by OT and upcoming IT leader Honeywell. We have Jim Anderson from Lattice. Big player in semiconductors in the edge. T-Mobile, T-Mobile and 5G. Come on, folks. Leaders in 5G in north America. Marvell coming in, leaders in edge. Silicon, a lot of those 5G base stations that you see out there have their silicon in it. We have Siemens, another IT OT play here. Lenovo talking about the edge. Cristiano Amon, CEO elect from Qualcomm. Come on 5G and the edge and IoT, that's pretty much Qualcomm. Bill Voss, VP of Engineering from AWS talking edge, super excited to have AWS for the first time this year. And finally Cisco talking about cloud security on the edge.
Daniel Newman: All right, day four, Pat. I don't know. I'm glad this one fell to me on our back and forth. We like chips and SaaS. You know that about us if you've listened to this show for a while, but I don't know that we could have, you've heard about some serious semiconductor players throughout the week that aren't even on our semiconductor day. Our semiconductor day is off the charts. We're going to be talking to from the device end, the chip making side, Lisa Su kicking us off. We got the CEO of HP giving us some vision from what the PC makers are thinking about when it comes to chips. And we're going to Simon Segars, CEO of Arm. Jensen Huang, CEO of NVIDIA. We've got Dario Gil who basically leads a lot of the hard tech for IBM. We've got Tom Caulfield, which you'll see regularly on the networks talking about the chip and supply shortage business of GLOBALFOUNDRIES. Jim Elliott, who leads basically the semiconductor business for Samsung here in the Americas. We have Matt Murphy, the President and CEO of Marvell.
This is just a ridiculous lineup. We have the Keyvan who leads the manufacturing for Intel. And then we have Robin.
Patrick Moorhead: Tyler.
Daniel Newman: From Microsoft Surface. We've got the device side and then AWS, by the way, sneaking in here. We've got the device side, Pat, we've got the chip side, we've got the foundry, the favs, this day is going to be ridiculous. This is going to be so fun.
Patrick Moorhead: It is going to be ridiculous. Yeah. And then like you said, you tie in the other semiconductor CEOs that we have throughout. Pretty much, it's a who's who of semiconductors. And like you said, semiconductors and SaaS.
Okay. Let's go to day five. Again, AI, machine learning and big data kicked off like we said, earlier, CEO of Splunk. We have the President of Cloudera, the CEO of Automation Anywhere, the CEO of Grok, up and coming AI and machine learning play. And then we have head of software at HPE and CTO. And if you haven't been watching HPE, basically all their announcements have been around software, which is excellent. We have the office of the CTO, client solutions office out of Dell Technologies. We have Red Hat, we have C3.ai and we have UiPath from an automation point of view. Another heavy hitting day to round it out. Daniel, I am super excited.
Daniel Newman: Pat, I got to tell you, five days, an outstanding lineup. Whatever tech interests you, we're going to have some of the leading minds and the biggest, most prolific companies in the space. This has been a lot of work. And by the way, the work's not done. Pat and I are recording these conversations and these interviews, still day in and day out. Our team is building the event platform. We are going to really hope to inspire our audience, to bring five days of just tech bliss for everybody that's out there and getting access. And these aren't two minute media clips or really short little segments with one or two, we're getting 15, 20, 25 minutes of interactive discussion with these people, Pat. And you could just take this week and say, "I want to get my virtual MBA in all things tech." And you could listen to these people and you will be the smartest person at Thanksgiving this fall.
Patrick Moorhead: I love it. I love it, man. Wow. What a show. I'm super excited. Register now at sixfivesummit.com.
Daniel Newman: All right, everybody. And that's going to be a wrap. Our slightly different show, little bit longer, but hopefully it was worth it to hear all about this event. We can't wait for you to come. Go to thesixfivesummit.com. We'll put it in the show notes. You can register there. We can't wait to have you attend. For this episode of the Six Five, got to say goodbye. We'll see you next week. Next week will be jam packed. I promise you we'll keep it interesting. Hit that subscribe button. Hit us up on Twitter, Pat and I love to respond. Pat responds faster, but we'll both respond eventually. Join us on Spotify, on Apple, on YouTube, all the live. We love you, our community, you matter. But for now we got to go.
Patrick Moorhead: Have a great weekend.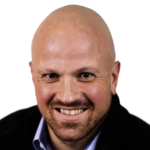 Daniel Newman is the Principal Analyst of Futurum Research and the CEO of Broadsuite Media Group. Living his life at the intersection of people and technology, Daniel works with the world's largest technology brands exploring Digital Transformation and how it is influencing the enterprise. Read Full Bio