The Recent Cisco Live! Event
The Recent Cisco Live! Event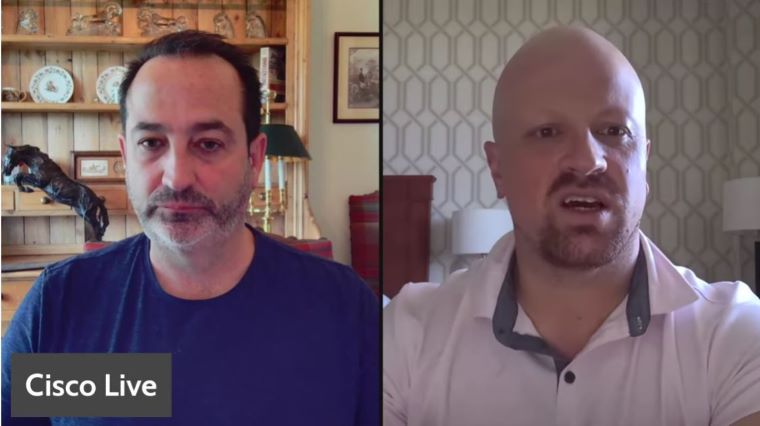 The Six Five team discusses the recent Cisco Live! Event.
Watch the clip here:
If you are interested in watching the full episode you can check it out here.
Disclaimer: The Six Five Webcast is for information and entertainment purposes only. Over the course of this webcast, we may talk about companies that are publicly traded and we may even reference that fact and their equity share price, but please do not take anything that we say as a recommendation about what you should do with your investment dollars. We are not investment advisors and we do not ask that you treat us as such.
Transcript:
Daniel Newman: So Cisco Live was another big week. It had a lot of topics, a lot of introductions, whether it was the remote-work revolution, security, application monitoring. This was a show where, first of all, Chuck Robbins got on stage, very excited to basically be back in a physical space with people. I thought they did a pretty good job of trying to keep everybody safe, but at the same time, getting a large group. That was the largest group I'd been with yet, Pat. We did IBM Think with 500 people. This was probably more like 5,000 people. So a big room, a big stage, a lot of things being focused on.
A couple things I thought was really interesting about the company is, one is you got a full sense that the remote/hybrid work is going to be at the epicenter of Cisco. But the hybrid work discourse or conversation or debate or whatever we want to call it is shifting, because in the beginning, hybrid work was all about collaboration apps. It was just about basically how do we get people on video. But what Cisco, I think, has identified as an opportunity, and you're seeing this through that whole stack of things they're working on, endpoint security, observability, the Webex integration updates, is they're trying to really think about how do we tie together a hybrid work experience that takes into consideration connectivity, networking, application performance, runtime, and uptime, takes into consideration the branch office and how people stay connected. So there was a lot of focus on innovations at Cisco Live that enabled that.
Also, another thing I thought was pretty interesting was their updates to the U Learning Platform. Anybody that knows much about Cisco's history knows how important the CCIE and the different certifications were early on in creating this extraordinary dedication between Cisco's consumers, meaning the enterprises that bought Cisco, and the brand. Well, over time as the consumption has changed, as public cloud has grown up, as people have moved from being Cisco certified to being AWS and Azure and other certifications that have become in vogue, that the weight of the Cisco certification has fallen a little bit. So the company's been focusing on trying to turn that around, and their U Learning Platform is really about accelerating, about creating a bigger stream of inbound and skilled professionals that are going to learn to build on Cisco.
And I think that's going to be something that's really important for the company because getting that kind of loyalty back… They're seeing their business model change, Pat. For instance, we all knew the attached maintenance on every piece of Cisco hardware had been a great model for Cisco for a long time. But in the consumption economy, that model is shifting, and companies don't want to pay an extra maintenance on every piece of hardware that they're purchasing. Cisco's reinventing. It's rethinking its business model. It's something that's going to be a continuation.
But I guess I'll say one other thing, because I know… I saw your article on the Webex stuff, so I'm not going to take too much of that platform because I want to leave you some oxygen on that one. But I did think the Cisco… Liz and Tony and the leadership at Cisco really made a clear statement that they're going all in on observability. We'll talk more about Splunk later because I was also at .conf this last week. But they almost bought Splunk. That was in the news because it was a real thing. They didn't buy Splunk, but with their portfolio, with AppD, with a number of their different application monitoring services, Cisco is going all in on a full-scale observability suite.
And that's something that, with the AppDynamics Cloud, with their ThousandEyes, basically putting this all together, they're offering what's called AppDynamics Cloud solution. And I think taking full telemetry, full data, offering full stack observability is going to be a hot topic. It still needs a lot of definition, Pat, but that was something that the company definitely leaned into. So like I said, across the board, there's that. The other biggest thing is hybrid work and the Webex offerings, but I'm going to hand that to you.
Patrick Moorhead: I appreciate that. So first off, I appreciated Chuck reinforcing basically the four things you should be focusing on, which by the way, were the same things they talked about the last two years. So it's good to see consistency. And when it comes to the enterprise, I think strategic consistency is important, but let me hit some highlights. Jeetu came in. He runs not only Webex, but also security. And he suggested this vision where you separate security and networking from everything else and brought up this idea of a security cloud. Was interesting, was new… It's hard for me to poke holes in it, but I think, in the end, probably good for customers and obviously good for Cisco.
Then Todd Nightingale, the highlights from his talk is really, for lack of a better term, Merakifying Catalyst, right? So in the Cisco world, you had Meraki, which is cloud, right? They're number one in cloud managed networks. Then you have Cisco Catalyst, which is number one in networking. But the challenge with Catalyst, quite frankly, it's hard to use. It requires special training. And by putting this together, it really put an exclamation point on where Todd started, where he says, "Hey, for years, we delivered powerful capabilities, but it was just way too hard, way too complex." And I did appreciate Todd acknowledging that Cisco had delivered complex systems, because that's exactly what they've done. They've been powerful, but they have been very complex.
And kind of with an exclamation point on ThousandEyes, "Listen, observability is paramount, and every enterprise needs to be jumping into it." And whether you want to call it full-stack observability, end-to-end, the amount of complexity is increasing. The bifurcation of ownership of all the different points that drive an application need to be monitored. And then you can imagine the next step on here is the AI capability to make changes before something goes wrong. That really is the kind of Holy Grail, and I like to call that the autonomous enterprise. So net net, a lot of stuff to… a lot of interesting stuff coming out of Cisco Live.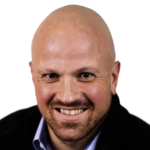 Daniel Newman is the Principal Analyst of Futurum Research and the CEO of Broadsuite Media Group. Living his life at the intersection of people and technology, Daniel works with the world's largest technology brands exploring Digital Transformation and how it is influencing the enterprise. Read Full Bio