The Implications of Nokia Pausing Technical Work with the O-RAN Alliance
The Implications of Nokia Pausing Technical Work with the O-RAN Alliance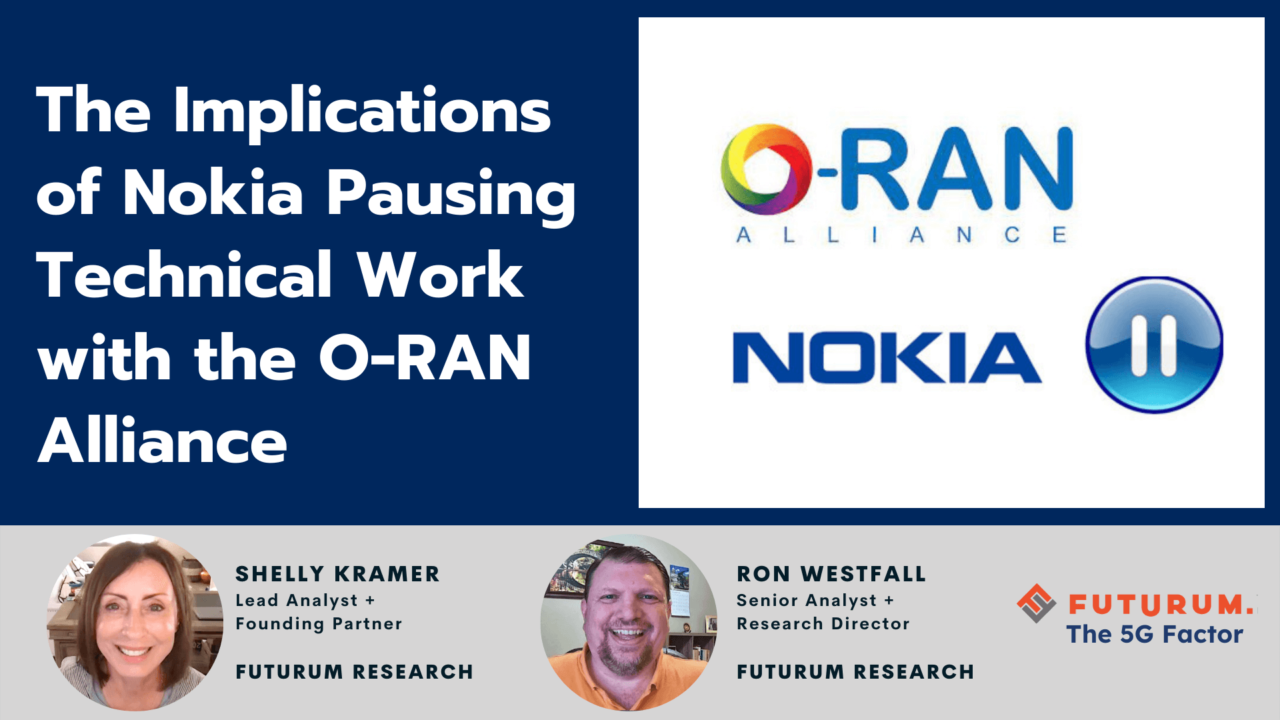 For this vignette of a recent episode of the Futurum Tech Webcast, part of the 5G Factor series, analysts Ron Westfall and Shelly Kramer share their perspective on the Nokia's decision to pause its work in the O-RAN Alliance due to concerns related to working with China-based companies that are on the U.S. Department's restrictive Entity list.
Their conversation addressed:
Why the O-RAN Alliance is influential across the entire 5G mobile ecosystem and Nokia's decision is important.
The factors behind Nokia's decision including the shutdown of ZTE in Q2 2018 for running afoul of U.S. trade and economic policies.
How Nokia's decision amounts to what qualifies only as a kerfuffle since the O-RAN Alliance is one of many major organizations supporting standard-based Open RAN development and that resolving Nokia's concerns are at hand.
Ron and Shelly see Nokia's decision to pause its contributions in the O-RAN Alliance as sound and that the prospect or idea of massive fallout in advancing the cause of Open RAN and Open 5G are over hyped and misplaced.
Watch the clip here:
Or grab the audio by way of your favorite streaming platform here:
Don't Miss An Episode – Subscribe Below:
Disclaimer: The Futurum Tech Webcast is for information and entertainment purposes only. Over the course of this webcast, we may talk about companies that are publicly traded and we may even reference that fact and their equity share price, but please do not take anything that we say as a recommendation about what you should do with your investment dollars. We are not investment advisors and we do not ask that you treat us as such.
Transcript:
Shelly Kramer: Well, speaking of Nokia and China, we want to touch here for a moment on the implications of Nokia pausing technical work with the O-RAN Alliance. There are some concerns about working with China-based companies that we've just touched on and companies on the commerce department's entity list. So let's talk about what's going on in the O-RAN market and what kind of a wrench this throws into things.
Ron Westfall: I think that is a consideration, the fact that Nokia paused work in the O-RAN Alliance and as a little background, the O-RAN Alliance was formed about three years ago by major telcos, really a who's who, it included AT&T, DT, NTT, Orange, and China Mobile. And as a result, that definitely put a strong imprimatur on its importance. That is the operators, so at least the major operators were pretty much committed to advancing the Open RAN capabilities across the ecosystem. As a result, that required a multi-regional or global cooperation.
And after the establishment of the O-RAN Alliance, which is advancing Open RAN technology, in that it had virtually who's who of mobile ecosystem players joined because they definitely want to be integral to the plans of the major operators in this regard and that included China-based companies such as Kindroid, and they're on the entity list.
I think Nokia's move is valid because we saw back in Q2 2018, when ZTE crossed again the commerce department's regulations in terms of not trading with countries like Iran and North Korea, that they quite simply banned them from being able to access US technology and the entire company was shut down for about a quarter. And so, that was dramatic. And I don't think that would actually ever happen to Nokia, would not get to that point, but you don't want to take a chance of a heavy fine or just complicating things and what can be done to simplify this is for the White House, for the US government to say, "It's okay to collaborate within the O-RAN Alliance specifically in this regard."
However, it's really a kerfuffle because the O-RAN Alliance is one of many organizations that are advancing Open RAN. You have the standards bodies that are well-established in sanctions such as the ITU, the IEEE, ETSI, all of them are all working on enabling Open RAN technology and the operators themselves will have their own individual decision-making, but also very important is the fact that you have the regulatory bodies and many major countries cheerleading Open RAN technology. And so, this is really a kerfuffle. I don't think it's going to be anything that's going to disrupt the overall Open RAN ecosystem its progress, and in the meantime, Nokia is just making a smart move until there's more clarification.
I think there was, I think, an over-hyping again of, this is going to cause a stalling of the Open RAN markets for the next few quarters type of thing, but it won't really do that. However, it's also important to note that the overall Open RAN market is something that is a gradual viewpoint. That is the current Open RAN market represents only a small single digit portion of the overall RAN market. And it probably won't be until about 2025 that it will represent a double digit figure of the overall RAN market. The Open RAN market segment is definitely a work in progress, even with all this support and that threshold of 2025, I anticipate, could be accelerated somewhat because of the pressure from the operators and from the regulatory bodies looking at Open RAN as a way to help replace Huawei and ZT Equipment within countries like the UK, which had decided to go on without those suppliers as well as encouraging domestic development of technology companies. And so, this is something that is definitely gaining broad ecosystem support and I anticipate it will actually pick up more momentum despite this, again, kerfuffle.
Shelly Kramer: Ron, I don't know anybody who can use the word kerfuffle three times in a row on conversation. Actually, I don't know anybody who the word kerfuffle, so I like that, very good. I mean, did use it three times, so you got-
Ron Westfall: It was appropriate. It wasn't a disruption or a complete breakdown. It was none of those things, so I thought it was an apt term.
Shelly Kramer: Well, that's the thing when you're talking with a word nerd like me, I actually pay attention. I actually listened to what you might say. So, there that is.