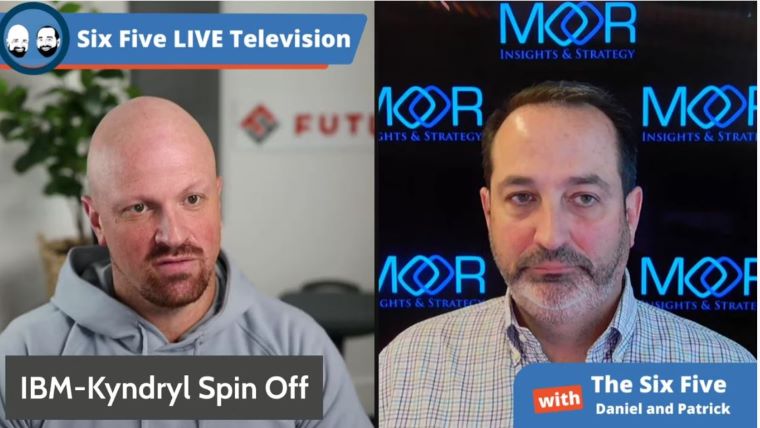 The Six Five team gives their take on the IBM-Kyndryl spin-off.
Watch the clip here:
If you are interested in watching the full episode you can check it out here.
Disclaimer: The Six Five Webcast is for information and entertainment purposes only. Over the course of this webcast, we may talk about companies that are publicly traded and we may even reference that fact and their equity share price, but please do not take anything that we say as a recommendation about what you should do with your investment dollars. We are not investment advisors and we do not ask that you treat us as such.
Transcript:
Patrick Moorhead: Let's move to our final two topics, which I think this is the first time we ever had two spinout, spinoff topics in the same show, but let's start off with the IBM, Kyndryl spinoff. And by the way, is it spinoff or is it spinout? What's the difference?
Daniel Newman: Sure. I don't know, whatever. I think it's whatever you want it to be, but I think it is a spinoff. I think typically the market's going to call it a spinoff. By the way, these two, we'll talk about this and we'll talk a little bit about Dell. We have another one yesterday. We talked to Bob Lord, the SVP of ecosystem at IBM. We did a six five, so we aren't going to have to beat the drama ton, but we of course know that only 90% of the world's population watch our show at any given time. So for those 10% of you, we wanted to make sure we came back and talked about this again.
In all serious though this was a really big for IBM. Now, if you haven't been following the situation too closely, IBM has been in a situation where for years now, it has really struggled to hit growth targets. It had a period where it had many concurrent quarters back to back without growth. And so the thing about that is though, is it wasn't fully reflective of the company's innovation, the company's efforts to innovate and its focuses into the right areas. It's been making some really sound acquisitions. Of course, Red Hat being one of them, some people bucked a little bit at the size and the price of that acquisition. But when that acquisition was made and Arvind Krishna, CEO now, it's by the fact that he wasn't CEO at the time led the charge on that one fully understood the direction the company needed to go in.
The company oftentimes finds itself being valuated as a old stodgy, monolithic IT company. And, realistically with its bets and investments, whether that's Quantum, whether that's AI, whether that's been Cloud, it really is anything but monolithic. But at the same time, because some of its old businesses, especially it's managed infrastructure services business, which is now Kyndryl. You had a business that really struggled to grow. Oftentimes didn't grow, but was representative of a significant component of the company's revenue. You have a market out there that's just thirsty for growth.
So this gave the company an opportunity to really narrow down its buckets, to focus on software, infrastructure, consulting and research, to be able to really lead with hybrid cloud. It's the time for Red Hat to rise. So it was, Kyndryl out, Red Hat in to be able to build the whole hybrid cloud and enterprise hybrid cloud narrative around software, around AI, around industry focus and enterprise. And I think that's really what's going on here.
Now having said that, I think we're going to take two, maybe even four quarters before we start to get a sense of how well this is going. I think the market is going to want to see the growth rates be more significant in those specific areas, meaning the business under cloud and software specifically. But I feel like this gives a new opportunity for IBM to be reborn a little bit to reintroduce itself to the investment community and also to settle on what it wants to be when it grows up, which is a faster paced growth company. They're only targeting single digits Pat. But overall, like I said, got to watch the pod ton of insights there, but the platform is taking it in a direction that I'm more fond of and that I think will pan out well over the long term.
Patrick Moorhead: I think it's just good for both companies Daniel, and I like to keep my strategy simple. And one of the strategic points I always look at is what I call gear theory, think of a company as a set of gears that have to work together. There's different sizes, maybe different speeds. The challenge is when you have gears that are two different in size and speed and even shape, they tend to grind on each other. And that's what I think what was happening between IBM and its managed services business. AI, ML, Quantum, and the hybrid cloud are one set of gears and manage services is a different set of gears. Kyndryl needs a lot of automation technologies. IBM needs investments in growth for AI, ML, Quantum and Cloud. It's literally as simple as that.
So I think this is a good move for Kyndryl. And I think this is a good move for IBM. And while this doesn't automatically make IBM grow double digits. In fact, it won't, the company has said, "Hey, we'll have strong single digit growth." We'll have businesses, that'll have double, triple digit growth, but this does not automatically put IBM into Amazon category or actually AWS category or something like that. IBM still has the challenge. And I think they bet big, like you said, with Red Hat on really making the hybrid cloud stick. And it's funny, IBM doesn't need any new customers. They have all the customers they actually need, the large enterprises. What they need to do is switch those customers in cloud from one brand to the other. But their biggest challenge is actually getting their customers to do the cloud. And I think, whether it's financial, whether it's government, whether it's life sciences, retail. I think IBM has a really good job of doing it wherever there are a lot of regulations, wherever there's a high degree of risk, I think IBM should do pretty well.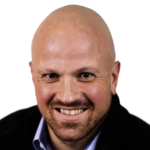 Daniel Newman is the Principal Analyst of Futurum Research and the CEO of Broadsuite Media Group. Living his life at the intersection of people and technology, Daniel works with the world's largest technology brands exploring Digital Transformation and how it is influencing the enterprise. Read Full Bio