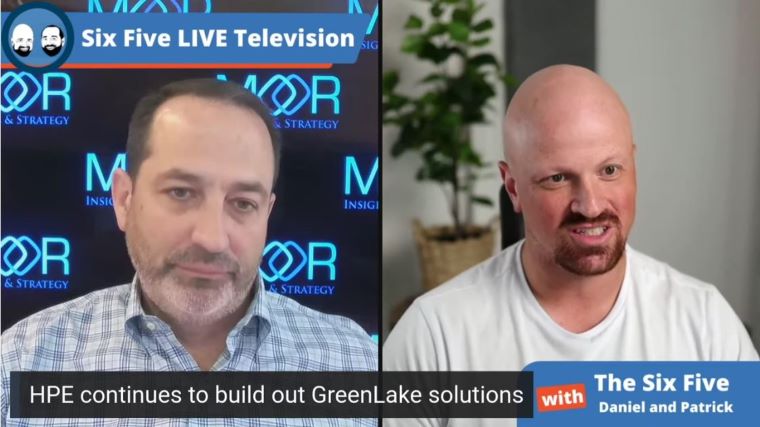 The Six Five does a deep dive into announcements coming out of the recent HPE GreenLake Event.
Watch the clip here:
If you are interested in watching the full episode you can check it out here.
Disclaimer: The Six Five Webcast is for information and entertainment purposes only. Over the course of this webcast, we may talk about companies that are publicly traded and we may even reference that fact and their equity share price, but please do not take anything that we say as a recommendation about what you should do with your investment dollars. We are not investment advisors and we do not ask that you treat us as such.
Transcript:
Daniel Newman: Next topic, HPE GreenLake, so had the chance about a week and a half ago to meet in Las Vegas. You should have been there, but I think you were on a horse in a farm looking like President Medvedev of Russia, shirtless on the horse. No, I'm kidding, but you were down in Florida and I was in Vegas and I had the chance to spend some time ahead of this big launchpad. HPE GreenLake, the company if you haven't really paid attention, is pivoting. They had their everything-as-a-service announcement about three years. The company is really trying to convince the street, it's trying to convince its customer base that it is going to bring the value of the public cloud to you on-prem.
Early on, a lot of it was about compute and storage. That was kind of what we were hearing about, which, by the way, mirrors pretty closely to where our biggest infrastructure as a service player started. Everyone that knows AWS' earliest days, as any public-private hybrid cloud offering is going to grow up and become an adult. It's going to have to be, again, to layer services on. Really, what all of this is about is about data, and so HPE came out basically taking straight-up blows at Snowflake. I think that might be our theme of our first two topics, and is now offering what they're calling their Unified Analytics Solution.
GreenLake really rolled out three different things that caught my attention, GreenLake for analytics, GreenLake for data protection, and their HPE Edge-to-Cloud framework and automation tools. The analytics basically is an open unified analytics cloud service developed to modernize data applications across prem, Edge, and cloud. Whether it's public to private, private to public, HPE is addressing all of this.
I think what probably caught me and interested me the most in this, Pat, is that I don't think anybody thinks this, despite the fact HPE has a really big pedigree in storage and data and analytics, has made some big acquisitions, whether it's been 3PAR or whether it's been other acquisitions for HCI or for the whole data layer. BlueData I believe was another acquisition not too long ago. They've built a pretty comprehensive mapper set of analytics tools, and that's what's starting to roll out as an on-demand, subscription-based analytics service that can compete with Snowflake. Very cool.
The data protection, more of what I would consider a core service, something they would need to be offering, and then, of course, their overall framework as it comes to being able to de-risk the experience that companies are going through right now and moving to cloud. I think sometimes in the tech industry, Pat, we take a little bit for granted the fact that just moving to cloud for a large enterprise with huge legacy data sets is something we can just do. "Let's just go to cloud."
Well, you can ask any major ERP, CRM company, apps company, and, of course, infrastructure, that it isn't a lift-and-shift that's just done overnight. Building these core services and frameworks that allow companies to move faster to cloud and to what I would consider that right mix of cloud and prem services to be able to deliver applications at scale is the key.
Last though on this one is that GreenLake as a whole is really focused on letting the market know what they've got going on. It's 1200-customer business at this point and they have about $5.2 billion in contracts. They're continuing to grow. Their annual recurring revenue 33% up year over year. Their order volumes are growing significantly year over year. They continue to be able to announce some really good customer wins. I'll stop there because it's kind of like you did on X9M. I gave a lot of the context here, but I'm sure you track HPE really closely. Maybe add a few nuggets of brilliance here, Pat.
Patrick Moorhead: Listen, this is the continued march of everything as a service, and as oppose to buying it and shipping it and paying for it or releasing it, this is a consumption model and it's GreenLake. What I do like is that HPE has been maturing GreenLake from I'll call it standard infrastructure as a service and then moving upleveling all the way up to certain analytics services. I think that's smart. The other thing that I've liked about their strategy is they also simplified infrastructure where instead of having the full library that you could pick from, coming up with a limited pick approach to even the infrastructure.
That's smart because, quite frankly, it was way too complex and their channel partners were, I think, stumbling, tripping over themselves trying to execute it where the whole notion or part of the whole notion of GreenLake is simplicity. If it's hard to buy and hard to get pulled through the channel, then in a way it's defeating a part of the purpose.
The other thing that we can expect, too, and we saw a little bit of this in their last announcement, is more full solutions where actually the application sits on top of, let's say, the middleware and the OS and all of the control and data plane goodies that they put underneath that. I love to see the march to more customers. What HPE needs to be doing to make more believers out there, including believers on the street, is to show that they are taking share away from not only their peers, the classic on-prem folks, but also from the cloud folks.
I want HPE's customers to say, "Hey, we evaluated AWS and we went HPE instead on this." That will really… We hear about these enterprises pulling some applications back. By the way, they're pulling back some, but they're putting more in the public cloud, so there is a net loss of applications there, and I want to see big numbers, too. If Azure and AWS are operating at around 40 to 50% growth per quarter, I want to start seeing some of that growth with some of these on-prem as a service movements as well.
Daniel Newman: Absolutely, so a lot more there. Going to be one to follow and watch. I think it's going to end up being a mix and match, prem and cloud. We're going to see more and more of that as time goes on.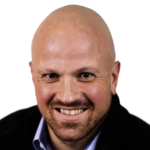 Daniel Newman is the Principal Analyst of Futurum Research and the CEO of Broadsuite Media Group. Living his life at the intersection of people and technology, Daniel works with the world's largest technology brands exploring Digital Transformation and how it is influencing the enterprise. Read Full Bio