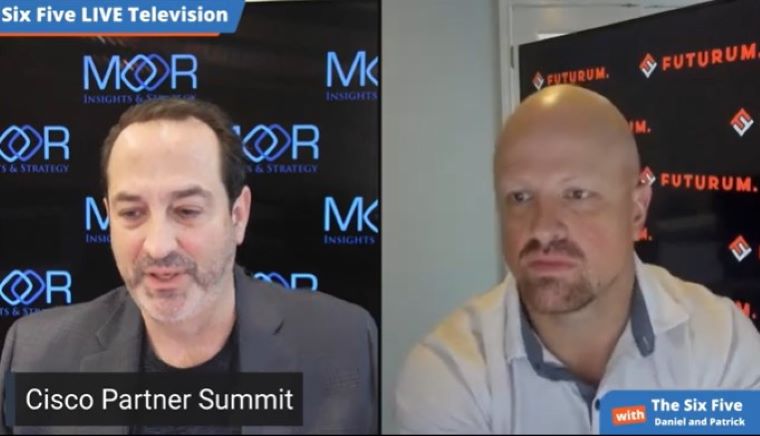 The Six Five team discusses the Cisco Partner Summit.
If you are interested in watching the full episode you can check it out here.
Disclaimer: The Six Five Webcast is for information and entertainment purposes only. Over the course of this webcast, we may talk about companies that are publicly traded and we may even reference that fact and their equity share price, but please do not take anything that we say as a recommendation about what you should do with your investment dollars. We are not investment advisors and we do not ask that you treat us as such.
Transcript:
Patrick Moorhead: Yes. First off, it really was a great show and it's interesting, I typically don't like to attend partner and channel shows because there's not a lot of product announcements but I'll tell you what, it was a great reaffirmation of the value proposition and Cisco's strategy and seriously hats off to Irene Mirageas and Brenna Karr at Cisco for putting together a great program. I mean I got access to pretty much every executive in the C-suite, met a bunch of senior executives I had never met with face-to-face like Jonathan Davidson, Jeetu. It was truly incredible. Cisco CFO met with there. So a couple thoughts right now. So first off, the channel did great with Cisco and the big focus there was getting partners and channel excited about some of the next generation opportunities that the company has, like software related to observability related to security and all of the as a service stuff like network as a service and obviously WebEx a collaboration and really gearing their programs around it.
But even during the pandemic, I mean it grew 10% in 2022, Meraki was up 48% co-selling with hyperscalers up 400% success tracks ACV up 330%. So Cisco is having a lot of success with the channel. And then Cisco CEO, Chuck Robbins came up and I got to tell you, I think I would buy anything from that guy. He oozes trust, he oozes credibility and one of the things I loved is he didn't just come up and say, "Hey, these are all the areas where we are great." He went and he talked about areas that Cisco was falling short and I absolutely love that, he puts himself out there and what that does with the entire audience is his partners, is it engenders trust. The other element is Chuck went through was the overall strategy and here's the great part. The strategy that he laid out before the pandemic is exactly the same strategy as they have now and enterprises and quite frankly the channel, they like stability.
And essentially it was re-imagining applications where they set the type of applications, securing the enterprise as were in more danger every day because of the nation state budgets that people have, powering hybrid work. Again, very, very future forward leaning into this before the pandemic and the final thing is transforming infrastructure, which has been Cisco's bread and butter for years, but doing it in more intelligent ways. So for instance, simplifying. I know Chuck had rolled this out before, but Cisco is hard and there is some power to having command line interfaces with equipment but customers want automation. They want cloud-based orchestration. They want a choice of consumption, whether that's cloud, on premises or as a service and finally, simplicity also talks about the experiences and I feel like the customer success group that the company has stood up knows what they're talking about and has the right focus.
So not a lot of new product introductions, but again a way to really point out what the company has announced over the last couple months, including AppD and Thousand Eyes integration. But one thing I want to point on that that really, really stood out for me, and I'm talking about this a lot in some of my advisory, is I really thought that Cisco was out of this whole multi-cloud game. You have customers like HPE, you have Oracle, you have Dell, you have VMware who've really been leaning into it but there's this notion of a secure network as a service that has security and network fabric.
Cisco calls it their security cloud so whether you're using Azure, Amazon, GCP or private cloud, you can have a singular way to look at security network. Now they're missing one thing, Daniel, which is a data fabric. Hmm. Maybe Cloudera, I might have mentioned to a few folks that they need to align themselves with a data fabric a customer, and I could see them as if they can put this together, and most customers already have a Cisco switch as their core network switch. I think these folks have a shot there, particularly if they can find a way to integrate a data fabric.
Daniel Newman: You hit a lot there and 'cause we are in a speed round, I'll just make a couple quick comments and we'll keep it moving here. One is I agree with you about typically channel shows tend to lack the pizzazz. I think Cisco always does a really good job of providing executive access to top analysts so I'm glad that you had that experience. I do think the company is in a pretty significant transformation from hardware centric to software centric. I think it's focused on observability is maybe one of the best examples of that with what they're doing. You mentioned Thousand Eyes and AppD, but I think they're also making some smart decisions to help feed their channel, like what they did with the Cisco Microsoft partnership. I think they understood where their software lied in the decision tree and how Microsoft Teams was at risk and what a great opportunity to create TAM by layering their hardware, which by the way, I'm using Cisco hardware right now on this video to participate in a collage on a video on streamer.
So congratulations to the team. Sounds like it was a great event. Hopefully the calendars will align in such a way that I can be there next year and I did take my eyes off you just a second buddy, 'cause I was trying to share on Twitter and LinkedIn so all of our friends could join us that didn't know we were already on.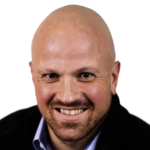 Daniel Newman is the Principal Analyst of Futurum Research and the CEO of Broadsuite Media Group. Living his life at the intersection of people and technology, Daniel works with the world's largest technology brands exploring Digital Transformation and how it is influencing the enterprise. Read Full Bio