Tech Outlook as Reduction In Force Goes Viral
Tech Outlook as Reduction In Force Goes Viral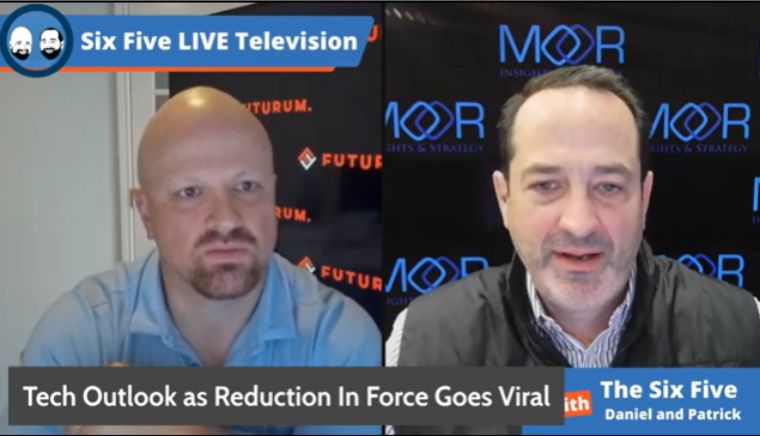 The Six Five team discusses the tech outlook as a reduction in force goes viral.
If you are interested in watching the full episode you can check it out here.
Disclaimer: The Six Five Webcast is for information and entertainment purposes only. Over the course of this webcast, we may talk about companies that are publicly traded and we may even reference that fact and their equity share price, but please do not take anything that we say as a recommendation about what you should do with your investment dollars. We are not investment advisors and we do not ask that you treat us as such.
Transcript:.
Patrick Moorhead: I'm going to call my own number here, and that is about reduction in force. I think the way we'll split this up, Dan, is I'm going to talk about my advice, wisdom, for anybody who has been laid off in there-
Daniel Newman: I loved it by the way. Best LinkedIn post I think you've ever put out, buddy. It was pretty heartfelt.
Patrick Moorhead: I appreciate that. It really was heartfelt. And listen, I have been laid off multiple times, typically by either a business going down the tubes, or heck, at NCR they got out of the entire PC business. And I went along with it.
So some advice, if you're on here and you did get laid off out there, I just want to let you know, I feel you. It is very hurtful out there. It stings, and probably the hardest thing to do is to tell your family that you had been laid off. You pretty much feel like you're a loser, and the entire world is coming in to get you. Feel that way for 12 hours, but quite frankly, you all have an amazing opportunity in front of you.
My own personal story, like I said, I've been laid off at almost every job I've ever had, and every subsequent job that I had, I ended up getting a better job.
By the way, when I got laid off, it wasn't that they didn't make me some offer in some other division. My two layoffs were, A, a company literally had six months of cash, you can probably guess who that is, and they were getting rid of every senior executive who wasn't an engineer or a salesperson. One layoff was a complete shutting of a division, one that I was part of. I did get an offer inside of another division, but that division was crusty and sucked, so I didn't take that. And another one was a relocation from Southern California to Palo Alto, and I did not want to live in Northern California.
Anyway, if I can get laid off and have a certain degree of success, I think that you can too. It really is a numbers game. This is not about performance. There's two kinds of numbers games. There's a heads, where it's like, "We've got to get rid of 5,000 heads." Or, it's an expense target that they're hitting. But it's all for Wall Street, and it's all for hunkering down for the future.
So when you get laid off, don't immediately … I mean allow yourself to wallow in your grief, because it truly is a horrible feeling, especially if you're the primary breadwinner, or this notion of maybe having to move out of the city that you love and that your family is in, but take a little time to really think about what you want for a job, and what do you want in life. My guess is you got a severance passage that's going to take you six to nine months out there, and I would take that full time to figure out what you actually want to do.
Also, realize that if you're re-looking at your career, know that high tech is not a dead end, in fact it's still growing. Bigger than any other industry that is out there. Not on a percentage basis, but on a people basis.
And finally, I'm always looking for great analysts with a background in product management, product marketing and strategy, and if you are one of those and like to share opinion and fact-based evidence to your clients, or to the public on social media, like Daniel and I, drop me a link in social media.
Daniel Newman: Buddy, I love your take on this. And like I said, not necessarily the typical starter for us, it's a little bit more ephemeral of a topic, but a lot of friends out there, a lot of people going through things, and I think this is one of those times where the network is everything. A little encouragement is also a good thing.
I think there was another interesting side of this story though, that I've been talking about for a little while. It was the almost over-hiring and rapid growth that tech experienced during the pandemic, is causing a bit of a normalization. And this normalization, unfortunately, has a lot of unintended consequences.
A year ago we heard about just the bidding wars, and the ridiculously overpriced hiring decisions that were being made as companies were basically adding at all costs. So a little bit of what happened was, there was a manipulation by the market of how much we were truly digitally transforming, versus how much companies were throwing lots and lots of head count at every single thing to get things done, just to deal with this rapid growth of demand. We will say this normalized. And as sad as it is, as soon as it starts to normalize, and the Fed starts to see the unemployment rate jump a little bit, we're going to start to see rates go down, we're going to see tech go back into another growth cycle, and there will be more opportunities created.
But that over-exuberance, that overpaying, that overspending, I'm looking at our friend John Fortt's Twitter right now, and he actually did a little rundown for his tech chat talking about Google. In the end of 2019, Google had 118,000 employees, end of '20 they had 135,000 employees, end of '21 they had 156,000 employees, and the end '22, they had 186,000 employees. They grew by 30,000 employees. So as you said, the 12,000 cut is less than six months worth of hiring for Google.
So there are some really hard decisions being made. The managers that are making these decisions, I can almost assure you, hate this. I can tell you from being CEO of numerous companies with head counts and full-time employees, even letting go of one person caused me sleepless nights. It's an incredibly hard thing for anyone that has any humanity in them to go through this process.
Patrick Moorhead: Good point, Daniel. I didn't bring that up. I laid off more people at AMD than … Dude, I would increase my resources by 50%, and in 18 months I had to get rid of all those people. It was tragic.
Daniel Newman: It absolutely is. And in the end, we are seeing a bit of a revolution in technology, where a lot of the tech and systems and transformations that we've been saying have happened during the pandemic are going to start happening, so it's going to be a time for upskilling. This is a great moment to reflect on how you do your networking, and make sure you build a strong and robust network long-term. Because frankly, that is going to be the future of how we connect, how we find jobs, how we find people. And same as Patrick, if we know each other, if we have a relationship, my LinkedIn messages are open, so are my Twitter DMs. Hope to hear from you.
Patrick Moorhead: By the way, just a note out there, if you're on LinkedIn, I received 150 messages on, "I'm looking for a job," which I do appreciate. Please give me patience as I go through there, I'm doing some job recs and kind of sifting again, I'm looking for people who worked inside of tech companies and product management, product marketing and strategy, as opposed to folks who've been in the industry analyst realm. But if you're an industry analyst and you have that background too, I'm interested.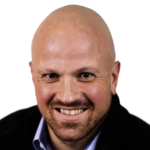 Daniel Newman is the Principal Analyst of Futurum Research and the CEO of Broadsuite Media Group. Living his life at the intersection of people and technology, Daniel works with the world's largest technology brands exploring Digital Transformation and how it is influencing the enterprise. Read Full Bio