T-Mobile Spotlights T-Mobile Park as 5G-Powered AR/XR Showcase
T-Mobile Spotlights T-Mobile Park as 5G-Powered AR/XR Showcase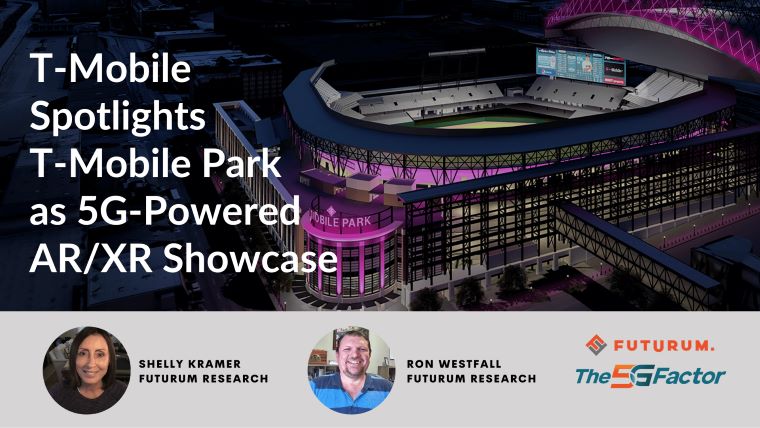 For this vignette of a recent episode of the Futurum Tech Webcast, part of the 5G Factor series, analysts Ron Westfall and Shelly Kramer examine the cutting edge 5G capabilities that T-Mobile is showcasing at T-Mobile Park, home to Major League Baseball's Seattle Mariners and why 5G-powered Augmented Reality (AR) experiences and 5G Mixed Reality (XR) application are ready to deliver immersive and interactive sports venue experiences.
Their conversation focused on:
The use of Nreal smart glasses to view an enhanced AR scoreboard and attain real-time MLB stat cast updates.
How partners, such as Omnivor provider of real-time face-to-face volumetric conversations for holographic applications and Iconic Engine, a supplier of XR streaming applications, are fueling T-Mobile 5G smart stadium innovations.
The application of breakthrough 5G drone technology enabled first-person views of the Field of Dreams ballpark movie site as well as broadcast MLB at Field of Dreams over T-Mobile's 5G network.
Why using 5G technology to capture key MLB data such as the speed of fielders running to catch a ball, the velocity of pitches thrown, and the launch angle for each batter augments that overall stadium experience for MLB aficionados.
Shelly and Ron surmised that the 5G-powered T-Mobile Park XR/AR experiences advance the ability of T-Mobile to monetize 5G smart stadium services and that combining 5G smart stadium capabilities with 10-cent beer nights would make for an unparalleled experience.
Watch the clip here:
Or grab the audio by way of your favorite streaming platform here:
Don't Miss An Episode – Subscribe Below:
Disclaimer: The Futurum Tech Webcast is for information and entertainment purposes only. Over the course of this webcast, we may talk about companies that are publicly traded and we may even reference that fact and their equity share price, but please do not take anything that we say as a recommendation about what you should do with your investment dollars. We are not investment advisors and we do not ask that you treat us as such.
Transcript:
Shelly Kramer: So there's much to discuss and we are going to dive right into it and we're going to talk about 5G powered fan experiences that are happening at Seattle's T-Mobile Park. Ron, take it away.
Ron Westfall: Yeah. This is actually really cool because we've been hearing a lot about 5G capabilities and it has been a bit of a marketing hype cycle. And what the good news here is like, okay, here are some tangible applications that are being used in an actual ballpark setting. Obviously, the Seattle Mariners play at T-Mobile Park. And what is going on is that T-Mobile is showcasing a lot of these 5G enabled capabilities. And this is 5G specific, too. It's in essence creating an immersive experience for any fan. And we're seeing this picking up across different sports, across different stadiums as the COVID-19 lockdown restrictions are being pulled back and more people can file back into the stadiums in any part of the world. What's specific interesting about T-Mobile Stadium is the fact that they're combining holograms and Nreal smart glasses and mixed reality applications to create I think a lot of different capabilities that are rather unique, at least so far.
For example, working with a company called Omnivor which is a hologram developer that uses face-to-face volumetric video conversations. So obviously, that's something that is pretty cutting edge. The fact that it can actually conduct video conversations using holographic capabilities is I think a interesting experience. You just have to do it to appreciate just the level of quality that's involved in engineering to make this work. And I think this is showing that T-Mobile is leveraging the ecosystem. This is what it's really been all about. T-Mobile come up with all these applications themselves, and they've also enlisted a company called Iconic Engine, and they provide full extended reality experiences including the 5G mixed reality experience that, again, uses those smart glasses that people can put on to really gain that enhanced extra level of knowledge about what's going on the game, extra camera angles, automated stats about a player and so forth.
And I think it really is cool because I think anybody's been in a stadium can get frustrated looking down at like a magazine to find out information and miss a big play. Or they're trying to look up at the scoreboard and it's blocked. And you get the whole idea, it's not a consistent always enjoyable experience. And this is what really I think is taking it to the next level where you can avoid all these interference and barrier factors with our real world experiences to date. And as a result, I think this is really taking T-Mobile's brand to the next level in terms of driving the smart stadium experience. And to top it all off, they're using drone technology to actually film the Field of Dreams park in a recently released film.
And so, that was really cool because by using the drone you get that perspective that you can't get from standard camera angle shots. And as results, this is kind of an extra layer of, okay, this is really cool and exciting and stuff that's going on today that's being enabled for fans that can actually use these and stay tuned as this becomes more widely available. And perhaps to see all that manners, we'll have even a better season next year and really take these capabilities to a wider audience and more become aware of this. And well, demand it for their stadium. I live in the Houston area, I'd love for a Minute Maid Park to have these capabilities at least as an option. I'd pay extra to use things like that being an avid baseball fan.
Shelly Kramer: What I think is interesting about these stadium experiences, we've covered AT&T Stadium in Dallas. We've covered some of the things that Verizon is doing. And really when it comes to the sports experience I think in no time we're going to be talking about, you know how we talk about the telephone and we say, "Back in my day, we only had a phone in the kitchen and in mom's room." And you had to drag the phone around the corner into the bathroom and stretch the cord, right. And you're talking like this and your kids are little enough that this isn't happening, but just wait.
But your kids are looking at you like, "I don't even know. Is this like what, phones? What? Wired phones?" And I think that we'll look back on what our fan experiences are like maybe right now and what they will be in a very short period of time and think about the same thing. It's like I think part of this technology will serve to make every seat a great seat, which is not currently the case. Right. When you go to a stadium, and it's very expensive.
Ron Westfall: So true.
Shelly Kramer: And so, I think that that to me is what's exciting is just sort of the democratization. I hate to use that word. I feel like sometimes it's overused when we talk about technology solutions. But I do think that this is really interesting and it will take the fan experience to a whole new level. And the days of just going to a stadium and sitting in your seat and eating a hot dog and drinking a beer, those are soon to be behind us. And that they'll be so much more that we can do and get right. I was reading this article about, at the T-Mobile Stadium. And it's just fans can be put on smart glasses and be transported onto the field and be pitching a ball or hitting at a ball. And that's really super cool. So I really look forward to what we have here moving ahead, and I think we've got some exciting things for sure.
Ron Westfall: Yeah. Combine that with 10-cent beer night, for example, things will really take off.
Shelly Kramer: Things will really take off, that's for sure. 10-cent beer night, I don't think I've ever experienced 10-cent beer night. It's more like 20-dollar beer night.
Ron Westfall: Yeah. They tried it once. And yeah, a riot broke out. So it hasn't been tried since 1974 Cleveland.
Shelly Kramer: There you go. I thought that you would know.
Ron Westfall: That's why I brought that up.
Shelly Kramer: Yeah, 10-cent beer night.
Ron Westfall: It really happened.
Shelly Kramer: All right.