T-Mobile and Oceus Pair Up to Deliver Unique 5G Services for U.S. Dept. of Defense 5G Capabilities
T-Mobile and Oceus Pair Up to Deliver Unique 5G Services for U.S. Dept. of Defense 5G Capabilities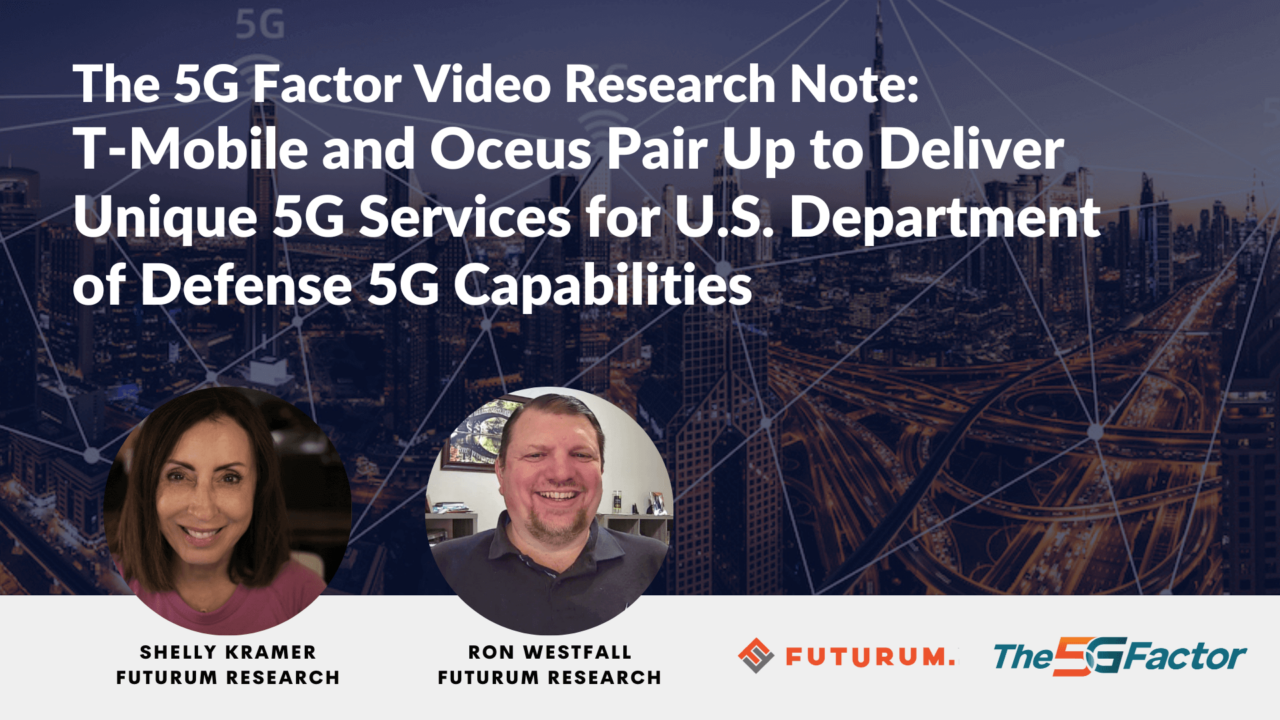 For this vignette of a recent episode of the Futurum Tech Webcast, part of the 5G Factor series, analysts Ron Westfall and Shelly Kramer evaluate the T-Mobile Oceus alliance that is aimed at fulfilling U.S. government, including particularly the Department of Defense, evolving 5G demands.
Their discussion considered:
The alliance with Oceus spotlights T-Mobile's 5G Advanced Network Solutions which are managed network offerings designed to combine 5G connectivity with edge computing to deliver mobile data workload optimization across distributed locations.
Oceus 5G portfolio development and marketing prioritize specifically fulfill the requirements of the federal government including extensive experience at deploying cellular broadband across military network environments.
Together, T-Mobile and Oceus are prepared to provide applications to the U.S. Department of Defense for AR/VR, maintenance and logistics, training, and active operations.
Ron and Shelly view the alliance as critical to assuring the U.S. military can use 5G networks to pace set their military operations for mission-critical applications including 5G private networks, multi-access edge compute, and SecDevOps which are key to assuring supply chain security and implementing zero-trust architectures.
Watch the video vignette here:
Watch the entire episode here:
Or stream the audio of the entire episode here:
If you've not yet subscribed to The 5G Factor, hit the 'subscribe' button while you're there and you won't miss an episode.
Disclaimer: The Futurum Tech Webcast is for information and entertainment purposes only. Over the course of this webcast, we may talk about companies that are publicly traded and we may even reference that fact and their equity share price, but please do not take anything that we say as a recommendation about what you should do with your investment dollars. We are not investment advisors and we do not ask that you treat us as such.
Transcript:
Shelly Kramer: So we're going to close our show with some news out of T-Mobile and that is the alliance that T-Mobile have formed has formed with OCS. And this Alliance is intended to deliver key offerings to the US Government. And they're going to start with the Department of Defense, which is always exciting and interesting. So this alliance was announced a couple of weeks ago, and it will leverage T-Mobile's 5G network and OCS's product offerings and solutions, which are specifically designed for the federal government. This leapt out at me because, you know, the DOD is of course focused on accelerating 5G adoption as they need to be. And, you know, this is all about ensuring that forces can operate anywhere and under any conditions. And so together T-Mobile and OCS will deliver acts that underpin things, AR and VR capabilities, training, active operations, and maintenance and logistics.
And, you know, as I mentioned, T-Mobile brings its 5G advanced network solutions offering, which is a suite of managed network solutions that combine 5G connectivity with edge computing. And this allows for data to be connected, to be collected, and processed anywhere. It's generated at really rapid speeds, incredibly important in military situations, right? And OCS brings its expertise in developing tools and technology for delivering access to fast, reliable cellular based connectivity and mission critical operations. They'll focus on secure 5G networks, multi access, edge compute, and DevSecOps. So this is a big step forward for the Department of Defense. I think it's a super smart alliance between T-Mobile and OCS, really excited to see some of the things that actually we'll never even know about some of the things that come out of this and that's okay. But I thought it was a really kind of exciting news to see.
Ron Westfall: Well, I agree. In fact, yeah, I think it definitely highlights T-Mobile's managed services capabilities. The fact-
Shelly Kramer: Absolutely.
Ron Westfall: …That the Department of Defense is turning to them for its strategically critical capabilities-
Shelly Kramer: Yeah.
Ron Westfall: …Speaks volumes and yeah, it's also about the edge computing. I think-
Shelly Kramer: Absolutely.
Ron Westfall: …Definitely merits more attention. Basically, it's joined at the hip with 5G connectivity or 5G builds and general, particularly in 5G standalone environments. And it's, I think getting the proper attention here, because you obviously have to distribute the data workloads, optimize them where the activity is, you know.
Shelly Kramer: Right.
Ron Westfall: You just can't keep back-hauling them to traditional data centers and so forth. And so this definitely is demonstrating why 5G is different from LTE. For example, you get that-
Shelly Kramer: Right.
Ron Westfall: …Built in flexibility and agility to do that with 5G programability capabilities. And I think another key takeaway is, you hit the nail on the head there, Shelly, is the SecDevOps-
Shelly Kramer: Right.
Ron Westfall: …Aspect, because as we know, we have to pay attention to security comprehensively.
There's no exceptions. Zero trust is the name of the day. We saw it happen to SolarWinds.
Shelly Kramer: Right.
Ron Westfall: Recently was the fact that he actually had a hacker or, you know, a cyber threat that got into their supply chain capabilities. And SecDevOps actually addresses that very issue.
Shelly Kramer: Right.
Ron Westfall: It's like if the software that is being used is being co-developed with built-in security from ground zero, that it definitely improves the odds of it not being compromised, even during the development stage or somewhere in the supply chain.
Shelly Kramer: Right.
Ron Westfall: And so I think that this is definitely addressing it and indicates that yes, you know, the good guys, so to speak, are fighting against, you know, that type of cyber threat. And that's quite simply essential.
Shelly Kramer: Yeah.
Ron Westfall: As particularly the Department-
Shelly Kramer: Absolutely.
Ron Westfall: …Of Defense. And one thing I kind of like is that it includes applications as you noted, like AR VR and a lot of the augmented reality virtual reality tension's been on the consumers side. That stands to reason because, you know, gamers, for example, are making it more commercially viable and a low hanging fruit for 5G monetization, but it has a great deal of industrial and-
Shelly Kramer: Absolutely.
Ron Westfall: …Also defense applications for things like digital twins, you know, maintaining a training, for example, using AR VR headsets and a host of other capabilities that make it, I think, very critical to a successful defense operation or training and so forth.
So yeah, I think the announcement that is high profile as Starlink versus Dish-
Shelly Kramer: Yeah.
Ron Westfall: …Definitely is showing some important developments here in our 5G ecosystem.
Shelly Kramer: Yeah, absolutely. And to your point, you know, I am positive that the use of AR VR by the Department of Defense is not a nascent thing, right. I'm sure that this is something that's been in used for a while. We just don't think about it right. As much as we think about its applications in the gaming ecosystem. But I think really, you know, to wrap this up, I think what's the most interesting thing to me is that seeing T-Mobile's manage services, it's 5G, advanced network solution offering at play here, I think is something that we're going to be seeing and hearing a lot more of. So that is really exciting news as well.