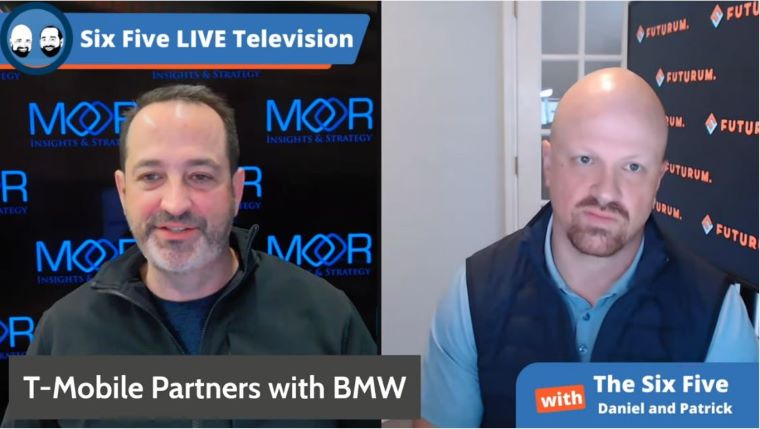 The Six Five team discusses T-Mobile partnering with BMG on the first 5G automotive service called Magenta Drive.
Watch the clip here:
If you are interested in watching the full episode you can check it out here.
Disclaimer: The Six Five Webcast is for information and entertainment purposes only. Over the course of this webcast, we may talk about companies that are publicly traded and we may even reference that fact and their equity share price, but please do not take anything that we say as a recommendation about what you should do with your investment dollars. We are not investment advisors and we do not ask that you treat us as such.
Transcript:
Patrick Moorhead: T-Mobile and BMW are partnering on what's called Magenta Drive and that's essentially putting two 5G ports in the latest BMWs and future BMWs. And while we don't talk about the news, we do actually have to talk about what's going on to get into this. To me, this indicates that we're in what I would call the second wave of a new G, once it starts getting into the things. And as we've seen, the car is the ultimate edge computing device, the amount of semiconductors, the amount of compute, the amount of intelligent that goes into modern day cars is quite incredible. And I also think it portends to what I would say is the long tail of this, not necessarily in this new 2022 BMW iX xDrive50 but vehicle as a service. That's where this is going.
You can picture electric robotaxi cars, I think even questions whether people will own cars in the future. And as a car nut, thank you very much, Daniel Newman and Pico Moorhead and F1, I can't imagine myself not having or not owning a car that I can just go pick up, I can pet it, I can love it, I can hug it whenever I want. I do think looking out 10, maybe 15 years, vehicle as a service is a reality. And to be able to do that, a lot of things have to come in place. One of those being high speed, low latency connectivity. Now the Magenta service is not millimeter wave, rather it's mid band and low band. But what this is really all about is to give, first of all, have an open port for telematics and infotainment. And then what I'll call a rider port, 5G port for people in the car who want to hop on what I think is going to be a superior 5G experience.
Now wait a second, why would I need 5G on the inside of the car when I have a 5G phone or a 5G based tablet? Well, if you look at the strength of the antenna that the Magenta service has, and oh by the way, it's outside the car, not inside the car, you can imagine just how better your 5G performance is going to be. To me, a point of news at a certain point along the 5G chain but portends to, not pretends, portends with an O, to our vehicle as a service future.
Daniel Newman: Yeah. It's really interesting to watch. One of the things I had been keeping my eyes on for some time as 5G came to more market, was the killer apps. What are going to be the opportunities for carriers to monetize besides the obvious? Everyone's kind of been trying to figure that out. Of course we're going to see devices all turn up and light up 5G and that's going to mean greater connectivity. But the thing we kind of have come to appreciate about the future of the vehicle is that the amount of driving we're going to do is going to continually lessen in the coming decades as the intelligence of the vehicle increases. The amount of consumption, the amount of productivity that is going to happen within the vehicle is going to only continue to increase. You look at connectivity for its profiles in safety, its profiles in connectivity, its profile in mobility and transport. And like you said, having that dedicated.
It's kind of like having OnStar in some ways. Of course, we all have our phone, but having the vehicle fully connected and intelligent provides a lot of opportunities for the vehicle to do things. We all know when you get into a crash, even if your phone was in your hand or in your lap, it won't be anymore. It just, that's not where your phone's going to end up. If the vehicle's intelligent and of course being reliably connected in that moment could be a lifesaver. You got those very kind of practical things, all the way up to just being able to hotspot more dependably inside the vehicle because like you said, that higher throughput, stronger antenna means you could be hotspotting a device right off of the vehicle.
And of course the number of devices that you're going to have to pay for to have always on connectivity could be different. Because if this is your vehicle for transportation, you could connect the vehicle and then you could bring iPads, laptops, things for your kids while they're driving in the car to be able to use and connect to, without having to have every one of your devices with its own plan. That's another really great opportunity. There's a lot going on here. I think T-Mobile is really being in innovative, on the front foot. Continues to really cause some pain for the Verizons and the AT&Ts right now. But again, I always expect innovation to drive innovation. T-Mobile's been on the offense for some time right now but I'm not ruling anybody out, but this is a good move. And of course it's never bad to be associated with BMW, a very reputable, very high profile brand.
Patrick Moorhead: Yeah. I will do a little boomerang here and just say three years ago, I did a who's leading in 5G and this was before 5G and this was before T-Mobile bought Sprint. They did have an offer in there, but I called that T-Mobile was going to be the 5G leader in the United States. I got mocked. I got laughed at like, well, wait a second. How could T-Mobile do better than AT&T and Verizon? And I think what was what was very clear to me, I think is very clear to people today is that T-Mobile is leading in 5G in the United States. I would like to see them get a little bit more on the millimeter wave bandwidth a but hey, everybody, you can't be perfect. But you can imagine all of the spectrum that the company has available for IoT and edge devices like a car and here we go.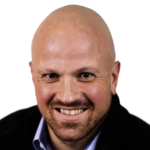 Daniel Newman is the Principal Analyst of Futurum Research and the CEO of Broadsuite Media Group. Living his life at the intersection of people and technology, Daniel works with the world's largest technology brands exploring Digital Transformation and how it is influencing the enterprise. Read Full Bio