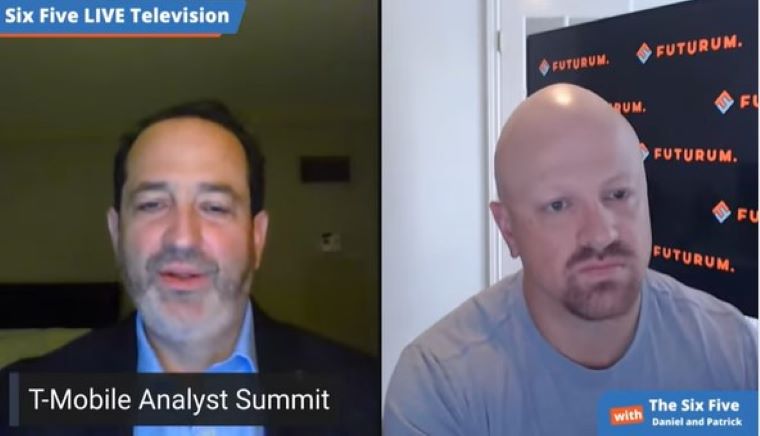 The Six Five team talks about T-Mobile's Analyst Summit event.

If you are interested in watching the full episode you can check it out here.
Disclaimer: The Six Five Webcast is for information and entertainment purposes only. Over the course of this webcast, we may talk about companies that are publicly traded and we may even reference that fact and their equity share price, but please do not take anything that we say as a recommendation about what you should do with your investment dollars. We are not investment advisors and we do not ask that you treat us as such.
Transcript:
Daniel Newman: Pat. You are on my behalf, not actually, but up there with my colleague Ron Westfall at the T-Mobile Analyst Summit. You're killing it man. I saw you with the presidents, CXOs, and it sounds like it was a great event. What can you share from inside the Analyst Summit?
Patrick Moorhead: It's not over yet. And it's NDA Day today, which is great, because we got to hit all the public stuff. Let me first say, I am completely surprised how good the event was. Whether it's events, whether it's semiconductors, whether it's software, whether it's a service. V1s are never very good, but T-Mobile absolutely knocked it out of the park. We had the event at their innovation lab. There's hardware, there's gNodeBs. There's hardware, there's software, there's IoT labs.
It's a real working lab. Reminded me a lot of what you and I saw in Chicago with Oracle. Some of the key things that stuck out for me was the maturity of how they're looking at the market. Most companies who are a consumer play getting into B2B, they start off with a horizontal play. You have to do some of these brilliant basics. Whether it's in transportation, automotive, utilities, healthcare, retail, public sector.
But they laid out a very compelling vertical strategy and offerings where they have pre-certified solutions. A combination of their network, hardware, software, on-prem services, and cloud services that I thought was really good. One example they did the drill-down on was retail. They had mobile connectivity, as you would expect. With private network, MEC, mobile devices, UC&C.
And then, they had point of sales systems, inventory tracking, personalized shopping, in-store heat mapping, and AR and VR. It's funny how an analyst's brain works, which is .. You know when you get to the point where you ask, "Okay. How real is this? Is this strategy? Or is this actually happening right now?" I thought the most impressive customer case was Alaska Air, which isn't a bicycle company, which they had up there. It's not an electric truck company. It's a very mature business. That impressed me the most out of it.
They have built a big channel network as well. With everybody who you would expect. SIs, ISVs, everything. Super impressed. They have a lot of room for growth. They showed some charts on growth trajectory, but they didn't give actual numbers, which I'm fine with. Reminds me of the early days of Google Cloud. My biggest recommendation for them going forward is to find a way to integrate your B2B talking points and wins into earnings. Talk a little bit more about it.
I do realize that there's a certain revenue point that you have to get to, to make it interesting, but put a crawl chart in of new customers. Net new customers. Anyways, gosh. I'm talking a lot. I'm done. I'm writing up something on it. You can read it on Forbes next week.
Daniel Newman: Well, Pat. First of all, I'm glad you carried a little bit of water on this one. Not being there, I didn't see what got announced. I'm having to be a little bit dependent upon and your hot takes here. One thing I guess I'll say about T-Mobile as a whole is … I can really remember that there was a point when you saw the tides changing. It kind of happened right before our eyes. This has been both T-Mobile as a consumer company, when it was in that Legere. What is it? The Un-carrier moment.
Patrick Moorhead: Still going. By the way, met the guy who created the Un-carrier moniker.
Daniel Newman: There you go. And then, basically, we have seen it start to carry into the B2B side as well. The company has really transformed. One thing that caught my eye in following some of the social is the company really seems to have a good understanding. It's got this pyramid partner ecosystem where it understands everything from primary agent relationships. Working with companies like Hyperion, all the way through its OEM partnerships. It's got distribution partnerships. It's got SI partnerships. And it's got partnerships in the public cloud.
In fact, I got a Forbes article I'm working on right now, where I highlight T-Mobile and Google Cloud's partnership. This telco of public cloud relationship continues to proliferate, and T-Mobile seems to continue to be at the forefront of innovation here. If I think back to three or four years ago, I would've said it was AT&T that was the big carrier that was really doing the telco cloud B2B story. More and more, I think T-Mobile is carrying the water there.
The other thing is the company has really got a lot of ambition in private network. It's got a 5G nationwide internet approach for business. And so, that's something a lot of us, again, don't think about. We all think about 5G through the lens of a consumer on their device getting that connectivity. But that private network, we've talked to Cisco a lot about it. We've talked to the cloud providers a lot about it. That is opportunist. It's opportunity. That's both green and brown field for T-Mobile.
I envision their continued ambitions paying off for the company as more look to 5G as either a second connectivity capability to keep employees, hybrid workers, and offices always connected. Or in some cases, as primary connectivity in certain markets and regions where that level of dependability is required. I look forward to hearing more. I look forward to getting underneath the hood.
Like I said, I'm sad I couldn't get out to Washington, but I am happy that I'm home.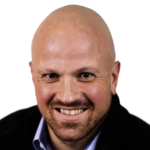 Daniel Newman is the Chief Analyst of Futurum Research and the CEO of The Futurum Group. Living his life at the intersection of people and technology, Daniel works with the world's largest technology brands exploring Digital Transformation and how it is influencing the enterprise. Read Full Bio