Splunk Adds Key Member to its Executive Team to Focus on Growth
Splunk Adds Key Member to its Executive Team to Focus on Growth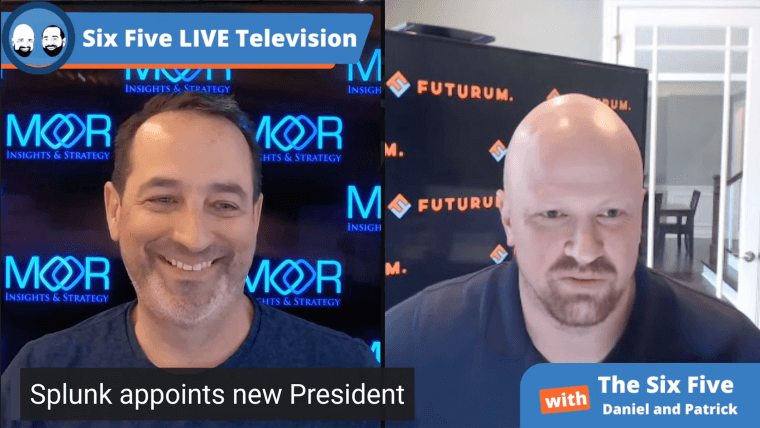 The Six Five crew discusses the hiring of Splunk's new president and Chief Growth Officer Teresa Carlson.
Watch the clip:
If you are interested in watching the full episode you can check it out here.
Disclaimer: The Six Five Insiders Webcast is for information and entertainment purposes only. Over the course of this podcast, we may talk about companies that are publicly traded and we may even reference that fact and their equity share price, but please do not take anything that we say as a recommendation about what you should do with your investment dollars. We are not investment advisors and we do not ask that you treat us as such.
Transcript:
Daniel Newman: Alright, so let's jump on to something that is a little bit more of a quick, lighthearted story but a positive direction of a company we track. A company that's been in regular participant in our summit. Last year, one of our keynotes, by the way, AMD was and Intel as well, our summit is coming, you'll be hearing more about that in the coming episodes because we get very excited about it. But Splunk, which has had a huge growth year, as observability becomes a bigger and bigger topic. If you watch Cisco Live last week, you heard observability that word become a big headlining word. If you are paying attention to ITSM, if you're paying attention to security SIM, and you're paying attention to observability, there may be no company that's growing faster than Splunk. Over the last couple of years, Splunk has been very busy shifting its business model as a software company to a subscription based, cloud based, ARR based and it has really turned a corner there. You can check out some of my earnings covers to get a better feel for what's going on there. But actually the growth pace was faster than Salesforce during its key growth era. That's how fast Splunk is growing. And the company has also been very focused on growing its executive suite and recently nabbed a top exec that led the public business public sector business, a gal by the name of Teresa Carlson an AWS and Microsoft vet to be their new president and chief growth officer. You know, I was tracking the situation and we don't do a lot of on the moves here. But it was a very interesting moment in time. First of all, I'm always flagging right now as a father of two daughters, and I think you too as a dad of two daughters. I love seeing women in STEM coming up and taking big roles.
And Splunk's got a big role in the future and you know having her join in such an important role and an important time, in the company's transformation was really, really good to see. The other thing that's going on is the experience that, you know, she brings from AWS and which was a hyper growth business. And by the way, 30% growth is still pretty magnificent when you're over $10 billion a quarter taking that, you know, to Splunk, which is in this transformation that's moved from, like I said, IT management and security management of data flow to this observability arm, which has been a huge focus to a cloud based business, to a purely subscription at this moment in time is really important. So, you know, as I see it, like I said, I'm really glad to see that diversity being pushed in that C suite, key roles being given to executives with great experience and leadership. And also, you know, I'm kind of fascinated to watch. We've had Doug Merritt, Splunk CEO on a few times, we've had him on the cast, we've had him on our event, I think that company has some real growth trajectory, somehow, despite the fact some big companies are competing in that space, it's really been able to carve out its niche and see some real success. So you know, we're going to be interested in watching Teresa see what she brings to the company in this new role and see if that rapid growth rate that I mentioned can continue.
Patrick Moorhead: Daniel, great analysis. So first off, super impressed with the way that Splunk has gone. You know, there are a lot of one hit wonders out there in the tech industry. And what I have appreciated most about Splunk is taking what they've started and then putting layers of value on top of that, right? It's one thing to put out a tool to be able to do stuff with real time machine learning, streaming data coming in, and then you the enterprise having to do all the work around it. It's another thing to put up a solution and even go one step further. Which Splunk is doing which is going a little bit more vertical, even creating an ecosystem as it goes along. I think I've told you this before, my nephew, the reason he got his big security job at an unnamed insurance agency is because he was learning Splunk when he was in college at Ohio State. He was the only one who knew it. And this very large insurance company in Ohio wanted to bring it in. And that's how he got his job. I am impressed with the new president coming in. This is a good story. And that is just an exemplification of a more mature company as it goes forward. Hey, maybe the next in line to replace Doug when he goes on to his new venture.
Daniel Newman: Hey, who knows? Right? And maybe we'll hear from Teresa in upcoming events. Splunk will definitely be back for our summit. But you know, maybe we'll have Teresa general our live Q&A, or maybe she'll join the show at some point in the near future. If you're listening, it's an invitation.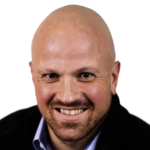 Daniel Newman is the Principal Analyst of Futurum Research and the CEO of Broadsuite Media Group. Living his life at the intersection of people and technology, Daniel works with the world's largest technology brands exploring Digital Transformation and how it is influencing the enterprise. Read Full Bio