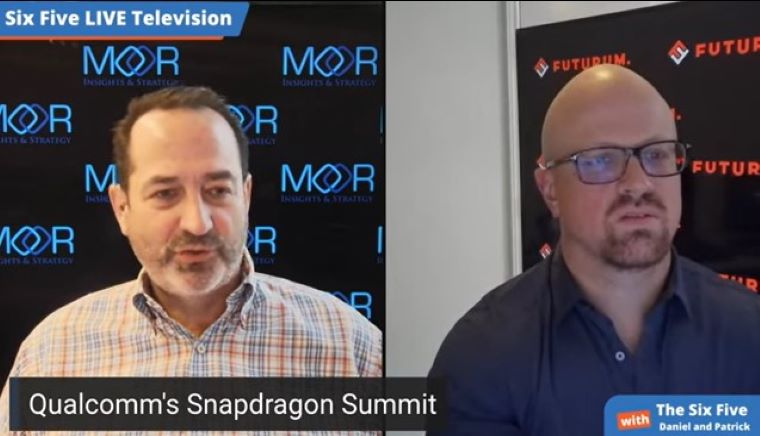 The Six Five team discusses the Snapdragon Summit.
If you are interested in watching the full episode you can check it out here.
Disclaimer: The Six Five Webcast is for information and entertainment purposes only. Over the course of this webcast, we may talk about companies that are publicly traded and we may even reference that fact and their equity share price, but please do not take anything that we say as a recommendation about what you should do with your investment dollars. We are not investment advisors and we do not ask that you treat us as such.
Transcript:
Patrick Moorhead: Qualcomm Snapdragon Summit, SAP TechEd, and of course because Daniel loves earnings, we're hitting NVIDIA and Cisco earnings. Just kidding, it's great ground truth for all of us and companies lie less during their earnings. Very informal and we're going to hit tech layoffs and talk a little Twitter and we're going to round out with NVIDIA and Microsoft Azure's brand spanking new supercomputer. So let's dive in. I'm going to call my own number on this one, Qualcomm, sorry Snapdragon Summit. It was incredible and yes it is true Dan, we came in early before everybody showed up. We got set up and we had two hats there. We had not only the analyst hat to be analysts and give good advice and also report back on what we saw, but also the Six Five was there and we did nine interviews with multiple executives including CEO, Cristiano Amon and number two in control, Alex Katouzian and many, many more. Links to the show notes at least on one of those.
But where do you start on an event that you pretty much spent the entire week at? So why don't I give it a little bit of context here. So Qualcomm is a company in transition. It essentially owned along with companies like Facebook and Apple, the mobile transition, but right now, sorry, the mobile revolution. But it's really now moving from a phone only to the intelligent edge. And whether that's phone, includes phones by the way, but incrementally adds PCs, cars, XRs and the internet of things and not just the human IOT or things like wearables, but also the industrial internet of things. This show, the Snapdragon Summit really focused on the next generation smartphone, which was the Snapdragon 8 Gen 2, and also the human IOT that included things like XR and also wearables and hearables. It was an incredible show. I mean if you recall, we've talked a lot about Qualcomm strategy pillar number one with the objective of going after the premium Android.
Now it doesn't mean they don't provide a lot of technology and smartphone technology to Apple. They do in fact, apple exclusively uses modems and part of the front end from Qualcomm. But listen, new year, new time to go after those smartphone and that's exactly what the company did with the new platform. I can safely say particularly based on the increase in performance in AI, I see no reason why Qualcomm can't continue its leadership in premium Android. And it was really interesting Daniel, how it's not just AI for AI's sake, but it was about AI to improve experiences, whether that was the radio with the modem, to find the best thing to connect to, whether that was the compute camera. But let's not forget things like WIFI 7, dual Bluetooth, heck fricking ray tracing in the graphics as well. I don't think that Qualcomm's going to win on all the CPU benchmarks, but quite frankly when we look at experiential benchmarks, I don't see anybody touching the company at all.
And it is funny, I'm always skeptical when a company says "Hey, we're focusing on the experience." Because automatically what pops into my head is, oh it means they're going to lose in the tech. Well this is not the case. It took, I would say Qualcomm four to five years to really make that transition from doing tech for tech's sake to actually focusing on what people do with their devices. We got a little bit of a sneak peek also on the PC side, which was really good. We saw Adobe executive in charge of alliances get up and essentially say they're going to keep adding more native applications to the Snapdragon platform. Some people may not know this but there's already Adobe applications that are native including Photoshop. We saw a brand new XR platform called AR 2 Gen 1 and I like that a lot Daniel because it really narrows in on the use case of augmented reality with the capabilities to put them in normal size glasses.
In fact, the glasses that you have on right now look strikingly similar to the form factor that the AR 2 Gen 1 was delivered in. It's a one watt part, has three co-processor, has wifi 7 and most of the compute is coming out of the smartphone itself. And I like that model and I think it will likely accelerate what the industry does with AR and I think the timing is good for when I think Apple is going to come out. So great show, started on Sunday. You and I left Wednesday night, both took the red eye back in so we could be in the office for work and planned for this podcast.
Daniel Newman: Yeah, I came home just for this because I love all you and you matter in case you forgot.
Patrick Moorhead: There we go.
Daniel Newman: But you covered a lot of ground there, Pat, I'll kind of keep it simple, zoom out and keep us on pace here. But for me it was really about the future of mobile compute and the implementation and application of AI and everything. And so if you kind of thematically looked across the show, a lot of energy was spent on how AI is going to really supercharge this next generation of devices. Whether it's how AI could be implemented to the RF modem system to more intelligently deliver millimeter wave 5G, beam forming and making sure you're getting that highest quality signal at any given time to the way you can use AI to flex across different levels of connectivity between bands, right?
Whether it's WIFI 7, whether it's millimeter waves, sub-6 or a legacy connectivity that we need when we're outside of major markets and metros. And then of course if you look at XR, if you look at mobile compute, the PC part of the business, if you look at gaming, everything was "Hey, how are we going to take artificial intelligence and layer it to add performance? Can we add intelligence that's going to help save power? Can we add intelligence that's going to help make the device work better?" And that to me was kind of like if you went right down the line and just kind of said, "How do I streamline and digest what we saw over those two days?"` That was it. It was that the next generation, the next scale of this company's product services and business is going to be its ability to implement meaningful artificial intelligence on top of high performance.
Some of the lowest power system on ship that are available in the market today. They got the wins, they've got the partners, they've got Microsoft and Adobe, they've got all the major handset makers, they've got the design wins, they've got the Snapdragon compute in beta with some really large customers. They had Citigroup up on the stage talking about this. These are the pieces and parts that are going to come together to help build the business. And in our time with Christiano, you have to acknowledge that this diversification strategy and taking every single device that connects to the network and making it accessible and making it a part of the opportunity, the TAM for Qualcomm is what the company's looking at and I think they're doing a good job. So, I'll leave it there. Good event. And it was, as I said, working in paradise.
Patrick Moorhead: Yeah, probably the most interesting thing where both you and I drilled in was on their PC potential and I think we're in the same place that we feel pretty confident with the part itself/ even that's taken us, I think a stretch but unclear on the go to market at this point. I'm going to be interested to see how that pans out. I'm hoping that they're making a list of what they're not going to do as long as what they're going to do because I think focus is paramount, particularly in getting into a new market..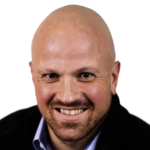 Daniel Newman is the Chief Analyst of Futurum Research and the CEO of The Futurum Group. Living his life at the intersection of people and technology, Daniel works with the world's largest technology brands exploring Digital Transformation and how it is influencing the enterprise. Read Full Bio