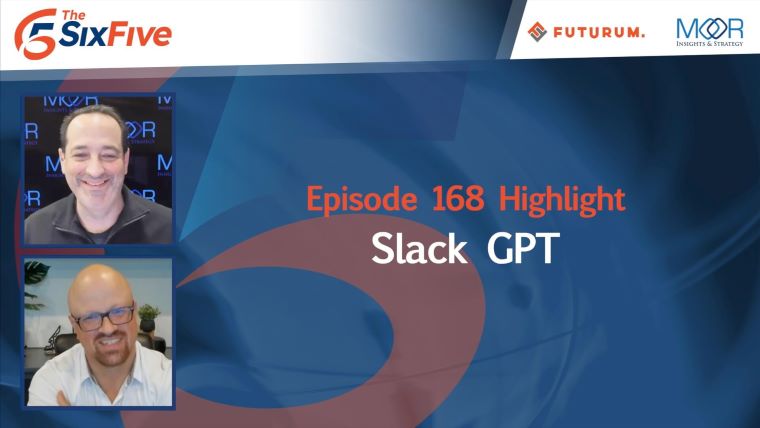 The Six Five team discusses Slack GPT.
If you are interested in watching the full episode you can check it out here.
Disclaimer: The Six Five Webcast is for information and entertainment purposes only. Over the course of this webcast, we may talk about companies that are publicly traded and we may even reference that fact and their equity share price, but please do not take anything that we say as a recommendation about what you should do with your investment dollars. We are not investment advisors and we ask that you do not treat us as such.
Transcript:
Patrick Moorhead: Slack GPT from our friends at Salesforce. What's happening here?
Daniel Newman: I think we are legitimately going to talk about generative AI for our first four straight topics and then we're going to talk about more AI when we talk about some semiconductor companies. So can we just change our terms to AI analyst because I'm pretty sure that's the next thing.
Patrick Moorhead: I think it's Six Five GPT.
Daniel Newman: You know sometimes a company comes early and you know how they say being early and being wrong are the same thing. I still remember that one of my favorite movies is the Big Short, and I love that part when there's a part where they're arguing about his short on the housing market in 2007 and he is like, "I may be early but I'm not wrong." And then the guy's like, "It's the same thing." It's the same thing because when you're trading… Well, this is the condition that is Salesforce. I think it was what, three or four years ago now that Marc Benioff really came to the market with Einstein. And the idea was basically that you would have this chat type assistant and he actually made some pretty ambitious statements in his early days that you were going to basically have Einstein in the boardroom. That you were going to have this AI that's going to be in the room, that you're going to be asking questions, that you're going to be making business decisions.
And it's not going to be just your board members, it's going to be your board members plus your machine and you're going to talk to the machine. You're going to say, "Hey, do we need to cut staff by 10% in order to meet our cash flow requirements that we're committing in this quarter's earnings report?" And you're going to have some AI assistant that's going to do that. Well, it didn't happen very quickly and there's been a lot of skepticism about Salesforce. But Salesforce has leaned into a partnership with OpenAI, which by the way, if you ever want to know if someone's partnering with OpenAI versus maybe a different transformer model, just if they use GPT, that almost certainly means they're training and building on OpenAI, just FYI for those of you that are out there. But anyways, long and short is for three or four years people just said, "What the heck happened to Salesforce?"
They did this thing and they fell kind of flat, Pat. And now though, the era of generative AI has brought this back to the surface. So what you're seeing now is basically across the whole portfolio. A few weeks back you saw Salesforce GPT, now you're seeing Slack GPT, and in a little while we'll talk about Tableau GPT. And what the company is basically doing is they're adding generative AI to help create automated processes in Slack, code free, using a workflow builder or a no-code automation tool. You hear what I said earlier about developers, Pat, and their role changing in the future? I just want to reiterate that I'm right. It's very important to me that we get that on the record.
Patrick Moorhead: Listen, the victory lap is important because we're not always right. We're certainly not going to bring that up, but…
Daniel Newman: We never actually go back and talk about when we're not right. Thankfully, it's so rare.
Patrick Moorhead: Actually, I do on things that really aren't important that nobody cares about anymore.
Daniel Newman: Like sometimes at home it's like, "You're right, honey, I did buy decaf." Anyway, but they give some really great examples in this, but think about sales and lead workflows. And by the way, this is very similar to some of the stuff we've seen with Dynamics, with what Microsoft is doing. So the comparative now is that we're starting to see the unwinding of early competitive advantages where you were like, "Oh my God, we could take a Teams meeting and then we could take the transcript of the Teams meeting and that would automatically populate something into Dynamics and then it would create a proposal and then it would…" So now you're seeing that basically you could have an alert that a new lead came into Sales Cloud…your GPT can then take a workflow that it can take a sales lead to a draft a personal prospecting meeting, put a document I can share in the channel.
Now, the whole sales team has and visibility into the deal and they're building this all natively into Slack. So it's going to get you up to speed, faster on messages. It's going to help you prioritize what's important. It's going to help you create HR workflows for new employees to come in, get welcome, get up to speed more quickly on what's going on. It's going to give you better customer data. So it's going to integrate right in with Customer 360, service data. It could do case summaries of service where you get quick abstracts of what's going on with a case. So what's really going on here is that basically all the chat and day-to-day and asynchronous interactions, we're going to get back on a page where you can quickly with very little to no programming and developer capabilities, get your employees up to speed on service workflows, sales workflows, project workflows, HR workflows.
And it's going to be built on a bunch of pre-created simple-to-train sale bot type of interactions. And it's going to be available to all companies using Slack. And now, another important point to make by the way, is there's a lot of interesting integrations across the Microsoft Salesforce ecosystem. So while both companies are obviously competing head-to-head for certain parts of the business, there is a lot of integrations now where things will work. And because of the OpenAI partnership, you'll see more and more integration across that kind of Microsoft Salesforce portfolio. But Salesforce is going for it, man. And they have to. And I absolutely believe they have to. But this is a great indicator that Marc Benioff was actually on the right track for three or four years ago. But now everything's coming to fruition and we're going to start to see some really powerful features inside of our day-to-day productivity tools.
Patrick Moorhead: Yeah, good analysis. So context here is that Slack GPT fits into the entire end-to-end AI platform. There are embedded GPT features inside of Slack. And as you mentioned, it is closely correlated with Einstein GPT for overall Salesforce. So my first thought is absolutely expected, you didn't say it this way, but if you think about how Slack started and the ability to invoke different superpowers that it has, you could do many of the types of things that you can do today in Slack GPT, but this just does it better. Maybe you couldn't do some of the summaries, but if you wanted to order this from a store or get reservations, you could actually invoke one of the bots that were integrated in and actually do this. What this does is it's an easier and more effective and more powerful way to integrate into these chat services.
It's funny, I look back, Dan, and it's almost like Slack was architected or built for this day when you could do almost anything automatically inside of a chat type of motif. And I think you said it well, which is like, okay, these guys have been waiting for this day, but literally, this is everything that the founders of Slack said it would be when they founded the company. Now, is it a little bit sad that they're not going to get as much credit for this and that others have kind of stormed in? Kind of. I'm an ex product person and you kind of hate to see that. But then again, having to compete with the likes of Microsoft and Google on things like this is just the real world and that's what ferocious competition is all about. It's going to be interesting to see the antitrust stuff between Slack and Microsoft inside of the EU. And my guess is they're going to use this very example which says, listen, we were kind of hobbled by Microsoft giving away Teams inside of its E-class licenses for free. And we basically couldn't do this.
We didn't grow as quickly as we can. We weren't able to fund this and therefore, had to be acquired for that poultry amount of money that Salesforce paid. Actually, it was a lot of freaking money. But anyways, this to me is the essence of what Slack was created for and we have it now and I can't wait to use it.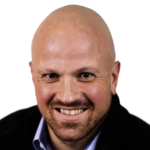 Daniel Newman is the Chief Analyst of Futurum Research and the CEO of The Futurum Group. Living his life at the intersection of people and technology, Daniel works with the world's largest technology brands exploring Digital Transformation and how it is influencing the enterprise. Read Full Bio