Slack Founder Departs Salesforce
Slack Founder Departs Salesforce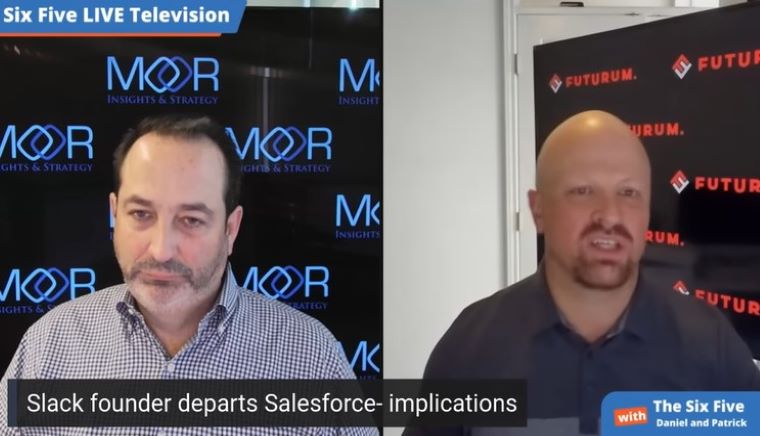 The Six Five team discusses Slack founder departs Salesforce.
If you are interested in watching the full episode you can check it out here.
Disclaimer: The Six Five Webcast is for information and entertainment purposes only. Over the course of this webcast, we may talk about companies that are publicly traded and we may even reference that fact and their equity share price, but please do not take anything that we say as a recommendation about what you should do with your investment dollars. We are not investment advisors and we do not ask that you treat us as such.
Transcript:.
Patrick Moorhead: Slack founder Stewart Butterfield leaving Salesforce on the heels of Bret Taylor leaving. What's going on, Dan?
Daniel Newman: What is going on at Salesforce? Just a week ago, I went on CNBC, talked a little bit about that earnings and the big Bret Taylor news. You go, wow, what an inflection for the company. This is a company in transition. Guess what? I really do have the feeling that what is happening is with the stock down second most out of any Dell component this year, besides Intel, I think Marc Benioff is back. I think he's back. He's showing us space. He's not happy with the product, the innovation, the development. He's basically handed the keys to a few people. He made a $27 billion investment in Slack. I'm on the record by saying for a long time, I think the Slack Salesforce portfolio has some massive potential. But Pat, do you think it's potential has been reached just yet?
Patrick Moorhead: Oh my gosh, absolutely not.
Daniel Newman: No. I'm going to let you fill in your gaps, but no. It is just not even close. Microsoft Teams is literally in Salesforce's cafeteria on the daily having lunch on that potential. Now, could Slack in Salesforce be together? It could absolutely be the most legitimate competitor in the market to that full suite of productivity, of collaboration, of automation and platform for low-code and no-code, and of course, developing feature of work. What Marc Benioff coined as the digital headquarters. Well, it hasn't happened yet. So you have Bret, who's been really focused on the Twitter deal, and it's hard to be the chairman of the board of a deal that's going on with Elon Musk that's taken up every headline. But unfortunately, when you are the CEO of the world's largest and one of the most exciting SaaS companies on the planet, you got to do that job before you can be a board member.
Now again, I know Marc Benioff went on air. He was very emotional and I think those were real emotions. I think he really did want to see Bret succeed. I think he really wanted to see Keith Block succeed. I think he also really wanted to see Stewart Butterfield with Slack really helped bring it forward. But for whatever reason, the parts and pieces that have been put into that organization just have not quite created this ripe environment for innovation across all these acquisitions. Now, we were critical early on about the inorganic spend. Look, I like inorganic acquisitions and growth. I think inorganic is critical once you hit a certain point in a company. But it doesn't work if you don't integrate these inorganic things in a situation where integration is the whole purpose. This isn't a roll up, this isn't a house of brands. This is a platform. This is an ecosystem where Salesforce needs all of its tools and technologies to be unified.
By the way, not everything in Microsoft works together, but the story does. The story right now is very compelling across portfolio and every day they're building towards that. The story at Salesforce still leads a lot of will Slack and Salesforce and marketing cloud and service cloud and automation and bots and all this stuff ever really truly work together, where someone's going to come into work, open up Salesforce, and that's going to be their working ecosystem? I think that the answer to that is not yet.
So, Stewart's leaving. New CEO in Lidiane, she seems very compelling. We sat on that call this week. We listened to them speak. It was a very eloquently delivered transition, just like the one with Bret. But don't mistake, there is some uncertainty going on at Salesforce. I think these new leaders, and I think with Marc back, look, Marc will always be the heart of Salesforce. Marc is Larry. Marc is to Salesforce what Larry Ellison is to Oracle. When things get tough, Marc is going to be the guy that's going to come back probably one or two more times over the next couple of decades. He'll be 115 years old and he's going to come back and work. When they need a new innovation, they need a new disruption, Marc will be there, Pat. But not the end of the world. I think they're going to push through this.
Patrick Moorhead: It is a house of a full stack platform. There are some companies who've had that full stack for a long time like Microsoft and Google. There are companies who are actively building it like Salesforce want to do it, trying to do it between a combination of inorganic and organic. Then you have even companies like Zoom trying to do it organically. It was going to happen through Five9, but that didn't happen because the stock cratered and they had to back out. Now they're building everything. With building stacks, like you inferred, you need to show incremental value to your customers that it matters. To do that, there's the technical side, there's the really honing in on the core value proposition of what that means. Then it means marketing and then getting your sellers to engage to make that happen.
I think, again, I have nobody inside that told me any of this, but what's your natural reaction if you are founder Benioff? You're going to raise the heat. There were some people who could have just said, listen, I'm not up for that right now. I think even separating my intuition and connecting that to Stewart Butterfield and the conversation that you and I both had live with him. He said, "I'm tired. I'm 50, I have a new baby." Listen, I appreciate the honesty. I get that. I'm older than Stewart. I get what it's like.
Daniel Newman: Do you believe that Pat?
Patrick Moorhead: I believe that. By the way, I think it connects perfectly with your thesis of turning up the heat. I got to tell you though, I appreciate him bearing his soul. With that though, the show must go on, and Lidiane Jones is coming in. I appreciated the kind words. I'm old enough to cut through the BS of executive happy talk and reality. Lidiane really appreciates Stewart. I think that's important. Because when your executives trust each other or each other at a certain point, things are just smoother in how they act. Based on what they said, I have confidence in the future of the integration. I got a better idea of just how hard the integration has been when you put a chat modality inside of multiple products in multiple countries and the impact to the data. Lidiane's words, check out the link I put in the show notes to Lidiane's public things that she talked about and see for yourself.
In the end, actions speak louder than words and results speak more than actions. We'll see what the company can do. It is amazing. Sometimes the grand purifier, Daniel, one of those can be a recession. When you're a Salesforce and you're hitting your numbers, you're at 25% growth every quarter per year on end, and that comes to a temporary end, you have to take action and you do have to turn up the heat. So, if Benioff truly is turning up the heat, I can't see that's a bad thing.
Daniel Newman: Yeah, I know Pat, you make a great point. It's exactly like what we've said about some of these layoffs. These companies just, we're growing, we got a lot of staff, we got some extra cost, but we're growing. The tunnel vision gets real. All I'm saying, all of a sudden when the stuff hits a fan, that lens opens up and you're like, holy crud. How did we get so overstaffed? How do we get our expenses running through the roof? Well, as long as you're growing, what do we always say Pat? Revenue covers a lot of problems for companies. So, this is an inflection point. But yeah, good analysis, Pat.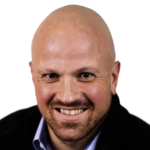 Daniel Newman is the Chief Analyst of Futurum Research and the CEO of The Futurum Group. Living his life at the intersection of people and technology, Daniel works with the world's largest technology brands exploring Digital Transformation and how it is influencing the enterprise. Read Full Bio