ServiceNow Rolls Out ESG Solution
ServiceNow Rolls Out ESG Solution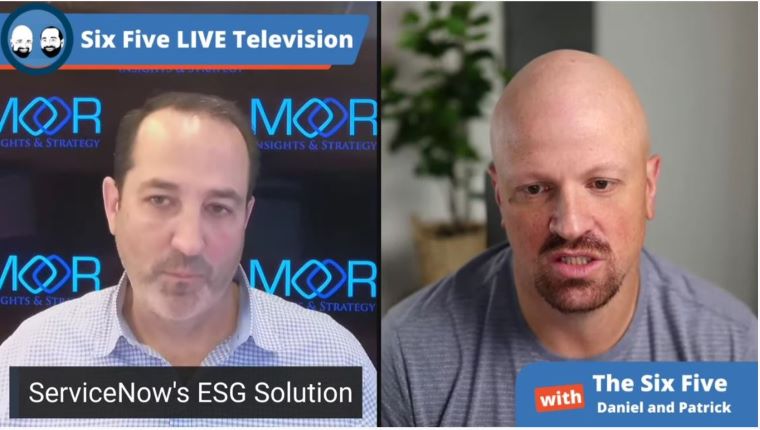 The Six Five team dives into the roll out of ESG Solutions from ServiceNow.
Watch the clip now:
If you are interested in watching the full episode you can check it out here:
Disclaimer: The Six Five Webcast is for information and entertainment purposes only. Over the course of this webcast, we may talk about companies that are publicly traded and we may even reference that fact and their equity share price, but please do not take anything that we say as a recommendation about what you should do with your investment dollars. We are not investment advisors and we do not ask that you treat us as such.
Transcript:
Daniel Newman: I said, I promised everybody we would come back and talk a little bit more ESG, and after the Google carbon footprint. And let's just say, it's been an interesting week. So I want to talk about ServiceNow. They rolled out new ESG solution. Before I talk about that, I did have a chance, by the way, to sit down and listen to the CEO of Capgemini, Aiman Ezzat. And I'm only bringing this up because one of the things he said in his presentation, now, Cap, if you're not familiar with them, one of the world's largest integrator, service provider. Basically they are involved in almost every major deployment of technology. It's either them or an Accenture, YPRO. There's a handful of these companies, but Capgemini, I think, and Accenture would be arguably, I don't even think it's arguably, I think they're one and two.
But having said that, the statement he made, Pat, that was really interesting to me was kind of that they're designing every product and experience with sustainability from the start. And the reason I say that is, this goes a little closer to the customer level, and you hear that from a company that's so close in so many industries to so many customers, and you go, "Okay, so this whole sustainability thing isn't just a blip in the radar. It's going to be a big part of our future, and these are companies that are involved in designing products and getting them into market, and they are building around it."
So ServiceNow is joining the likes of … We mentioned Google earlier, Pat. We've seen Amazon is involved in this. Salesforce made announcements around this, and it's going to be more and more, Pat. We've had back channel conversations, briefings from a number of different companies that are building more and more ability to manage, monitor their carbon footprint into every single workload that is deployed.
Well, ESG is something that ServiceNow is really well built to provide a solution to, because the thing is, is it's about unifying. So ServiceNow has what's called its Now platform. And so if you're a company and you have a number of ESG goals, you might be able to get a little bit of information out of your cloud, or a little bit of information out of another application, or out of an ERP system. But how do you tie all that together? And so ServiceNow is looking at this a little bit more holistically. "We can put a management and reporting solution in place that you can document things, material topics. You can establish your goals. You can have your KPIs. You can track the performance. You can collect and validate your audit-ready data, or even create disclosures that align with the reporting frameworks that you would have for ESG."
The other thing, too, is you can use in the platform what they call their project and portfolio management, to be able to essentially build and maintain your company's roadmap for ESG, do your strategic planning, budget for what you plan to do, be able to track the cost, the resources, and of course get real visible KPIs of the results.
So in my opinion, we saw all the companies, Pat, coming out with COVID tracking tools. Remember? Everyone announced them. And by the way, some of them made it to market, and some of them didn't. ServiceNow did one. Salesforce did one. Microsoft did one. And that was an instantaneous tool to solve a problem, like getting people back into the office. This is a very similar framework and structure of tools. How does a company basically say, "Okay," and you and I talked about this in something that will be recorded, and maybe you'll see out there in the wild at some point, but about the varying continuum of companies participating in ESG.
And the one thing I think, no matter how much you're on the all-in on climate change and doing more carbon neutrality, or if you're a straight up crazy science denier, I think everybody can agree about efficiency, trying to build more efficiently, build more intelligently, create things that are more scalable, quit building devices that are meant to be thrown out every year. Can you build something like you, Pat, I think you said modular? Everyone can kind of agree on those kinds of things, but the tools to enable us to know what we're building, to stand by our goals, the same way we do with our revenue goal, the same way you do with a hiring goal, the same way you as being able to say, "Hey, can I look at a dashboard here and say, 'Am I doing the work?'"
So as I see it, it's really in a interesting moment, that the technology industry is starting to move more and more beyond the kind of, "Blah, blah, blah," the greenwashing of everything that sometimes they're accused of, to a much more measurable set of technologies and tools that allow companies to set goals, apply it through their ERP, their systems, their supply chains, and visualize realtime outcomes.
So interesting, Pat. I know you've got an opinion on this. I'm not sure you've tracked the ServiceNow product per se, but you and I had a lot of talks about climate change, sustainability. I lay that all out there wondering what you think.
Patrick Moorhead: Yeah. So first off, when I read about this, my first question was, "Why? Why ServiceNow?" And, "What permission do they have to go in and do this?" And then of course I reflect back on some of their strategic moves and new product offerings, is that they are no longer the ServiceNow that is merely tracking service incidents for people. They have dashboards. They're using data in some very intelligent way. I think it's really important for ServiceNow to lean in this even further, show more detail, otherwise they could, as you and I discussed yesterday … No, listen. I applaud this. This is a good proof point of them kind of moving up, as I would say, moving up the food chain from their roots into a more important company that has more to do with CX than even handling, and they do it well, service requests.
Daniel Newman: Yeah, absolutely. A company on the rise. I think at one point, it was last week, I don't know if it's still true, but I think their market cap actually surpassed IBM's market cap. So ServiceNow kind of has come out in just an absolute rocket ship. Been very interesting to watch that.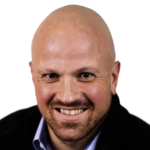 Daniel Newman is the Chief Analyst of Futurum Research and the CEO of The Futurum Group. Living his life at the intersection of people and technology, Daniel works with the world's largest technology brands exploring Digital Transformation and how it is influencing the enterprise. Read Full Bio