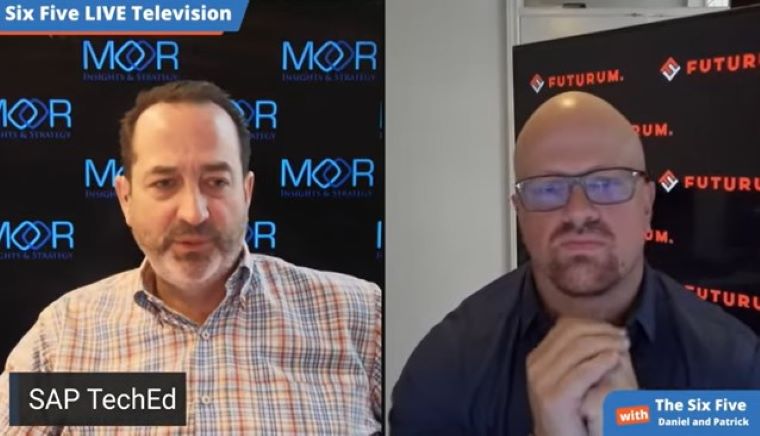 The Six Five team discusses SAP TechEd.
If you are interested in watching the full episode you can check it out here.
Disclaimer: The Six Five Webcast is for information and entertainment purposes only. Over the course of this webcast, we may talk about companies that are publicly traded and we may even reference that fact and their equity share price, but please do not take anything that we say as a recommendation about what you should do with your investment dollars. We are not investment advisors and we do not ask that you treat us as such.
Transcript:
Patrick Moorhead: This was SAP TechEd. I couldn't attend but I did watch the keynote virtually when I was slogging it away on the beaches of Maui.
Daniel Newman: Yeah, fantastic. You and I both unfortunately had to have members of our team attend. You had Melody Brew, a good article on Forbes mentioned some really good insights and I'll talk a little bit about that here in a minute. Shelly Kramer, from Futurum Research, attended the event live as well. On our end, we are very closely aligned with SAP watching the company. This year the SAP TechEd really zeroed in on one thing, the future of the citizen developer in the developer stack, meaning the citizen developer all the way to the traditional software developer and how SAP is really focusing on enabling that particular group to be more successful to build and run on SAP. And the company actually launched a low-code solution called SAP Build. And that whole idea there was to empower a broader and think about, we've talked a lot about power platform on this show.
So SAP is heading more and more aggressively down that path as well. What they need to empower people in your financial analysts, your supply chain workers, your operations staff, your sales team, how do they build systems, monitoring tools, analytics, process automation and various applications to  be more successful. And then how do you build this in such a way that you can really support the continuum, those that are complete novices that really don't know how to do more than email and do Zoom calls all the way through your highly capable coders that understand different programming languages and are able to develop applications and all of those. It's about up-leveling and upskilling. So while effectively SAP Build is a new thing, what they really are doing is taking a group of the different solutions that the company has offered in the past- I believe it's Work Zone and one other.
And what they're doing is really trying to simplify the product application development life cycle, taking together compliance, governance, security, management of the app development ecosystem and making it more accessible and simpler for more people to do. Make it more visual, make it more seamless, make it serverless using basically varying tools, data and models to be able to scale up rapidly applications. So a couple of key data points that I identified was that there are a number of automation tools that SAP is putting inside of Build to make it easier for users. I believe it's over 130 and this is going to enable companies to, the users, these low coders to be able to build and automate and make sure they're building useful applications that work. There is integrations with Google, there's going to be UI development tools. So not only is it the back end of being able to build the application to run and also build tools and build visual tools that help applications be seamless and easier.
That's always been one of the problems I've seen Pat with low-code tools is the apps that get developed really look like something that was created in a 10th grade computer science class. So this is an opportunity of something that can be built to make more non IT folks build apps that are usable but also that look like they're been developed by real coders. In the end, real coders are low coders, low coders and no coders. That is where the future is heading. But to me, Pat, there was a lot going on at this event, but the SAP Build topic was probably the most in focus. And that is all about the fact that we have not enough developers, too many application and data requirements. How do we bridge this gap with people that have the capability to be thoughtful and understand their business and build important applications, make it seamless, make it simple, and keep them on the SAP platform. So there's my TechEd in a quick wrap. Wish I could have been there, but for all you out there, this is going to be something important to watch, especially if you're on SAP.
Patrick Moorhead: Good analysis Daniel. And a little bit of context in the company itself, it really is a company in transition. It's moving, it's a very strong on-prem, some might say legacy player who's moving to cloud SaaS and automation. We've seen some incredible success on the cloud side, reasonable success on the SaaS side. And what you're seeing here is really stepping up the automation. You and I have talked for many segments about the software trend of people going to stacks and SAP has their stack, it's called business technology platform. It takes data and analytics, adds it to AI, application development, automation integration in one unified environment that looks, smells and tastes the same. I think what's unique about this is first of all, most enterprise Fortune 2000 ERPs are based on SAP. So instead of here's the alternative, which a lot of companies are talking about is either surrounding your SAP ERP, and that's a lot of what Microsoft is doing, aside from if you have a Dynamics 365 supply chain or ERP solution or let's say you are a company like ServiceNow where it's, "Hey, let's ETL a giant amount of data and then work on it in some sort of a data warehouse."
Well first of all, ETLing anything is typically expensive because you're copying the data into something else. And secondly, it's not real time. You and I have talked a lot, also a lot Daniel about connecting the front end to the back end. So it's actually an elegant solution from the point that you actually have people who know what they want, they can drag and drop to click to build an app. It really holds the context of the true data, not necessarily data that's been ETL and massaged and moved. And in a way, if I were their marketing person, I would be talking about them unleashing the expertise of the business users. Pretty good play. Of course, people can throw stones and say they should have had it a few years ago, but there aren't a ton of people who are exiting SAP for the doors. In fact, most of them are moving to the cloud and I see SAP and Oracle trading a lot of punches.
We see every quarter Oracle saying how many SAP customers it's stolen and then the next quarter we see SAP talking about all the new business they have from Oracle. It is fun to watch and we can both agree, Daniel, that the competition is really good.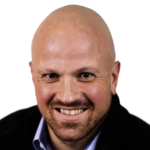 Daniel Newman is the Principal Analyst of Futurum Research and the CEO of Broadsuite Media Group. Living his life at the intersection of people and technology, Daniel works with the world's largest technology brands exploring Digital Transformation and how it is influencing the enterprise. Read Full Bio