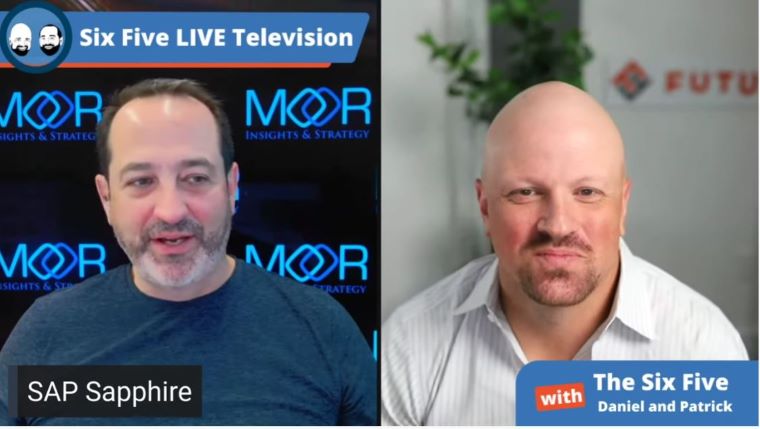 The Six Five team dives into the recent SAP Sapphire Event.
Watch the clip here:
If you are interested in watching the full episode you can check it out here.
Disclaimer: The Six Five Webcast is for information and entertainment purposes only. Over the course of this webcast, we may talk about companies that are publicly traded and we may even reference that fact and their equity share price, but please do not take anything that we say as a recommendation about what you should do with your investment dollars. We are not investment advisors and we do not ask that you treat us as such.
Transcript:
Patrick Moorhead: Let's move to SAP Sapphire, you and I both made the trek, and actually had a great conversation with Christian Klein when we were there.
Daniel Newman: Yeah, it was great, Pat, there's some great pictures of you and Christian, and us and Christian, and it was great to have a chance to speak with him. What a young, confident, articulate CEO, it was our first time having a chance to sit down individually with him. Very impressed. I walked away not only impressed, but I felt, I liked him. I mean, I felt the same way with Arvind at IBM, but very contrasting in terms of experiences and communication styles, but it was great. I mean, look, another event, back and live again after a several year hiatus, I think this was my seventh or eighth Sapphire, so it was not my first, and it was much smaller. I think they had about 7,000 total people, which is fraction to the size that the event currently is.
SAP is in the middle of a number of different transformation, and basically they transform as companies transform. Digital, we heard this thematically over the last week, technology is going to solve the problems, the economic problems, the technological, the personnel problems, it's going to be driven by tech. And companies are all trying to look to their software providers, in many ways, to give them the options. And Pat, by the way, in a study that SAP did with Boston Consulting, the numbers are still not great, 80% of companies are looking at digital to solve their business problems and only 30% feel that they're actually achieving their, quote unquote, digital transformation. So going back more than half a decade to when I started writing about that, we have a long way to go.
What was the focus here. Well, SAP focused on three or four different things that I thought. Intelligent business networks and supply chain was in focus. They rolled out some new mobile apps, SAP Warehouse Operator, Direct Distribution, so those were some new apps that were made available in their store. They've got their new SAP digital manufacturing cloud, we've seen this sort of migration towards verticalized cloud technologies. We've seen it from SAP, some other companies, Salesforce, Microsoft, Oracle, many of them are doing this. It's important that companies feel that you understand their business needs, and I think SAP is addressing that.
Another thing, and Pat, we were able to address this with Julia White and with Christian in the Analyst's Summit, but sustainability, SAP is the kind of company, with hundreds of thousands of customers running their software, their ERP and their backend, and of course, other applications, they're going to be looked to help solve this sustainability challenge. We've been asking more and more of these executives that we've been talking to and saying, "Hey, how are you taking all this, quote unquote, talk, and turning it into something meaningful?" Well, SAP did launch what they're calling the Cloud for Sustainable Enterprises, and an SAP product footprint management, so that companies can better understand the carbon footprint that they're creating. So these were things that were also rolled out at SAP Sapphire.
And then of course, probably the most important thing, and I'll just kind of tease into this one, Pat. Well, I'll tease into two, and maybe I'll see if you want to pick these up so I can leave a little oxygen in these. But one is, more and more low-code no-code, so you're seeing more and more low-code no-code coming out of their process, their AI business, their various learning journeys, so that they can get more people, more analysts, more non-developers, to be able to build in SAP.
And then lastly, Pat, we're really watching what they're doing with RISE, with their partnerships with RISE, because the market wants to see more and more SAP customers move to the cloud. You've said this really well, they've been a little bit apologetic about the pace in which they've been able to move customers to cloud, but in the long run, they have a massive customer base that have very complex data and ecosystems, architecture, compliance, and regulatory needs, and that they need to move with their customers at pace. The RISE program has been successful so far. I think, from talking to Christian, they want to move that along faster, but that's going to be one of the keys to its next wave of growth is getting more and more of their customers in the cloud, but good event.
Patrick Moorhead: Yeah, I think I'll take a different tack here. It's funny, my relationship with SAP goes to back to 2000, but my relationship with them in terms of analyzing them as an industry analyst is pretty short, it's recent, in the last year. So, I was really there to get a full dose of Christian, his leadership team, and what does he want the company to become? And I think to understand and appreciate where the company is going, you have to understand where they are today.
So first off, they're the backbone for the companies that really make the world go around. They service manufacturers of hard goods, and they're number one in market share in ERP, number one in procurement, number one in SCM, number one in HCM, number one in data management. And if you add Qualtrics, number two in CRM.
The challenge though is, I think at least from an investor point of view, is people look at that number one, number one, number one, and it's like, "Well, okay then I guess that means that you'll grow with the tamp." Well, what you have to understand though, is that a lot of SAP's customers, because their data and their operations are at the center of the entire company, it's not that you can just blow that off really quickly. Because a lot of this has to do with the operating system of the company, it's how business gets done, it's how PO's get made, it's how you order all your cogs and all your materials. I mean, it's how you manage your people, and you can't just fire that off the cloud kind of willy-nilly because it's really not going to do you any good, because you're just doing a lift and shift.
But, the key here is, SAP is going modular, right? I remember a day, one of the reasons that it's so hard to upgrade to a new version of SAP is because you had to do an entire roll of the entire software stack, every application that came with that. Like SaSS companies, SAP is going modular. And I think what that means is, hey, if I want to update this module over here without having to do a complete update, it operates more like a SaSS model.
And a very successful program that we've talked about on the show here is RISE, and that's essentially getting people into the cloud, but not just doing a lift and shift. A lot of customers could just throw this into AWS and call it a day, but it's the business process design and redesign that makes sense. And essentially, RISE is all about doing that business process redesign, which takes a long time, cloud migration, and then once you get a platform that is agile, it's all about innovating.
And I have to tell you, when I look at the metrics, and again, I'm a relatively newbie at covering the company, their cloud revenue is very respectable. I mean, last quarter it was 25% growth, and then when I look at where they are with S/4HANA momentum, 71% increase in the first quarter. So, when I jump in and check out the company, I'm also looking at growth areas, industry cloud, business process intelligence with Signavio, business network with the Catena-X, and there were some automotive announcements too, essentially get a network of suppliers all on the same page. And this is exactly what the company is trying to do with sustainability.
Let's say you had a policy that you would only buy from certain suppliers that met a certain sustainability criteria. Because they're part of the network, you would know exactly who you could go to without having to take them through your laborious process. Heck, Daniel, every time you and I get onboarded with a company, it's kind of a nightmare, wouldn't it be nice if we only had to do it maybe one or two times across hundreds of our customers? And we could just do the check box and it was kind of a push button process?
But no, I was very impressed, even the 15 or 20 minutes we spent with Christian was very enlightening. He seemed very open to feedback, maybe some constructive criticism and recommendations, and I think, listen, with the new world out there and new leaders, that's exactly what you need.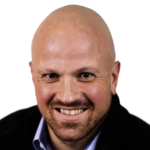 Daniel Newman is the Principal Analyst of Futurum Research and the CEO of Broadsuite Media Group. Living his life at the intersection of people and technology, Daniel works with the world's largest technology brands exploring Digital Transformation and how it is influencing the enterprise. Read Full Bio