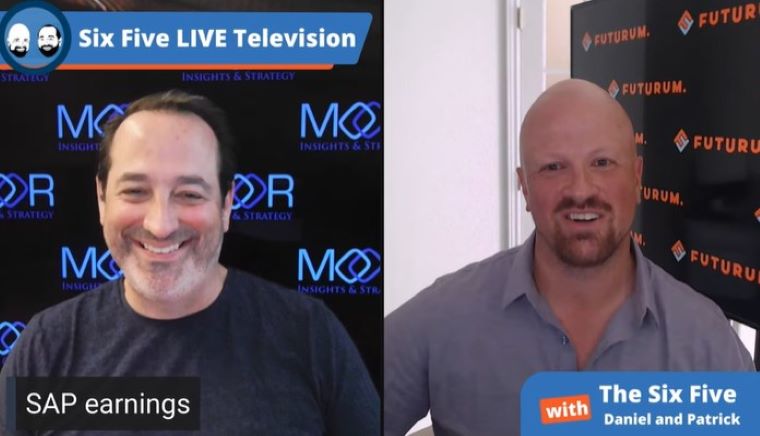 The Six Five team discusses SAP's latest earnings.
Watch the clip here:
If you are interested in watching the full episode you can check it out here.
Disclaimer: The Six Five Webcast is for information and entertainment purposes only. Over the course of this webcast, we may talk about companies that are publicly traded and we may even reference that fact and their equity share price, but please do not take anything that we say as a recommendation about what you should do with your investment dollars. We are not investment advisors and we do not ask that you treat us as such.
Transcript:
Patrick Moorhead: SAP earnings. European company, did we see the opposite effect on currency?
Daniel Newman: We sure did, Pat. We saw a company that showed strong revenue, a beat on the top line, but missed on the bottom line. And boy, it was a bit of a surprise. I don't think, and that's exactly where this whole FX- and then of course this prolonged and high pressure dealings with the extraction of revenues and businesses from the Ukraine and Russia war are starting to show their what did I say? Rear their ugly head, Pat. And so it was again, beat on the top, miss on the bottom, but here, Pat, I don't want to hyper focus on that. I think you said in the first segment, we're not equities analysts. So let's look at what the technology story is behind these numbers. And the technology story is people want to see SAP move to the cloud. They want to see that there is more ambition, growth and adoption there.
And I think that's what we got in their Q2 2022 numbers, Pat, you saw big backlog growth. Their cloud backlog growth was up 34%, cloud revenue match, SaaS revenue up 35%, their PaaS revenue up 50%. So you're seeing more projects, more users adopting and moving and migrating. I think they said something like they got now about 2,258 companies that are in transition to the cloud. And they're scaling, they do some infrastructure, but they're really scaling on a platform at $1.3 billion in revenue there, 40% growth. They're seeing really strong growth across their BUs. And they of course are seeing the cloud revenue accelerate, something like 24% is what they're showing.
So kind of a quick breakdown, Pat, 24% on cloud revenue, 72% on S4 cloud revenue, their backlogs up 25%, their S4 HANA backlogs up 87%.
And then of course they still have that big chunk of Qualtrics that's showing 39% growth. And I think Pat, that's the underlying story you look at like SAP and Oracle, Oracles going at it a little differently with their own IaaS SAP does this on a custom type basis, but largely is in the partner. Azure sees a lot of SAP workloads. AWS sees a lot of SAP workloads. And I think what SAP is trying to do is use the clouds that are most highly adopted, which are those two at this juncture. Despite Oracle's really impressive recent growth, as well as Google and try to make it the whole rise program, making that transition pretty smooth, pretty seamless. And I think the company's accomplished that, but these numbers are good. The fact is the missing on earnings was something that is 100% associated to FX. This huge strength of the dollar totally offset what the company expected.
And by the way, this all happened during the quarter. This whole dollar movement was not something that was going to be fully predictable. So with all that in mind, my take Pat is it was a pretty good number and your tweet by the way, one of the best out there. So everybody check out @PatrickMoorhead. I write articles about earnings. Patrick writes bomb-ass tweets about earnings. And so he's got a multi slide, fully fleshed out data driven slide deck that he put on Twitter. That if you just want the cliff notes, it's a great place to get it.
Patrick Moorhead: I appreciate that Daniel, but I do read your articles though. But not to create my tweets. I'm not plagiarizing, I promise.
No, listen, Daniel. I think my big takeaway was continuing progress in the cloud. And I just love that the company has the courage to literally put out IaaS, SaaS and PaaS numbers. If you look at the drill down the supplementary deck, these folks aren't hiding anything. So when they decided to truly lean into the cloud, they also did that with the opacity of a company with confidence or sorry, the transparency of a company that has confidence, even though their strategy, they are not trying to be good at IaaS, in fact, they're really not doing that. They're working primarily through partners to do things like lift and shift.
So what I want to focus on is I think for me, the bottom line is they're executing to their strategy. What did Christian and the board tell investors? They said they were initiating the ERP transition to cloud. Well, we talked about their backlog. I think it's at 87% S4 HANA current cloud backlog. They're scaling as a platform company. I talked about the PaaS number PaaS revenue is over $1.3 billion and PaaS revenue growth is 40%. Christian also promise to deliver growth across cloud LOBs, essentially leveraging business between the groups where they've had double digit revenue growth and a bunch of big wins out there.
They talked about growth. Some big growth areas with Signavio SAP business network and the cloud for sustainable enterprises. Those are the long ball that they're throwing on there. And finally they said we're re-accelerating cloud revenue growth and we were at 24% at cloud revenue. So net net, the company is executing on what they said, and it was a shame that they missed their bottom line. And by the way, I didn't do as much of the double click on that as you did, but it sounds like it was because of FX.
Daniel Newman: Well, FX and Ukraine. I mean, the transition for companies that are trying to do that rapidly is costly. And so those were the two items that the CEO Christian Klein actually highlighted. So I can only take a little credit, Pat.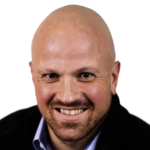 Daniel Newman is the Principal Analyst of Futurum Research and the CEO of Broadsuite Media Group. Living his life at the intersection of people and technology, Daniel works with the world's largest technology brands exploring Digital Transformation and how it is influencing the enterprise. Read Full Bio