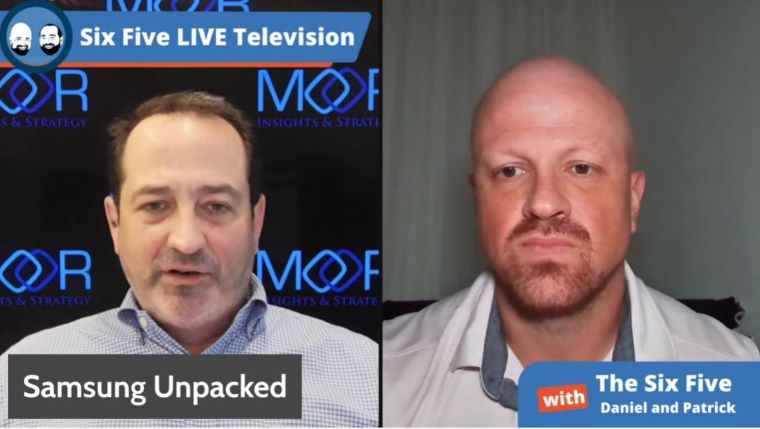 The Six Five team discusses Samsung Unpacked Event.
Watch the clip here:
If you are interested in watching the full episode you can check it out here.
Disclaimer: The Six Five Webcast is for information and entertainment purposes only. Over the course of this webcast, we may talk about companies that are publicly traded and we may even reference that fact and their equity share price, but please do not take anything that we say as a recommendation about what you should do with your investment dollars. We are not investment advisors and we do not ask that you treat us as such.
Transcript:
Patrick Moorhead: Samsung unpacked. So-
Daniel Newman: Wait, wait, wait, people like to talk about devices, Pat?
Patrick Moorhead: Yeah. Can you believe that? Just like the cloud doesn't run on error, SaaS properties and applications don't run on error either, Daniel, you only need that little device to make it happen. The overall smartphone market is down. What we've seen from Qualcomm's earnings and Apple, that premium devices very much keep going. And here we have Samsung's unpacked where they brought out two upgraded versions of its foldable smartphones. So the Galaxy Z Fold 4 and the Galaxy Z Flip 4 and they also brought out a new smart watch.
So I believe that these foldable markets require these incremental changes to essentially overcome objections, right?
And if I look all the way back in the first version, the objections are pretty much the same as they always have been, which is durability, weight and size and price, right? And the trade off on, hey, am I giving up something on a premium camera? Well, with this latest launch, Samsung incremented all of those objections down. So the displays on both of these new devices are 45% stronger than the Fold 3 and the Flip 3. That is a big deal. And last year it was an 80% improvement, this year it was a 45% improvement. I don't see people doing videos anymore that show a broken screen on the Fold or a scratch screen on there. The other thing the company did, is it powered this with Qualcomm's latest Snapdragon 8+ Gen 1, which is a total improvement to the overall package in terms of battery life, in terms of performance, compute performance, AI performance, and GPU performance.
That also got an upgrade on the wireless part, where for the first time the foldables were supporting 6E wifi, which is better for connectivity, not only from a range perspective, but also from a performance perspective. So we also saw a full Qualcomm offering, right? There's no Exynos in any of these folds, which again, a big shout out to Qualcomm. That didn't surprise me, given Qualcomm's previous announcement about Samsung going all in on premium Galaxy S devices. But it was nice to see when it came through that there was no Exynos in this line.
So big improvements. Little improvements like 12L Android, which gives better multitasking support, which when you're looking at a foldable is a requirement because you're essentially doing a lot of windowing and you're doing drags and drops and copies and paste between these different apps. The final thing I'll talk about, which I'm going to admit, I'm not a huge fan of is, they added the task bar, which gave yet another way… so there's now two different ways to multitask when you're actually looking at the device. I think it could be a little bit complicated, but I'm going to have some patience and go from there.
Final comment, big picture. The fold line, half of their sales are coming from Apple users. So Samsung finally has found a way on the most premium of devices to be able to go after Apple folks. And I'm not expecting that we're going to see a foldable iPhone anytime soon, but I guarantee you, there are prototypes available and Apple working on them just in case.
Daniel Newman: Yeah, will Apple ever change its ways. We'll spend some time talking about Apple and its defiance and brilliance together one time as we get to the end of this show, I think the last two topics are both Apple related. The unpacked events, Pat, I've not followed as closely as you, but I did read your Forbes piece, second plug this podcast. But you actually did a really nice long dive on this. And there was a lot to announce there. Look, first of all, the whole Galaxy line is moving rapidly to being more on par with the Apple line.
And by the way, performance wise, that's not really new, but I think in terms of perception, that is something that's taken a lot longer. You look at everything from the new watches to the new buds, the packaging, the feel, the touch, the look, these things are coming a long way. As I am traveling overseas, you do see a lot more by the way, Samsung and Android use and when you leave the United States. So it is interesting, I saw Folds on a number of different trips this week, where I actually saw them… I know. I was saying like, I never really see them in the wild, in the States. And that just kind of further exemplifies the popularity that Android. Samsung and premium products have outside of the US.
I think we're a little bit misled as to the whole world, because we are so ethnocentric here in the states that believe the whole world always does everything like we do. But having said that, Pat, the Folds are just brilliant. The whole idea of a device that gives you multiple surface, more surface when you need it, gives you multi windowing. As I say, we are moving to a world where our more mobile device is our number one. If it isn't already, hey, Mr. Fold. It is our number one. And, while the PC has proven to be essential, Alex Cho will like that I said that from HP, during this pandemic, what we will find is that in the end we do first and foremost, tend to rely on our mobile devices.
So having a mobile profile that allows us to do more and more of what we need to do is only going to add value. And of course, Pat, you mentioned this, I think it's also worth mentioning, the decision by Samsung to double down on Qualcomm was smart. It just is. You and I are both very bullish on Qualcomm. We've worked closely with the company for a long time, we see how well the technology works, but this is going to make their phones more competitive. Look, everybody out there whether you're an Apple fan or not, there's a reason that Apple keeps coming back to the Qualcomm well. Apple has spent a fortune trying to vertically and horizontally integrate everything so that they never need a supplier like Qualcomm. And to this point, they still do.
Samsung doubled down on its relationship with Qualcomm as well because despite its own capabilities to manufacture chip sets, they still find the performance and customers are clearly getting a better outcome when they work with Qualcomm on that premium tier. This really sets us up nicely for the next topic, Pat, a good launch for Samsung, a deepening line, an improved perception, strength at the top tier. And by the way, let's not forget for a minute that the fallout has not been a bad thing for Samsung in the Android space. They've certainly been able to pick up the ball. We talked about this last week with Motorola as well, but there's been more market for both those companies. So unpacked has now been unpacked.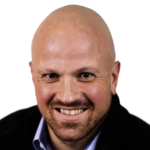 Daniel Newman is the Principal Analyst of Futurum Research and the CEO of Broadsuite Media Group. Living his life at the intersection of people and technology, Daniel works with the world's largest technology brands exploring Digital Transformation and how it is influencing the enterprise. Read Full Bio