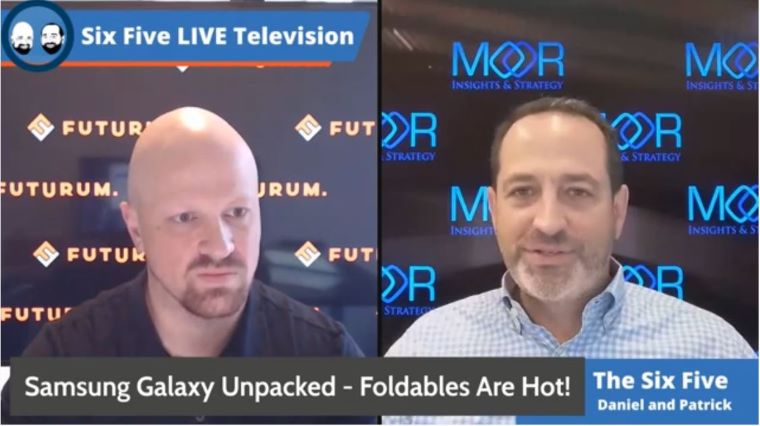 The Six Five team unpacks the Samsung Galaxy Z Fold.
Watch the clip here:
If you are interested in watching the full episode you can check it out here.
Disclaimer: The Six Five Webcast is for information and entertainment purposes only. Over the course of this webcast, we may talk about companies that are publicly traded and we may even reference that fact and their equity share price, but please do not take anything that we say as a recommendation about what you should do with your investment dollars. We are not investment advisors and we do not ask that you treat us as such.
Transcript:
Patrick Moorhead: Samsung Galaxy unpacked. We have foldables, we have watches, we have earbuds and everything in between. The thing that I wanted to focus on was the foldables. Now, this is the third iteration of the foldables. I have mine right here, at least one of them. This is about all I can show under my agreement. That is the Galaxy Z Fold3. That's the larger version, and then I didn't bring the other one, which is the flip. Third generation and what I'm seeing here is a continual iteration year after year to make this market happen.
What Samsung did characteristically was very similar to what they did in their latest iteration is they made them more durable, they made them faster. Didn't make them lighter or thinner this time, but that's okay because they radically did this before. They improved the display and they lowered the price. In fact, I did a price comparison on a bundle and you can get the Z Fold3, which is the big one which is the one with the monster display on it, for about $400 more than buying a high-end iPhone Pro, so iPhone 12 Pro Max.
We're really honing in on something big, and if you want to look at the fold and look at the classic iPhone 12, you can actually get that bundle with earbuds for a hundred dollars less than you can get an iPhone 12. I feel like this is where the curve starts to go up dramatically and very similar to kind of the curve that we saw when large form factor phones came out. We used to call them phablets where volumes were super low, in the millions, and you saw this just hockey stick curve up and to the right. I would be surprised if Samsung increases volumes by 5X, particularly on the flip at that price point, and then it'll be interesting to see Apple before phablet says, "We're sticking to our guns. If you want a large form factor device, we have a 6-inch iPad for you, and now we have 7-inch, well, 6.7-inch devices."
The only other comment that I want to make on their announcement is watch, so Apple Watch is, let me just say it, it is the gold standard of watches right now, and I don't mean all watches, but basically smart watches. The reason is is Apple put so much performance in there and so much storage and memory that it can actually run applications. Samsung initially took a divergent view and so did Google where it was primarily really just for notifications, but what happened is, I think, people expect to actually have applications on their watch and not just notifications or some mirror of what's on their smartphone.
Google and Samsung got together on this Watch4 and created an operating system that is a lot beefier. The specifications and the chips are a lot beefier. It uses N5 processor TSMC. Notice I did not say 5 nanometer because it's not 5 nanometer. It's TSMC and 5 process. We're going to see, we're going to get it on, and I have the new watch at home. I'm going to give it a test, but this could be the beginning of some real competition for Apple Watch.
Daniel Newman: Well, as I said, we must unpack and unpack I did. Listen, Pat, a number of pretty exciting announcements there. How's the crease? You're actually a power user. I've watched you use this fold. He's not one of these people that just gets them and is like, "Hey, everybody, look on my Instagram of me using." I've watched you use this device for some time. How's the crease now? That was my big concern. Is the crease holding up pretty well?
Patrick Moorhead: Yeah. This is actually the fourth generation of the crease. What they did is they enclosed it. You used to be able to get debris underneath the screen at this crease, and what they've done is they sealed. In fact, they've sealed it so well that it's IP68. That means it's water-resistant, and what they did is so they basically have a seal between the display so you can actually get water on this thing and it's supposed to be okay. They also came up with a new screen from Corning called Gorilla Glass Victus, which in terms of sub-brands, kind of give me a break, but it is the best that you can get.
The final thing that I didn't point out that I should have was that they added pen support, so what they did is they worked with Wacom with a special pen that's made for this device. You can use it and have the same functionality that you would with a Note. I think as it relates to any Note user or anybody who gets into pen, or even a frontline worker, let's put a case on this thing with a frontline worker with a pen doing check boxes and signatures and stuff like that, I think it increases the market size extensively.
Daniel Newman: That's when you ask analystic question that was just, "Hey, how was the crease?" That's what you get. That's the answer you're going to get-
Patrick Moorhead: I'm-
Daniel Newman: … no, it's great. 60 seconds, I just want to bring one thing to the attention that you normally talk about because you covered it really, really well, but as a side bar, last week we talked a lot about the whole Google and putting their own chips in the Android phone and particularly partnering with Samsung. Well, a week later, the company hasn't changed their direction there necessarily, but Qualcomm, Android, and Samsung came out with a joint release that the three companies are going to work deeply around the new Z Fold3 and Z Flip3, which are the foldable based on the flagships Snapdragon 888.
If you kind of wonder what is going to power this next generation of foldables, it is going to be Qualcomm, and then Google is going to be working closely to create these very immersive experiences to be able to use this foldable surface. Anyone that's used whether it's the Microsoft Duos or has used the fold realizes it's not the same as a normal Android device. There's a lot of work, a lot of development that went into it. These three companies are partnering together very closely. That's creating a lot of benefit for all of the users and using these leading-edge best-of-class technologies and working together is what's going to make foldable a thing. By the way, I do believe we're getting close. Two years ago, I wasn't buying it. I see the value, I see thy light. Pat, thanks for unpacking that one.
Patrick Moorhead: Yeah, you got it, and the last thing I'll throw on the fire is for the first time, Samsung is actually saying it's using a Qualcomm chip. Before, it said it's using an Octa-core or something like that.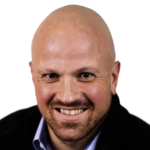 Daniel Newman is the Principal Analyst of Futurum Research and the CEO of Broadsuite Media Group. Living his life at the intersection of people and technology, Daniel works with the world's largest technology brands exploring Digital Transformation and how it is influencing the enterprise. Read Full Bio