Salesforce Slack-First Launch
Salesforce Slack-First Launch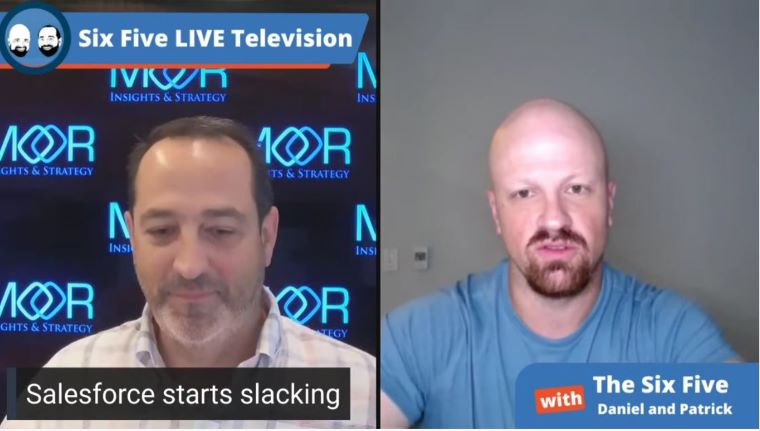 The Six Five team discusses Slack and Salesforce collaborating so teams can stay connected, productive, and get work done anywhere.
Watch the clip here:
If you are interested in watching the full episode you can check it out here.
Disclaimer: The Six Five Webcast is for information and entertainment purposes only. Over the course of this webcast, we may talk about companies that are publicly traded and we may even reference that fact and their equity share price, but please do not take anything that we say as a recommendation about what you should do with your investment dollars. We are not investment advisors and we do not ask that you treat us as such.
Transcript:
Daniel Newman: So the first topic of the week is Salesforce Slack. So if you've been living under a rock for a while or you're not following the tech industry very well, Salesforce invested, spent, made a purchase of Stewart Butterfield's Slack, a very well loved collaboration and asynchronous chat tool for something like $27 billion and change. And that happened a while ago, that news cycle passed, but what did happen in more recent weeks was that deal closed. And so now, SlackForce as you so affectionately like to call it, Mr. Moorhead, is official and it moved forward. And this week, the company came out with its first big sort of Slack Salesforce, what does it mean for customers launch.
Now this thing, it was an online events because, well, unfortunately, we are still in the world where everything is online. Oh, by the way, we'll talk about that later, right? But anyways, so kicked off by Salesforce president COO, Brett Taylor joined by Stewart Butterfield, and essentially, there's two themes I'd like to spend a few minutes talking about. One is what was actually announced and what it means, and two, what I think it's going to ultimately mean.
So what they're doing here is they're basically creating this series of what they call Slack first offerings, three different silos, right? You've got the sales silo, you've got the service silo and you got the marketing silo. And what they're really talking about is how thematically, we take collaboration as this core digital IQ of a company and enable people to, instead of operating out of inboxes and operating out of various different messaging tools and operating out of different video tools, how can you create Slack as the center of the universe or the enterprise's way of doing business? That could be tying into ERP and CRM, that could be tying into customer experience, that could be tying into big data analytics tools that are used for creating customer experiences and marketing.
And if this sounds a little bit like what you've heard Satya Nadella talking about with Teams, that's because it is very similar to what you're hearing Microsoft talk about with Teams. And the reason I bring that out is because with the acquisition of Slack, what we essentially have now is a bit of a two horse race for what I'd say a fully vertically integrated stack of collaboration, business applications, synchronous, asynchronous communications, and then this platform idea of being able to tie in all of these different business applications, tools and utilities inside of an organization and make them usable by people in all different parts of an organization, whether it's a frontline worker, an accounts payable person, sales team member or someone in the marketing team.
So quickly back to the three silos, Slack for sales, which is all about developing and designing faster sales cycles. So the company did a bunch of research, came up with the fact that using Slack to drive the sales process forward, you're seeing something like 15% faster sales cycles. Again, I don't think it's specific to Slack, it's more specific to using that asynchronous real-time communication, but building that in and integrating it into the CRM pipeline. That's where your magic sauce is created. Then you have the service vehicle, similar because service and sales to me, very similar in the identities but one is about gaining customers and the other is about keeping customers. And what they looked at is how does Slack and integration into this service Cloud with Salesforce actually speed up resolution. And that same research found that there was about an 11% reduction in the time to resolution if you use the Slack first approach.
And then finally, it was the Slack first marketing, and that's essentially all about decision-making, so that one's a little more ephemeral. But the survey didn't come out to say something like 76% of the marketers that are using Slack as part of their decision processing for making marketing campaign decisions did find that using Slack in combination with their traditional marketing tools did help them move faster.
We were going to give a sneak preview to our Intel architecture, a topic which will be coming up in a moment after you react to all of the things I just said, but here's the last skinny analysis piece here. Early days, kind of cool stuff. I get the idea of Slack first, want to see more, want to hear more case studies. They did have IBM come out and talk, Arvind Krishna showed up and was there, so they did have some real examples of customers that showed up to talk about how this technology is helping these individual companies. I think Sonos also showed up, so that was good as well. But it's still early days, want to see a lot more integration with the platform, want to hear more from customers that are integrating it. And like I said, big two horse race and of course, you can't count out Zoom, you can't count on Cisco, but they have a huge advantage that they're now tying to collaboration to the business tools in such a seamless, ubiquitous way.
Patrick Moorhead: Wow, Daniel, that was a whole lot.
Daniel Newman: I know.
Patrick Moorhead: I pretty much agree with almost everything that you talked about, but the one thing that I'm constantly looking for here is what did Salesforce do that they couldn't do without buying them? Or in other words, is there anything that they announced that they could not have done with the current API based relationship? And I'm not seeing it yet, and I'm also not seeing some incredible top-line that Slack brings to the table. But I'm open to all of it. Maybe next week, we'll be talking about how the Salesforce Plus integration with Slack is creating some new business opportunity as well. I didn't get briefed on this so I really can't comment other than what I read from you and from other folks, but hey, up to getting briefed, Salesforce, if you ever want to do that.
Daniel Newman: We've got some big topics though that you have been briefed on deeply and I'm going to dive into those. Next week, Salesforce does do earnings Wednesday so I expect to hear more. Maybe they follow up on your exact comments. You made a great point, and we don't have time to dig into that point and we'll come back to it about whether acquisition or strategic partnership makes more sense? And we have to answer that question all the time.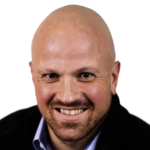 Daniel Newman is the Principal Analyst of Futurum Research and the CEO of Broadsuite Media Group. Living his life at the intersection of people and technology, Daniel works with the world's largest technology brands exploring Digital Transformation and how it is influencing the enterprise. Read Full Bio