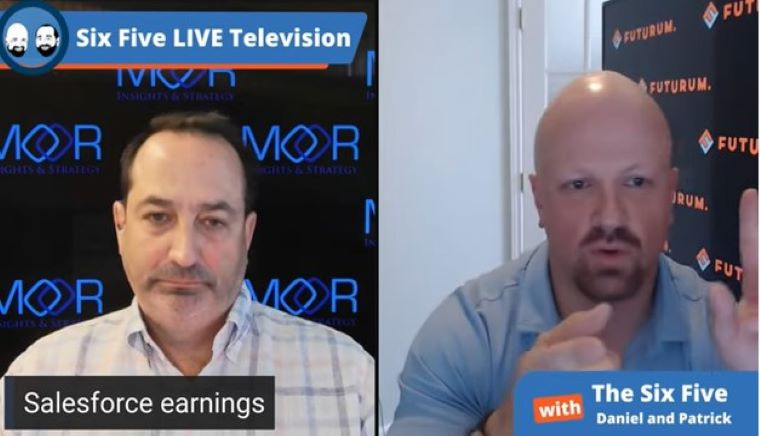 The Six Five team dives into the latest Salesforce Earnings.
Watch the clip here:
If you are interested in watching the full episode you can check it out here.
Disclaimer: The Six Five Webcast is for information and entertainment purposes only. Over the course of this webcast, we may talk about companies that are publicly traded and we may even reference that fact and their equity share price, but please do not take anything that we say as a recommendation about what you should do with your investment dollars. We are not investment advisors and we do not ask that you treat us as such.
Transcript:
Daniel Newman: Salesforce. A lot of eyes on the company. Always a bit of a bellwether in the SaaS enterprise software space. How did they do? Well, company beat on revenue, company beat on EPS, but you can look that stuff up in the news. I don't need to read that off to you. They guided a bit conservatively, which seemed to spook everyone, despite having a beat on top and bottom. And they also made their first-ever stock repurchase authorization, $10 billion. And for the beat and for the buyback, guess what the market did?
Patrick Moorhead: Absolutely punished them.
Daniel Newman: Punished them, sold hard, which seems to be a bit of a trend here, and we'll be talking about that actually, I think, with every single company we're going to talk about, Pat. But on a revenue standpoint, 26% growth, saw a very, very small decline in margin, like 50 bips. So, really strong across the board. Every quarter though, when I'm looking at Salesforce, what I tend to look at is what they call their disaggregation of revenue. And the company does a really good slide deck. So if you ever want to go to their investor relations site, check this out.
But over the last few years, they have sort of spanned out their businesses. CRM used to be known as CRM, like sales, but now they have a Sales Cloud, a Service Cloud, a Marketing Cloud, and then they have these other categories called platform and data, and those are populated by the Tableau and MuleSoft acquisition, this data, and then the Slack acquisition and the Hyperforce platform as their platform business. No surprise. The business was kind of steady Eddie, Pat.
Every quarter, I kind of laugh about Sales Cloud, Service Cloud, and go, "20%." It goes, "20%," which, at this rate of maturity, is a pretty good growth rate. Guess what? The constant currency, 19% for sales, 18% for service. Where's the big growth coming from? Platforms. Platforms. And huh, who doesn't want to be a platform company right now? Well, in the last year, the company's platform business is up 56%, hit 1.5 billion in revenue this quarter, and is just a hair and a sniff away from being bigger than the Sales Cloud.
Now, that's pretty remarkable, after all these years. Their platform business is about to become the company's biggest business. At the current growth rate, it's probably only two to three quarters away from surpassing the current biggest business that everybody knows, of course, is sales. Other areas, effectively, the company is still disproportionately doing its business in the States. It's like 65, 70% of its revenue. But in positive news, it is seeing some solid growth, especially on constant currency in APAC and AMEA, which means there is some significant growth yet to come if they can succeed in reaching these new markets.
And the other thing I guess I would say is, I kind of alluded to the fact that the market really squashed them, and I think that was basically a byproduct of Marc Benioff's comments, whether that was on his earnings call or that was on his interview with Cramer. He just seemed to be a little bit apprehensive to be confident that this next quarter would be as successful as this quarter. And by the way, that's been thematic to what we've heard on a number of the calls that happened this quarter. And that's where I'm wondering if there's a bit of a lagging indicator of a slowdown, of course, low unemployment. We feel like inflation's turning over. There seems to be a bit of a euphoria that maybe that we're not going to go into a recession.
But some of the comments this week that came from CEOs seemed to indicate otherwise, and I think that kind of led to some of that strong selling, the elongated sales cycles that Benioff was talking about. But overall, Pat… And I know you like to be a little tough on Salesforce, so I'm going to leave that open for you and let's debate, but it was a pretty good quarter. I can't really see why people were quite as negative as they ended up being.
Patrick Moorhead: So first off, I am surprised at how big that platform number is, and there's a lot of Slack in there.
Daniel Newman: Is there a lot of Slack?
Patrick Moorhead: Well, I'm assuming because it's application development, it's automation, Hyperforce, AI and data, it's security. I don't know it as well as you do, but that number still is pretty big when the genesis of the company is sales, and that 50% growth year on year. I mean, I can't argue with numbers, be it by acquisition or organic. I mean, I can take potshots at organic growth, and it's still a concern that I do have of the company. I mean, listen, they're doing really well today on the market. I mean, they're only down… They're not even down a point. Right?
And when I look at how they've done, I mean, EPS was a heck of a lot bigger than it was the prior three quarters. They beat by almost 16%, and that beat the prior two quarters, and they beat on revenue or they met pretty close, which is very similar to the last three quarters. So the guide may not have been too enthralling, but they're not taking shots right now. Listen, long term, Salesforce knows that it needs to become a full platform and ecosystem, and this is different from the way that they break out their numbers, called platform, to compete with Google, Microsoft, and even, it's funny, to a smaller extent, NetSuite, but Oracle. That's where this business is headed. Heck, when we talk about Zoom, we're probably going to talk a little bit about platforms too.
So they have a few things they need to fill in in terms of customer… Sorry, in terms of employee data. They've pulled a little bit of that in with Slack, but they really don't have access to emails. They don't have access to productivity. They have this… I don't know. I always have to look up the name again. It's called Quip, that is a personal productivity piece. I don't know if I've ever talked to a customer that uses Quip, but it's sitting there. They just introduced video into some of their chat capability, and they're going to be able to parse, not only employee data, but if they would enable something like a contact center in there.
So, interesting stuff, Daniel. I'm really investing a lot of time learning more about the company and what they do and what their strategies are, and I'm impressed.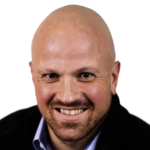 Daniel Newman is the Principal Analyst of Futurum Research and the CEO of Broadsuite Media Group. Living his life at the intersection of people and technology, Daniel works with the world's largest technology brands exploring Digital Transformation and how it is influencing the enterprise. Read Full Bio