Salesforce Announced Salesforce+
Salesforce Announced Salesforce+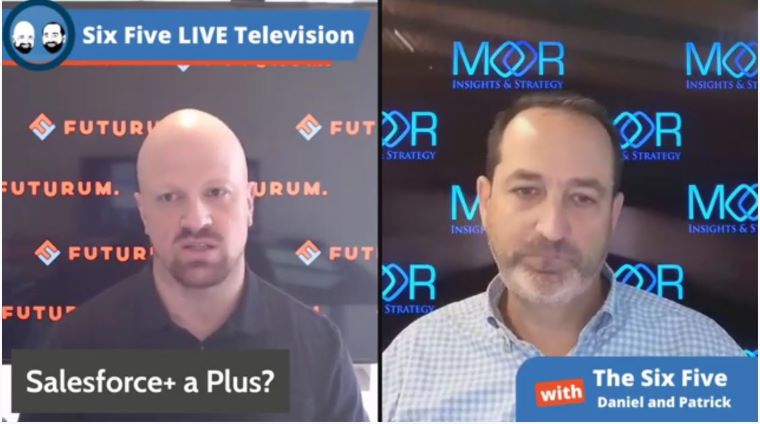 The Six Five team discusses the announcement from Salesforce of Salesforce+.
Watch the clip here:
If you are interested in watching the full episode you can check it out here.
Disclaimer: The Six Five Webcast is for information and entertainment purposes only. Over the course of this webcast, we may talk about companies that are publicly traded and we may even reference that fact and their equity share price, but please do not take anything that we say as a recommendation about what you should do with your investment dollars. We are not investment advisors and we do not ask that you treat us as such.
Transcript:
Patrick Moorhead: Salesforce looks to be competing in the video space. Maybe they want to be the Netflix of business videos, Daniel? I mean, is this a super innovative thing? Or just a company that has too much time and money on its hands?
Daniel Newman: Interesting, so yeah, we were talking about it, Salesforce Plus, which is going to be rolled out this year at Dreamforce. Essentially, it's going to start out as like four channels launched at Dreamforce. It's going to cover Trailhead, which is its training. It's going to cover a series of industry topics, so I think it's Trailblazer, Customer 360 for Success Stories. It's going to have what they call a Prime Time Channel, which is going to be like its announcements and news. It's basically going to be like the broadcast engine of this year's Dreamforce.
You got these four channels and what we've really got going on here is that it's a digital media network. Now, going back 10 years, I was saying that brands are the future of media, so we've seen whether it was when Adobe launched CMO.com, when we've seen companies come out with these brand identities sitting underneath an enterprise to inform. Well, we sort of had the reverse situation during COVID. Events used to be everything. Events were the way and, of course, anyone that knows or has been to Dreamforce knows the amount of depth and commitment that the Salesforce ecosystem has to Dreamforce.
Well, now, you don't have the same event, and even if the company does wind up being able to deliver a life experience, it's going to be this hybrid experience. How do you immerse people more closely? Well, today, we've all seen including, I don't know, maybe one of the world's greatest events called The Six Five Summit, where the biggest leaders in tech come to go. When you want to put that out, you've got to build this whole brand experience and identity.
Where does that brand experience and identity go? Well, we've seen consumer tech, whether it's been Apple Plus, Paramount Plus, whether that's been Netflix, whether that's Hulu, we're seeing all of the consumer content go towards these streaming experiences full of content that's high value and impact for people that like sports or people that like movies or people that like sitcoms and shows.
Well, Salesforce has kind of taken a two-fold approach here. The first approach is they've got their inherent customer base that really cares about Salesforce content and maybe are looking for new ways, more immersive ways to experience that. I kind of called it CNBC meets QVC. You've got this business broadcast, but it's advertorial. It's going to be content that helps people better understand the market that they're already invested in. They're immersed in it. The other side of it, though, is how does that, I know you want to say something, is this whole idea that, how do you expand that? There's so much interesting and high-impact business content.
If you are the average person perusing the internet, what you come across is rarely dictated by what you want to see most. It typically is what the internet thinks you want to see most based upon your behavior. Salesforce maybe believes deep down that when it comes to the business content that you consume, whether that's better understanding how customers are digitally transforming or specifically learning about new products and solutions that they can do a good job of helping to disseminate that information to you.
Our enterprise is going to be the next big broadcast channel. Is this a forward move or backward move going into more of a broadcast as opposed to using YouTube and using Vimeo and using an owned media site? Using social? Well, what I do see is aggregation here. How do you aggregate all of the content, put the best content in one place, make it consumable? Pat, I'll add one thing that I know you will appreciate here, and that is high production quality because the one thing that we know from doing an event when we on Skype, when we went into a real studio and we created high-production segments, those were the best performers we had as opposed to a StreamYard or a Zoom or a Webex segment, which are great, but they're not the same as doing something with high production.
Maybe we're starting to see a little bit of a pivot back to higher production video here. I think Salesforce Plus could be a plus, but it's going to take a little time to see how this evolves from being more of an advertorial network of content centered around Salesforce to, is the company going to become the epicenter of business content and take on our current business media networks?
Patrick Moorhead: Gosh, where do I start? On Trainable, Daniel, my first take is, do you do a press release? Do you do a big launch on your own internal content? No, it just seems… It was just odd to me. It seemed like kind of marketing going to town. CMO wants a press release and the company wants to look really, really smart. If they're trying to take on broadcast video, listen, I can see why a company… I think a company does need a combination of their own first-party content, and then they need attribution from third party, and some of that's earned and some of that is paid.
As I see the tech press going through its financial challenges and a lot of the top tech press that I used to follow going to Substack, creating your own channels, I think everything is up in the air. Did it warrant this big splash? I don't think so. Most companies do this and they don't even talk about it because why would other people… or why do people even care? Right? I mean, is this going to make Salesforce a stickier place? Is it going to be a destination? Am I going to want to go to Salesforce for my content as a small business and they're going to teach me how to do that?
I'm going to go to them as opposed to HBR or MIT Technology Review. I don't know. We'll see. We'll see. I'm keeping an open mind here. My initial thought is…
Daniel Newman: … and can an enterprise become the next big media? I mean, that's the question mark. Can an enterprise compete with, I don't know. Look at what Amazon's doing buying Studios. Maybe there's something here.
Patrick Moorhead: I get it on the consumer play, my friend, I totally a hundred percent. Distribution is no longer a differentiator and therefore you have to have the content. The networks are feeling that and everybody knows they have to get into their first-party content. Amazon was only a distribution play, did not have their own content, and that's why they're buying it, but I'm having a hard time, maybe I'm just not progressing enough figuring it out from a B2B standpoint.
Daniel Newman: Yeah. No, absolutely. As we move to the next one, I say is, will we start to see big enterprises buy big business media? You know?
Patrick Moorhead: Yeah.
Daniel Newman: That might be something to keep an eye on.
Patrick Moorhead: Oh my gosh, we've already seen that with The Washington Post owned by Jeff Bezos, and doesn't Benioff own… Is it Newsweek or Time?
Daniel Newman: Yeah.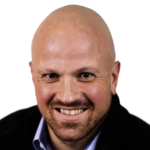 Daniel Newman is the Principal Analyst of Futurum Research and the CEO of Broadsuite Media Group. Living his life at the intersection of people and technology, Daniel works with the world's largest technology brands exploring Digital Transformation and how it is influencing the enterprise. Read Full Bio