Rogers Communications and Ericsson Advance 5G SA Network Cause with Nationwide Rollout in Canada
Rogers Communications and Ericsson Advance 5G SA Network Cause with Nationwide Rollout in Canada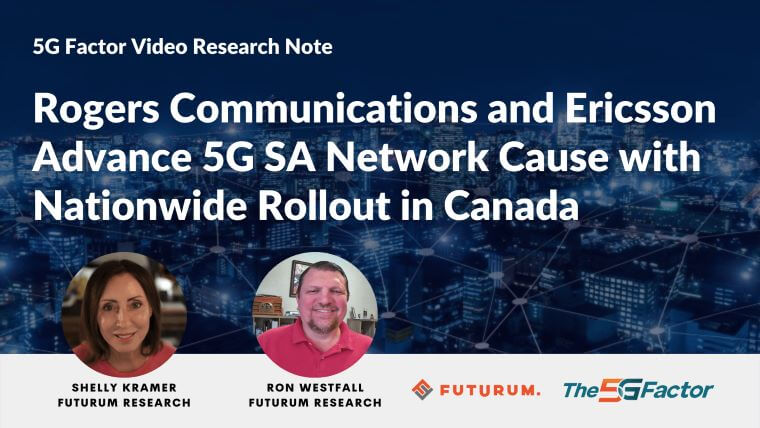 For this vignette of a recent episode of the Futurum Tech Webcast, part of the 5G Factor Series, analysts Ron Westfall and Shelly Kramer delve into Rogers Communications launch of Canada's first commercially available 5G standalone network.
Their conversation covered:
How Rogers and Ericsson have collaborated to build the Rogers 5G SA Core network on a cloud native basis with the goal of delivering more advanced wireless capabilities such as mobile edge computing and network slicing to broaden 5G market coverage and service innovation.
The deployment indicates the services Rogers anticipates are the best 5G monetization opportunities from its nationwide 5G SA network. These include dedicated private networks, consumer AR/VR, public safety, and IoT build.
With the commercial availability of the 5G SA network, Rogers is promoting the certification of 5G devices across its network with the Google Pixel 6/Pixel 6 Pro getting marketing emphasis.
Ron and Shelly believe that as mobile operators expand their 5G SA network builds, they will offer services that will parallel the areas that Rogers touted with the commercial availability of its 5G SA network. This includes consumer AR/VR services, such as 5G multi-player AR gaming, providing valuable experience to potentially offer business AR/VR services to support WFH/hybrid workforce applications such as remote R&D, remote training, and digital twin collaboration to advance their overall 5G monetization objectives.
Watch the video vignette here:
Watch the entire episode here:
Or stream the audio of the entire episode here:
Don't Miss An Episode – Subscribe Below:
Disclaimer: The Futurum Tech Webcast is for information and entertainment purposes only. Over the course of this webcast, we may talk about companies that are publicly traded and we may even reference that fact and their equity share price, but please do not take anything that we say as a recommendation about what you should do with your investment dollars. We are not investment advisors and we do not ask that you treat us as such.
Transcript:
Shelly Kramer: So, moving along and touching base on something happening in our neighbor to the North, we're going to talk a little bit about Rogers Communications and their launch of Canada's first commercially available 5G standalone network. We've had two snippets of conversations so far in this broadcast about the importance of 5G standalone networks. Here's yet another example of somebody showing some leadership on the rollout of 5G technology and launching this. And really let's talk a little bit about some more of the benefits that this will bring to customers, Ron.
Ron Westfall: Yes. I think, it's significant. Because anytime you see a nationwide 5G standalone network rollout that forms the basis for the claim of the first commercial one in a country, that's big news. And I think what's very important here is that Rogers is, I think, pointing to how operators can use 5G standalone networks to really drive the use cases and services that will enable them to up the revenue streams and really put the pedal to the metal in terms of making money off of their 5G network investments. And what's integral to this is that they partnered with Ericsson and Ericsson's the sole supplier of the 5G core.
Shelly Kramer: Oh cool.
Ron Westfall: And that is really… Yes.
Shelly Kramer: Yeah. I didn't know that. That's awesome.
Ron Westfall: Yes. Yes, indeed. And that's an important takeaway. Because the 5G core is really going to be that element that's going to make the 5G standalone networks agile and able to support ultra low latency and deliver network slicing capabilities and distributing mobile edge computing capabilities and so forth, just aggregating it and so on. So, that does then indicate, okay, with these capabilities, what are the use cases and services that Rogers is looking at in the immediate term to deliver?
And that includes dedicated private networks. We've certainly had talked about that and how that is certainly an example of how operators can make a difference, because they have the in-house mobile expertise to really deliver either a managed private network service or play an integral role if a enterprise is doing kind of a do-it-yourself approach to do it. So, either way, this is, I think, an ample opportunity for operators to show their mettle and how they can definitely make a difference in terms of using 5G to drive a dedicated private networks that's aims at specific verticals.
In addition, consumer AR/VR, I think we've seen Nreal, it's in Asia. And what I think is interesting is, for example, multi game, I mean, multiplayer AR gaming. And I think this is something that will definitely gain traction, because as more and more users have 5G phones, 5G devices, et cetera, they're better able to take advantage of this capability. And it stands to reason, because we know gamers are a hardcore bunch and that they will be willing to spend on getting the latest abilities to gain an edge, for example, in the competition, or just being able to experience, have a great experience.
And it's not limits to only gaming. Obviously, there are VR capabilities and so forth that are adjacent to it. In fact, I think Rogers, once they prove how they can sell 5G AR/VR capabilities, will have the ability to better sell into the business side, because of work from home and digital workforce scenarios, where people who are working from home need to use AR/VR for things like research and developments for training, for digital twin applications and so forth. So, yeah, I think there's a real clear tangible upside to this.
The other examples are public safety, critical infrastructure. And that includes a host of capabilities such as drone technology, such as autonomous driving capabilities. All these things can definitely come together to make a smart city safer or to do it on an automated 5G network basis. And I think this is something that we've been talking about for a while. But I think Rogers is showing the momentum as how this can really be delivered in a high profile use case scenario.
And then, what is also, I think, important is the fact that internet of things, something that was really joined at the hip with the initial 5G network conversations and earliest deployments. And then, it kind of got dialed back because non-standalone networks really weren't ready to scale and monetize internet of things on a mass scale. But I think with standalone networks that will change. So, we're looking at the continuous build out of IOT capabilities, sensors, and so forth, that can be orchestrated by a 5G network and allow operators to monetize that on not just a mid term, but certainly a long-term basis.
So, taking these all together, I think, it's an important announcement. It's also interesting that when they're talking about their 5G device certification, that the Google Pixel 6 and Pixel 6 Pro smartphones were highlighted and that's good news for customers and ecosystem, because we know at least in North America and other markets that Samsung and Apple dominate, 5G smartphone handsets, and this could be a nice way to rustle things up. And I think it's interesting that Google's getting this high profile announcement to help drive awareness of, "Hey, we got something to offer the 5G customers out there." So, it is just an encouraging announcement across the board.
Shelly Kramer: I had a Google Pixel phone for a while. Somebody gave it to me and it's actually a really cool phone.
Ron Westfall: No doubt. Yes. I think it's just a matter of being able to have the opportunity to kick the tires and understand there are real choices out there that can save you money or deliver a better experience and so forth.
Shelly Kramer: Absolutely. Well, good stuff. Good stuff.