Repatriation Back in the News – 37 Signals
Repatriation Back in the News – 37 Signals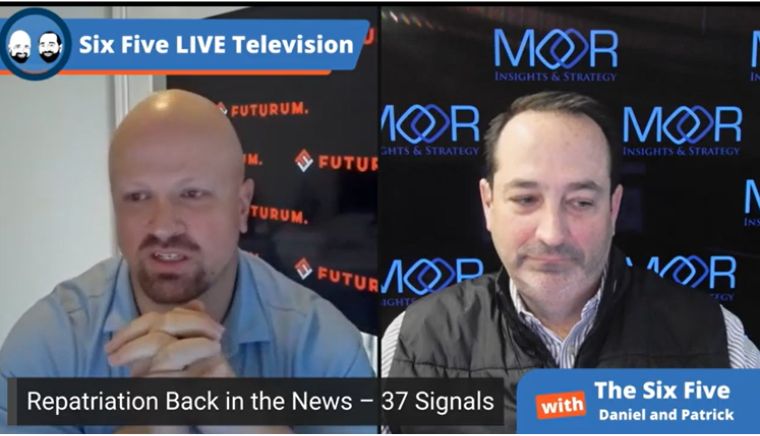 The Six Five team discusses repatriation back in the news – 37 signals.
If you are interested in watching the full episode you can check it out here.
Disclaimer: The Six Five Webcast is for information and entertainment purposes only. Over the course of this webcast, we may talk about companies that are publicly traded and we may even reference that fact and their equity share price, but please do not take anything that we say as a recommendation about what you should do with your investment dollars. We are not investment advisors and we do not ask that you treat us as such.
Transcript:.
Patrick Moorhead: Repatriation back in the news. 37 signals, home to Hey and a couple project management companies as well. What's going on? Is this the end of the public cloud, Dan?
Daniel Newman: Like I said, we started and finished with a little bit more ephemeral topics, but sometimes these are actually the funnest conversations, so if we take the last five minutes and talk about this. You and I have been hybrid cloud, slash multi-cloud, advocates for a long time and even though the market at one time said everything was going to the public cloud, we were very quick to say, no it's not. Then obviously at some point, there was a bit of hype from some folks at other analyst firms, like IDC, that everything's going to get repatriated. We were also like no, not really, that's not going to happen either.
Patrick Moorhead: Exactly.
Daniel Newman: What happened here, though, was an interesting article by one of the heads of technology and operations at 37 Signals. Basecamp was probably their most well known product, and it came out why they're leaving the cloud. And this is a company that's spending millions of dollars on the cloud, and they decided to take everything back on prem. So to give some credit to the repatriators, this is one case where repatriation seems to be working out.
What was really interesting about this was, their coming out about leaving the cloud led the company to actually posting a full breakdown of their spend in cloud, and how their spend had grown. It's all in AWS. Where they're spending money in the cloud. This was like, they've spent this much on RDS, this much on open search, this much on EKS. And it was probably the most specificity that I'd ever seen in terms of how a cloud company-
I think back to the a16Z post from last year that talked a little bit about cloud companies. This is a great example. And this was a very specific example. So they're trying to take like a five plus million dollar spend down to 3.2, and they believe they're going to be able to do this by moving out of the public cloud entirely. Immediately saw this and I said, "Is this an aberration or is this the beginning of a more meaningful and longer term trend?" Aberrition? Oh my gosh, one of those days. It's that. I'm telling you, it's more that than the other.
I do think it's very interesting, as we're starting to see the rise of these sort of on prem cloud services, companies that are offering an expanded portfolio of data, relational AI, ML, that can be all done on prem, could lead companies to slowing their migration to the cloud. But having said that, there are still a lot of benefits to public cloud.
This also brings up kind of a really interesting point about companies like AWS, Azure, Google cloud, and Oracle, that have all spent a lot of time and money to do more hybrid services, meaning they're making hybrid cloud a bigger part of their portfolio. Let's be clear, this isn't for no reason. They understand that there is a requirement to make sure that some workload, some data, minimizing certain egress, the edge in IOT and all the sensor data that's going to come off, is going to create huge costs to keep data moving, and that not every workload is appropriate for the public cloud.
Having said that, I believe in the end, long-term here, as this is an extremely interesting debate, my opinion, though, is that for every company like a 37 Signals it's going to go fully back on prem. What you're going to end up having is a lot of companies being careful, considerate, and using multicloud services to basically decide which workload needs to be on prem, which needs to be in the cloud, how to keep data moving more efficiently. And I do think this is going to provide some level of challenge for big cloud providers to make sure that they're balancing pricing in such a way that the companies don't feel that there is a significant benefit to keeping services on prem, as they're going to want to see data end up in the public cloud.
What I really loved about this was the visibility, the transparency, and the facts is, this is a discussion that is not over. But my call as an analyst is that, in the end, hybrid will win out, and public cloud will not slow significantly even as they try to save costs, in this practical austerity year we're in.
Patrick Moorhead: The cloud started in 2004, the AWS's simple queue, and then in 2006 it was simple storage best three. It had basically a decade head start on the hybrid cloud. So therefore the momentum of the public cloud was just chugging. And I would say that bullet proof hybrid solutions have maybe been available for the last two or three years, but they're very fragmented. There's not a stack that does everything you need today to work across multiple clouds and have a data mesh, an app mesh, security and networking mesh. Those are being put together. I do think this is the tip of the iceberg for some repatriation, but I still believe, though the net, net workloads, there'll be a lot more going to the public cloud than being repatriated.
And by the way, I've always said that the public cloud was more expensive. This is not a revelation, folks. Everybody knew it. You don't go to the public cloud to save money. You go to the public cloud to be quicker. To simplify. to redo everything. So am I surprised at the huge cost savings? No. Could everybody do this? No. But I think more people, once the tools from VMware and Red Hat and Cloudera and HPE, with what they're doing in GreenLake, as we move forward I think there will be more people who will be rethinking this equation. Which, by the way, moving everything out of the public cloud, almost an impossibility for most folks. It's going to be a blend of public, of private, and everything in between.
Daniel Newman: Multiple public clouds. I think multi's going to get hot. There's a prediction, buddy.
Patrick Moorhead: That's like a throwaway prediction, dude. We all know that's going to happen.
Daniel Newman: AI is going to be hot in 2023.
Patrick Moorhead: Yeah, anyways, at some point I do want to take you through the history of the cloud, what AWS was saying about public cloud pluses, public cloud challenges, hybrid cloud good, says AWS. AWS has the most hybrid services of any other. Here's what Walmart is doing, here's how they did it. Here's the Andreessen Horowitz piece that you hit. And here are the folks that are building out hybrid multicloud. So okay, I didn't actually get the full presentation, but I did get my slides in. If anybody's interested in this discussion, let me know.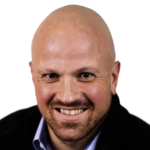 Daniel Newman is the Principal Analyst of Futurum Research and the CEO of Broadsuite Media Group. Living his life at the intersection of people and technology, Daniel works with the world's largest technology brands exploring Digital Transformation and how it is influencing the enterprise. Read Full Bio