Record Earnings Report from Dell Technologies
Record Earnings Report from Dell Technologies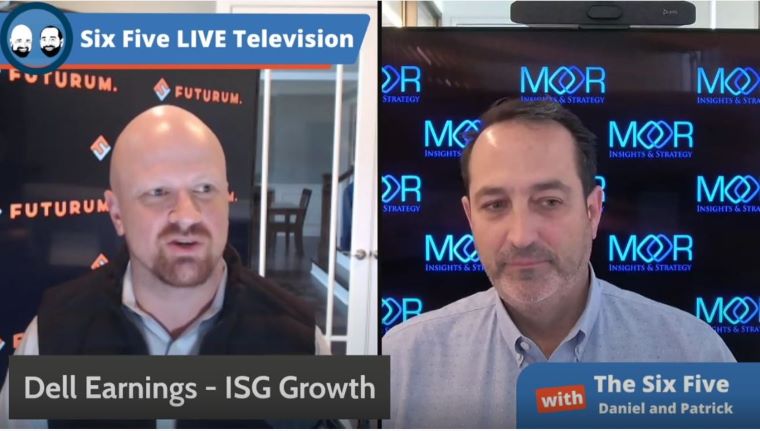 The Six Five team dives into the latest record earnings report from Dell Technologies.
Watch the clip here:
If you are interested in watching the full episode you can check it out here.
Disclaimer: The Six Five Webcast is for information and entertainment purposes only. Over the course of this podcast, we may talk about companies that are publicly traded and we may even reference that fact and their equity share price, but please do not take anything that we say as a recommendation about what you should do with your investment dollars. We are not investment advisors and we do not ask that you treat us as such.
Transcript:
Patrick Moorhead: But let's jump into Dell technology earnings. Gosh, Dell is one of the few companies that spans all the way from endpoints with PCs and PC services. To infrastructure, data center infrastructure as a service, and everything in between. Daniel, is infrastructure back? You know PCs had to be good, but is infrastructure back?
Daniel Newman: Well, infrastructure was up. After several flat or slight pullback quarters, the company did see material 5% overall growth in its ISG business. Quick rundown, 12% overall growth on almost $25 billion in revenues. Solid growth for infrastructure. Client was up substantially in the 20s. VMware another other 9%, but that wouldn't really be a thing much longer for Dell. That was this quarter.
Their operating income. Clearly, the company is just absolutely running the show well. Up 96% this quarter. Means getting the supply lines right, getting the operations, the delivery right. And that 5% growth in ISG, Pat, to me is more of an indication that we are returning to some level of normalcy. Throughout the pandemic, the investment in the stay-at-home plays, the cloud, SAS, PCs, all strong.
Infrastructure lagged. We're not going to be investing in our co-locations and our on-prem data centers. We'll move things to the cloud. That'll be our short term workaround. Long-term though, people are going back to the office. Long-term we need to get to the edge. We need to get to the core applications on-prem. We still have 70, 75% of workloads on-prem. That's a lot of servers, a lot of storage, a lot of networking, and that's a lot of Dell EMC products.
And so, seeing that growth was encouraging, Pat. Across the board, just real quickly touching on it from a PC side, Pat, this was interesting, but the consumer business was ripping. Orders or bookings were up 58%. XPS shown up into the 20s of percent, which is high for the high end, because that's a top end product. How about this one, Pat? Something with the GPU shortage. Alienware. 76% growth, year over year. I'm thinking people wanted gaming PCs. They're hard to come by right now.
Consumer across the board was up, by the way. You saw yesterday, HP, 70 something percent growth in consumer, whereas commercial was only in the teens. Consumers are buying a lot of PCs. On the infrastructure side, almost eight billion, 5% growth. The server business was up 9%, which was one of the stronger parts of the business. But overall, this is just an indicator of things to come.
Cisco showed growth a week ago or two ago, it was like 7%. I now anticipate based on this and Cisco's results, we're going to see maybe some growth from HPE. Small, but I would expect maybe single digit growth coming in there. And that'll be, I think, next week.
And so, overall, Pat, a solid quarter from Dell. Continuing, hitting all the high notes, big top end revenue. But I think people are going to want to see even more. I think ISG even more, and of course, Project APEX. They're not going to be reporting numbers anytime soon, but they're going to want to start to see some material growth in those subscription numbers.
Patrick Moorhead: Dell stock is up 100% in the last year. Actually, more than that technically. And I still think they're undervalued. When you look at what they're able to generate with cash, when you look at what will be a new debt rating for them, an investment grade debt, which takes the risk off. When you look at their ability to profitably gain share. Look at the profit of other people in their sectors and what they're spinning off, and look at the margins.
In more cases than not, Dell is pumping out more impressive, either op-inc or gross margins. Dell doesn't get into businesses that aren't good, right? They don't play the leverage game. Therefore, you won't see them driving a lot of low end consumer PC business or low end storage. They're just not going to play there.
I think what investors are going to have to look at in the future, is look at their growing long-term TAM, post-VMware spin, their ability to gain share profitably, and how much cash that generates. The ability for them to leverage their P&L to grow that revenue, and how much investment that actually takes. And then, map that into their cash flow and what they're able to hang out there.
And I think this company has a ways to run, but we'll see. I'm an industry analyst, not a financial analyst, but I am bullish on the company.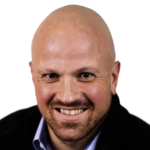 Daniel Newman is the Chief Analyst of Futurum Research and the CEO of The Futurum Group. Living his life at the intersection of people and technology, Daniel works with the world's largest technology brands exploring Digital Transformation and how it is influencing the enterprise. Read Full Bio