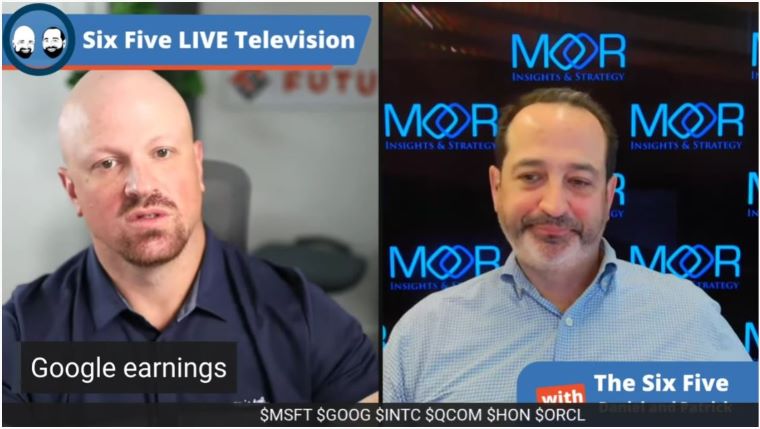 The Six Five team discusses the recent Google earnings report.
Watch the clip here:
If you are interested in watching the full episode you can check it out here.
Disclaimer: The Six Five Webcast is for information and entertainment purposes only. Over the course of this webcast, we may talk about companies that are publicly traded and we may even reference that fact and their equity share price, but please do not take anything that we say as a recommendation about what you should do with your investment dollars. We are not investment advisors and we do not ask that you treat us as such.
Transcript:
Patrick Moorhead: Let's move on to Google here, and I'm going to kick that off. Quite frankly, I'm not a securities analyst, so I'm going to stick to Google Cloud. But, they had a bit of a rough quarter versus expectations. If they miss on the bottom, they had a slight beat on the top, and they had some challenges really in YouTube. But with all that said, revenue up a measly 23%, OP INC up a measly 22%, they did get hit with a 7% EPS decline, and just to help out those investors, a $70 billion buyback.
But, the thing that I really focus on, I think we focus on the most, which is Google Cloud, they had a 44% growth in revenue, that's super solid. Not nearly as large as Azure or AWS, but still, they're on course for a $25 billion annual run rate, which is sneakingly and interestingly about the size of Salesforce. So, whenever we want to write off a Google Cloud, they're only as big as Salesforce. That's big, on at least a revenue basis. Google cloud loss did increase slightly, but as a much smaller as a percentage of revenue. I think we were talking about this at dinner last night, revenue up substantially, but the loss was around $1 billion.
Daniel Newman: Yeah. There was a lot there, I do look at the broader Google a little bit because I do have a decent bit of coverage on some of the social and the digital and the ad space. This was one of those weird ones, Pat, because it was a pretty narrow miss. YouTube came in short, and I think they're a bit of a bellwether for the overall market in terms of like, our business is going to keep advertising and keep spending on advertising. They generate a really high earnings per share, they're very profitable across the business, and I think it was a little bit of one of those, like they've done well for so long and they still grew, they still were very profitable, and like a few companies that surprised this quarter, and the market, just wasn't really too happy with it.
So, I'm not as negative on always beating consensus. I think that's become a bit of a macro trend during the pandemic. I think it's more, are you growing, are you executing, are you adding and developing the right products? I think Google's doing that in a lot of ways. I think you really did call out very clearly, what's going on with Cloud. Look, that's an investment part of the business. It's a small facet of their overall revenue right now, but it's a growing part of their revenue. They beat expectations for the Google Cloud business, which again, not the most important thing, but their growth pace is right there with where Azure is. Azure is at 46%, they were in the 40-ish percent range. But, I would say Pat, if we had to be a little bit critical, if they're going to catch up, they're going to have to start growing faster, and especially, when you're growing at a loss. You're going to have to, "Hey, look, it's me."
Patrick Moorhead: I know. Hey listen, I got to pump up my buddy here. This is just little old you on Bloomberg TV. So hopefully, that's not too meta for you, audience and it doesn't throw you off Daniel. But listen, you're looking at your favorite person, two of you, at this point. So just roll with it, baby. Look at you.
Daniel Newman: I think the YouTube business television service quarter cutting, there's a lot of positive tailwinds for that particular business, and I think the market is good, but Google and YouTube are doing that. So, I'm still positive on the company. The numbers just aren't that bad. I just think in the market is just really, really low right now.
Now, Google is still trying to close this acquisition of Manly Cybersecurity Firm, $5.4 billion.
Patrick Moorhead: Why just get DMCA take down on this episode.
Daniel Newman: Yeah. You might want to stop it before we get too far.
Patrick Moorhead: Listen, I'm proud of my buddy, you're looking good. I'm just proud to know a guy like you.
Daniel Newman: Yeah, I know. You're going to have to stop that.
Patrick Moorhead: Okay.
Daniel Newman: All right. I'm going to shut that down, but you know what? The link is in the show notes, so if you do want to see all my comments on Bloomberg, you can see them there. I did talk a little bit about Google Cloud. I said, exactly… One of the things is they are the third cloud, I think the market largely agrees on that, but I did have to point out that Oracle has been extremely good in operating and very effective, and profitable from what I can see.
Now, they don't break out their number and their costs the same way as Google, Google is being very transparent in how that business is running, and I appreciate that. Having said that, Pat, 36% growth, I think it was, 37% from AWS. So, Google's growing a little faster, but they're a fraction right now of the revenue of AWS and Azure's at 46%. So, Google Cloud has some work to do, but they've made some good decisions, they've gone after some vertical markets, they've shown some best-in-class capabilities around data and AI, and I think the growth should be sustainable, and the overall cloud business is going to grow too, but it's super competitive.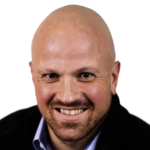 Daniel Newman is the Chief Analyst of Futurum Research and the CEO of The Futurum Group. Living his life at the intersection of people and technology, Daniel works with the world's largest technology brands exploring Digital Transformation and how it is influencing the enterprise. Read Full Bio