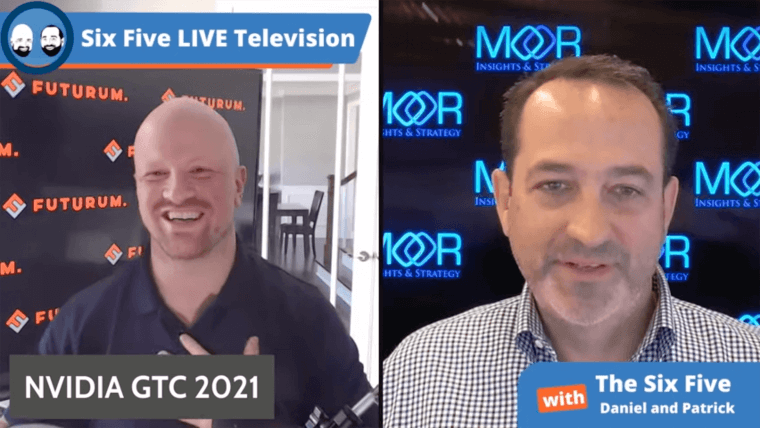 The Six Five team discusses explores the announcements from NVIDIA GTC.
Check out the clip below:
If you are interested in watching the full episode you can check it out here.
Disclaimer: The Six Five Insiders Webcast is for information and entertainment purposes only. Over the course of this podcast, we may talk about companies that are publicly traded and we may even reference that fact and their equity share price, but please do not take anything that we say as a recommendation about what you should do with your investment dollars. We are not investment advisors and we do not ask that you treat us as such.
Transcript:
Patrick Moorhead: Daniel, let's dive right in to the first topic. NVIDIA GTC, we had data center, we had visualization, we had automotive bonanza out there. It was pretty incredible. Why don't you take the data center? Some data center highlights. I mean, were there 16 releases?
Daniel Newman: It was way too much to cover. Certainly, too much to cover in a five-minute segment. It was an impressive event. That's why we called it GTC the Future, this episode. I did a piece.
I delved in on a couple of the big announcements that caught my attention. By the way, there were a lot. I mean, all this stuff going on with frameworks is super big, but conversational and driving the future. Let's talk about some big, supercomputing. There was some significant updates this year to the DGX lineup, which is the SuperPOD. Then they added this Station element and this one … I mean, just to get you a handle on it, the SuperPOD, it's 20 DGX, or A100.
It's built on, it's HDR networking. It's got the new BlueField DPU, and it's basically coming out right away, by the way, second quarter of this year. This thing is an absolute powerhouse for high-performance computing as the company continues to add the fabric, the networking, but here is something really interesting. There's powerhouse 20 DGX, A100 system is the SuperPOD, but this new Station, Pat, was the one that really caught my attention. That was super cool.
I called it AI DCaaS. See, because we need to brand everything. I called it AI data center as a service. What they've essentially done is created a SuperPOD in a small form factor that can be shipped to the door of a company that's looking to do high-performance computing on the fly. You're talking about $150,000 computer that a company, a research lab, an institution can essentially rent, Pat. I think it's something like nine grand a month is what it comes out to.
This is basically a powerhouse DGX tool to your door. You use it for 30 days, 60 days, 90 days, run your data, science, run your models on it, get your outputs. What I loved about it was, Pat, we're seeing everything move into consumption, right? We're seeing this wild pivot and shift to all these consumption economics. Now you have $150,000 machine. By the way, just to give you a sense. DGX SuperPODs, these massive machines can go up to $60 million for a single machine.
Let me just quickly get on because there's too much here. I'm moving quickly. The other big announcement that I wanted to touch on was Grace. GPUs is what NVIDIA is known for. Training inference, but GPUs. Not anymore. We know about the Arm acquisition, but Grace, which is going to be coming out in 2023, so you got a little bit of time ahead of you. But you're talking about an NVIDIA and Arm-based machines, so the two companies working together, and it's a CPU, data center CPU. Trillion parameter capability.
I want everyone to understand this is not NVIDIA coming out with a CPU to compete with everyday data center, a computer that's coming from Intel or coming from AMD. This is NVIDIA saying, "In the future, we are going to be having interactive, latency-free, human conversations with the machine and you're going to need a powerhouse machine that has both CPU and GPU and the right network fabric, Mellanox, all the tools, BlueField."
Bringing all of these technologies that you're hearing about together with almost seamless connectivity. By the way, the first ones are going to be built in partnership with HPE coming out in 2023, and I believe they're going to the Swiss National Computing Center.
Patrick Moorhead: One comment I want to make on Grace. There was a little bit of people who didn't quite understand how Grace fit in. Don't be confused. Grace is not a general purpose processor that competes with AMD and Intel, or even something like AWS Graviton2. It is not maximized for integer. It is maximized throughput and using shared memory between the GPU and the CPU, so don't go there. What I'd like to do is hit on some automotive.
Essentially, NVIDIA took all of their latest and greatest components and put that into an autonomous vehicle platform called Atlan. Atlan has Grace, as Daniel talked about, also has BlueField DPU, not the latest and greatest, but essentially giving high-performance networking offload in addition to security features. I think the big thing here is over a thousand tops, which is big, big, big, big time and the company wants to scale this architecture from L2+ to L5. L5, no steering wheel and no driver.
Think of a robo taxi, think of L2+ as a step-up from today's technology inside of the latest and greatest from Mr. Elon Musk. NVIDIA at GTC hitting on what you would expect them to hit this on, which is data center prowess, they added in networking and they also added in an upgraded CPU. By the way, this isn't the first CPU that NVIDIA has done. NVIDIA has been doing Arm-based CPUs and automotive and what it's doing with Nintendo for years. Don't overplay this one.
Grace is not going to perform as well on a specking as even a 2019 AMD or Intel processor. Don't go there. The one thing we didn't see was a brand new graphics architecture, and it's funny, nobody talked about that, but we did not see a brand new architecture. I don't know exactly what that's a signal of, but I think we're going to talk about some NVIDIA competition at the very end of the segment.
Daniel Newman: I know we've got to keep moving here, but I think overall there was a lot of strength in the announcements. I felt a lot of focus move towards software, towards partnerships, frameworks. You heard some of the focuses like Clara, where you have technologies that are being used to shorten the time it takes for a model to be able to spit out a pharmaceutical-grade product.
Now, again, I've oversimplified it massively, but you're talking about something that had a 10-year cycle, and now you're adding software technology that can take these cycles down half or 80%, was actually what Jensen said. At some point, the maturity on what comes to market has to be part of the story too. I think there was a lot more of those.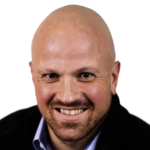 Daniel Newman is the Principal Analyst of Futurum Research and the CEO of Broadsuite Media Group. Living his life at the intersection of people and technology, Daniel works with the world's largest technology brands exploring Digital Transformation and how it is influencing the enterprise. Read Full Bio