Rakuten's $1B Acquisition of Altiostar is a 5G Game Changer for CSPs
Rakuten's $1B Acquisition of Altiostar is a 5G Game Changer for CSPs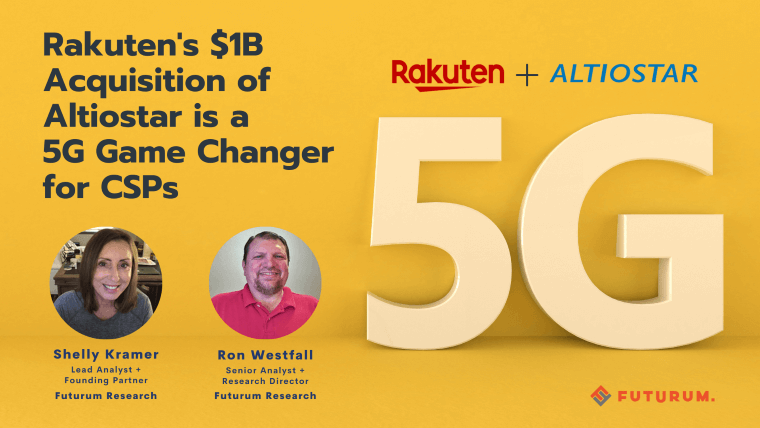 For this vignette of a recent episode of the Futurum Tech Webcast, Part of the 5G Factor series, analysts Shelly Kramer and Ron Westfall examine why Rakuten's acquisition of $1B Altiostar is a 5G game changer. The discussion highlighted:
How Rakuten is raising the competitive stakes across the entire 5G ecosystem.
With this $1 billion acquisition of an Open RAN specialist, Rakuten is providing a template for how Communications Service Providers (CSPs) can gain a strategic competitive edge in the cloud-based 5G ecosystem – own more of the software assets key to long-term 5G build and innovation.
Why the Rakuten acquisition of Altiostar epitomizes the approach that many CSPs should have taken sooner, which is the strategic acquisition of telco-specific and cloud-specific software assets. Such assets are well within the comfort zone of CSPs and avoids the integration pitfalls related to non-telco assets, such as satellite PayTV and media content assets.
Rakuten now has greater degree of control over its mobile supply chain than virtually any other CSP. The Altiostar and the earlier Innoeye acquisitions enable Rakuten to minimize reliance on third party's in meeting its strategic Open 5G build-out in areas such as Open RAN and digital operations. Great control over supply chain can also streamline innovation process as evidenced by Elon Musk's own as much as the supply chain strategy in advancing the competitiveness of top tech concerns Tesla and SpaceX.
Watch the clip here:
Disclaimer: The Futurum Tech Webcast is for information and entertainment purposes only. Over the course of this webcast, we may talk about companies that are publicly traded and we may even reference that fact and their equity share price, but please do not take anything that we say as a recommendation about what you should do with your investment dollars. We are not investment advisors and we do not ask that you treat us as such.
Transcript:
Shelly Kramer: Today we're going to talk about Rakuten's acquisition, a billion dollar acquisition of Altiostar, and why that's a 5G game changer. Ron, welcome.
Ron Westfall: Well, thank you. Great to be here, taking a break from the Tokyo Olympics and talk about the 5G Olympics, equally momentous and exciting.
Shelly Kramer: Absolutely. Well, it is always interesting to see what's going on in the world of 5G. We've talked a lot about that this week as a matter of fact. So, these recent moves in the 5G market, they're really a big deal. Talk with us a little bit, if you would, about why this acquisition by Rakuten of Altiostar is really such a big deal.
Ron Westfall: Yes, I think a great starting point is to provide a little foregrounding. The two knew each other very well. For example, Rakuten already invested in Altiostar back in May of 2019, got US approval for that particular move, because Altiostar is based here in the US, specifically headquartered in Tewksbury, Massachusetts. And subsequently, they collaborated together and Rakuten really got its cloud native virtualized mobile network up and running in early 2020 in Japan. It was Altiostar that provided the kicker in September of 2020, that is providing a container-based cloud data 5G RAN capability, which is really taking 5G innovation to the next level in a production type of network.
So, the groundwork was clearly there for Rakuten to go ahead and pull the trigger and acquire Altiostar for a billion dollars plus, a very, I think, robust evaluation. It certainly will be good news for any Open RAN specialists out there in terms of being a potential acquisition target. But what I think is also important to note here is that Altiostar is also operating in other major networks.
So, for example, Airtel in India, DISH here in the US, and this move also definitely strengthens Rakuten's relationship with Telefonica, for example, with networks in both Europe and throughout Latin America. What I think is also key here is that the move strengthens Rakuten's Communications Platform also known as RCP, which is now a major component of the newly formed Symphony Unit.
But what's important about RCP is that Rakuten is showing that a carrier can sell into other carriers a clearly differentiated purpose-built platform that enables them to get, they're in 5G, not only network up and running on a cloud basis, but also figuring out how to monetize 5G capabilities in a very streamlined way on the on demand software as a service type of approach, et cetera.
So, this is definitely stirring up the competitive mix throughout the 5G landscape. So, this move is significant. It shows, I believe, that for the first time a CSP is going to buy Open RAN assets to move their outcomes forward, to move their objectives strategically in this manner. So, this is definitely, as you put it so eloquently, a game changer.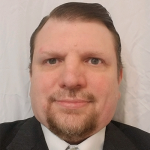 Ron is an experienced research expert and analyst, with over 20 years of experience in the digital and IT transformation markets. He is a recognized authority at tracking the evolution of and identifying the key disruptive trends within the service enablement ecosystem, including software and services, infrastructure, 5G/IoT, AI/analytics, security, cloud computing, revenue management, and regulatory issues. Read Full Bio.